The University of Oxford's Saïd Business School offers a top-ranked MBA program, with a faculty who do influential work in areas ranging from finance to social innovation.

Oxford Saïd is known for its focus on social impact and responsible business, but that's only part of the picture. The school also caters to more traditional candidates from finance and consulting, with strong outcomes from its Finance Lab and Consulting development program.

There are 67 nationalities represented in the Oxford MBA class of 2021. 47% of MBA students are women. Oxford MBA students have an average of five years' work experience between them and a median GMAT score of 680.

As an Oxford MBA graduate, you'll be part of a wider network of all Oxford University alumni, numbering over 300,000 in more than 145 countries. So how can you join the ranks and ace your Oxford MBA application?

BusinessBecause caught up with Liam Kilby, associate director of MBA recruitment and admissions at the University of Oxford's Saïd Business School, to find out.
---
What do you look for in Oxford MBA candidates?
The Oxford MBA isn't known for focusing on one particular career output or sector, so we welcome applications from all walks of personal and professional life. You'll find the traditional outputs of finance and consulting happily co-existing alongside entrepreneurial and social impact tracks.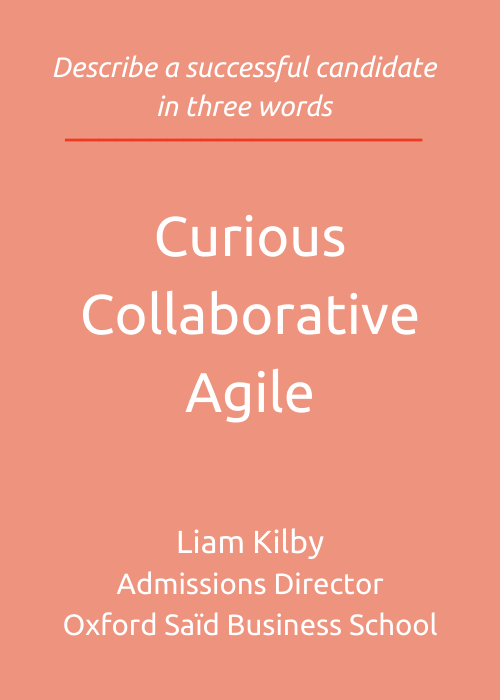 I think what almost every candidate has in common is a sense of curiosity around how traditional business and leadership skills can be utilized to create some form of impact. They tend to want to explore that intersection between commercial success for an institution and making a positive impact on their employees, community, or region.
We are also looking for a sense of collaboration and for people who can demonstrate the skills needed to be part of an effective team.
As the one-year program is fairly intense we also need candidates who can be agile and to manage their own experience. This means being able to balance the demands of the curriculum and the classroom while still delving into the wider experience that being a University of Oxford student brings.
---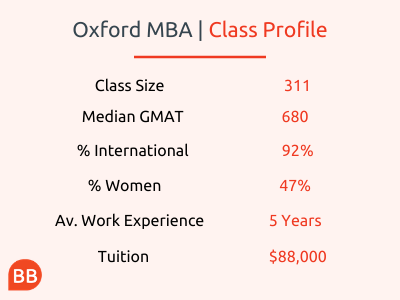 ---
What are the biggest mistakes you can make in an Oxford MBA application?
One that happens fairly frequently is leaving the name of another business school in a personal statement or essay. We know that people are often applying to multiple programs, which is a sensible strategy, but just ensure that you've proof-read all your materials before hitting that submit button.
Outside of that, I think portraying yourself as if you're already close to being the finished article can be a little off-putting. We want people who can display a balance of well-placed confidence with a level of humility that recognizes necessary areas of growth, alongside a desire to use the MBA for further development.
You should also have the self-awareness and emotional intelligence to recognize your areas of development.
---
Read: How I Got Into The Oxford MBA At Saïd Business School—And 5 Ways You Can Too
©Oxford Saïd Facebook
---
What are some of the strangest things you've seen in an MBA application?
We've had a few people decide to replace an essay in the application with some form of art! One candidate uploaded a silent video of herself creating the sand art she did as a hobby.
We had someone bring a photo album of their volunteer experience to an interview with a senior member of faculty.
We also recently had someone on the Kira Assessment videos hold up handmade drawings of stick figures traversing a mountain as a metaphor for his career progression.
We welcome people who approach the application in unique ways, but make sure that the methods you're choosing are the most effective at telling the story you want to tell.
---
Oxford MBA Essay Questions
Tell us something that is not covered in your application which you would like the Admissions Committee to know about you. (Maximum 250 words)
If you are applying under the Oxford 1+1 MBA scheme you also need to submit the following essay:
Explain why you see this as particularly beneficial for you and how it fits with your career and personal development aims. (Maximum 250 words)
Re-applicants will need to submit an additional essay:
What improvements have you made in your candidacy since you last applied to the Oxford MBA? (Maximum 250 words)
---
What questions should candidates expect in their Oxford admission interview?
We'll try to uncover more about their motivations for doing an MBA, we'll talk to them specifically about what it is about Saïd that attracts them to the program, and we'll delve more deeply into their stated career goals to see if we're in a strong position to help them succeed.
The second half of the interview is more organic. We use the interview process to assess some of the candidate's softer skills. Emotional intelligence, communication, and an ability to work well alongside others are all things that we make a note of, based on how candidates communicate and carry themselves throughout the interview.
There will also be competency-based questions. Make sure you tell the whole story, including the outcome and what you learned. Don't be afraid to ask for time to pause and think about your answer.
---
Tell us one thing about the Oxford MBA application process that most people wouldn't know.
Just attending events has less of an impact than people assume. Engagement with the school is good, but don't feel as though you must dial-in to all of the webinars or events that we hold to boost your chances.
Some of our most successful candidates don't come across the desk of admissions before they hand in their applications. There is no correlation between attending everything you possibly can, and acceptance.
People may also not be aware that they can use an alumni recommendation as an unofficial third reference as part of their application.
---
Considering an MBA?
Download our MBA Application Guide 2021-22
---