Northwestern University's Kellogg School of Management, one of the elite group of M7 Business Schools, attracts thousands of applications to its top-ranked full-time MBA program each year.

Named after John L Kellogg, the son of the founder of the world-famous cereal company, Kellogg includes a video essay in its application process.

Kellogg has added a new video essay question in response to COVID-19, asking you to share how you were challenged and how you responded to the challenges related to the pandemic.

Getting accepted into the Kellogg MBA is competitive—the Kellogg MBA class of 2022 average GMAT score is 727—but the school's admissions team assess your profile on a holistic basis. That means all aspects of your Kellogg MBA application are considered together, including your essays, resume and experience, and test scores.

In 2020, 5,813 people applied to the Kellogg MBA. Kellogg's 2021 MBA tuition fees are $76,368, although 62% of Kellogg MBA students get some form of financial aid.
---
Kellogg MBA application deadlines for 2021-22:
Round 1: September 15, 2021
Round 2: January 5, 2022
Round 3: April 6, 2022
---
BusinessBecause caught up with Christine Mayer, director of admissions at Kellogg, to find out how to ace your Kellogg MBA application.
---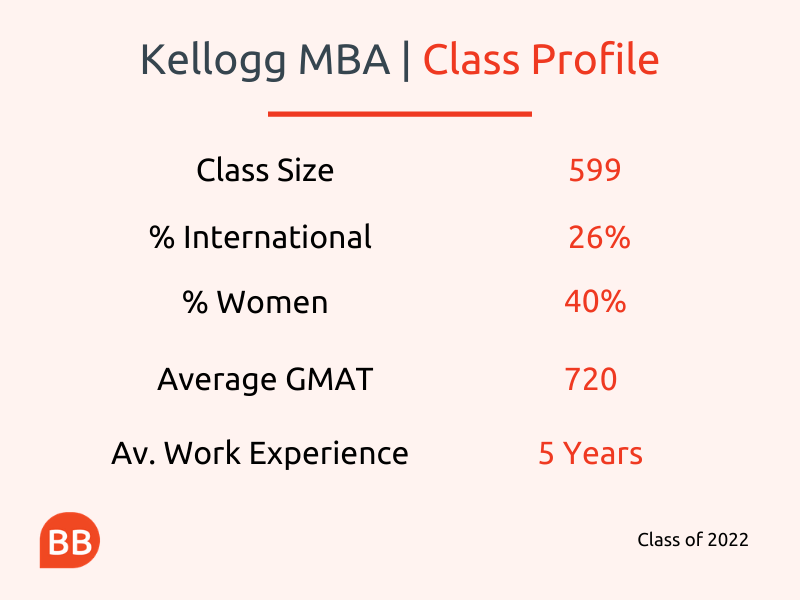 ---
What do you look for in your MBA applicants?
When we evaluate our applicants, a few qualities really stand out to us. These qualities help us understand if an applicant is ready to seize all of the opportunities that come with joining Kellogg.
We look for people who:
- Can motivate a team to drive impact
- Are not afraid to question the status quo and seek non-obvious solutions
- Possess creativity and talent that is rooted in self-awareness
- Seek diversity in their networks and teams
- Are eager to dive in and collaborate with an engaged, ambitious community of peers
Our holistic application process allows us to understand how each person would bring these traits to Kellogg in his or her own unique way.
---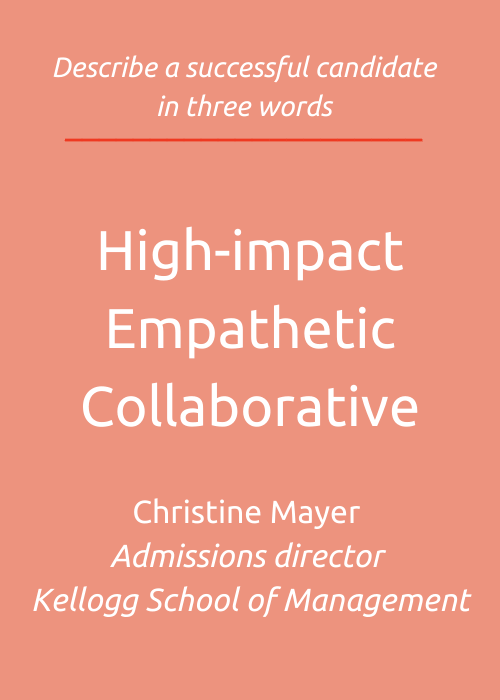 ---
What's the biggest mistake you can make in an MBA application?
The biggest mistake you can make is not using all the real estate in the application to tell your story. Between the essays, short answers, recommenders, interview and video essays, you have the opportunity to share multiple examples and facets of your experience and goals.
While all of these areas should be cohesive, your file will be reviewed holistically, so you don't need to repeat stories in multiple places and can instead focus on giving us more depth and insight. Use all of the Kellogg application to help us get to know you.
---
Kellogg MBA Essay Questions
1. Kellogg's purpose is to educate, equip and inspire brave leaders who create lasting value. Provide a recent example where you have demonstrated leadership and created value. What challenges did you face and what did you learn? (450 words)
2. Values are what guide you in your life and work. What values are important to you and how have they influenced you? (450 words)
---
What questions should candidates expect in their Kellogg MBA admission interview?
Our interviews are behavioral-based. We recommend candidates become familiar with these types of questions. (Google the STAR method, for example.)
Practice giving your answers to potential questions in this format. I would also suggest thinking through your own story and experiences. Make sure you have a range and variety of stories to share (not just those you wrote about in the essays) from various points in your career.
Also, be yourself. It's helpful to prepare, but you don't want to be so over-rehearsed in either the interview or the video essay that we don't get a sense of you as a person.
---
Tell us one thing about the Kellogg MBA application process that most people wouldn't know.
We're proud that Kellogg continues to be one of the only top schools with a video essay component. We introduced the video essay several years ago for two primary reasons:
1. It allows the entire team to 'meet' all of our applicants, wherever they are in the world.
2. It enables us to assess the communications skills of our potential applicants through a medium that has quickly become an integral part of the business communications landscape. Our career management center is seeing companies like LinkedIn, Amazon, Apple and Uber leverage video interviews in their hiring processes.
In terms of timing, all applications are reviewed holistically, meaning each reader that sits down with the Kellogg MBA application reviews all of its components together, including the video essay.
---
What's your top tip for Kellogg MBA applicants?
It's important to get to know the schools where you'd like to apply. You can do this by checking out our Preview Kellogg website or attending a virtual event.
We also encourage you to connect with Kellogg alums in your network or reach out to our student clubs to understand what your time at Kellogg will be like and how Kellogg will benefit you for years to come.
---
Next Read:
Kellogg MBA Jobs & Salary Review