When considering where you should study your global MBA, South Africa is an attractive option. International applicants will know it as a magnet for tourists with its stunning beaches, cultural diversity and outdoor lifestyle. But there are also sound business reasons to consider the country: the economy is the second-largest on the continent, and it is the only African country to belong to the G20, making it a key economic player globally.

One of the most prestigious MBA programs available in South Africa—and across the African continent—is offered by the University of Cape Town's Graduate School of Business. It boasts a global perspective plus an opportunity to study business in an emerging economy at first hand. The UCT MBA is the only program in Africa to have appeared on the Financial Times' Global MBA ranking, where it placed fifth for value for money, 12th for Corporate Social Responsibility, and 14th for International Course Experience.

According to the program director Caitlin Ferreira, the school's competitive performance in international rankings reflects its unique position among global business schools.

"MBA students in Africa often find that they have much more access and many more opportunities for impact on the continent than they would in any other region of the world," she says. "The UCT GSB's MBA equips them for the opportunities, challenges and responsibilities that come with this type of access."

Here's everything you need to know about the program – including what to expect from the curriculum, the application process, and your career post-MBA.
---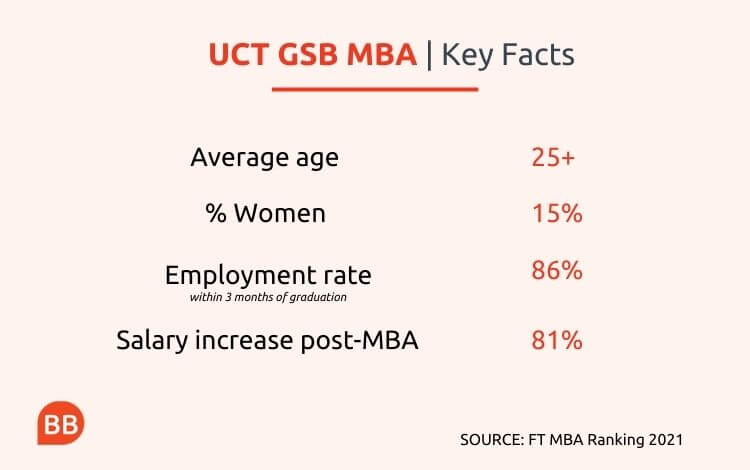 ---
University of Cape Town MBA | Class profile
While the school does not make a general class profile widely available, MBA cohorts at UCT GSB usually number around 65 students. They are all aged 25 years or older with a minimum of three years' work experience in a relevant field, with the cohort coming from across business specialisms and representing all working-life age groups. Fluency in English is a requirement for the program.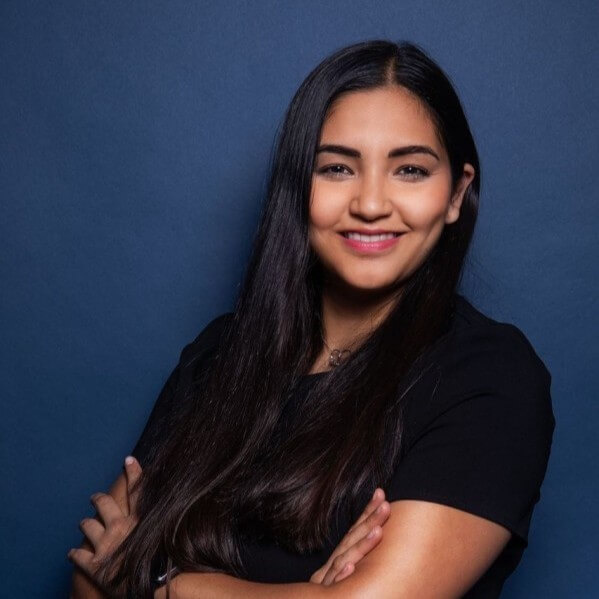 Minaz Munshi (pictured right) is a member of the class of 2022. A South African citizen, she started her career as an industrial engineer, soon discovering a passion for operations. She has worked in strategy for KPMG South Africa and Strategy&, part of the PwC network, in Johannesburg, as well as BizOps at LinkedIn in Ireland.
Before the MBA, Minaz had enjoyed learning on the job, but she felt it was time to back up this practical experience with in-depth theory and analysis at business school.
She chose UCT because it was one of the best business schools in South Africa, and Africa, and because the program offers in-depth teaching, not just on general business concepts, but how these apply in emerging markets.
Minaz also wanted a launchpad from which to explore a potential entrepreneurial career. She has been the co-founder of an e-commerce business since 2020 and she felt that UCT offered access to a more dynamic business context to learn the tools of the trade.
"The landscape was more exciting in an emerging market aspect, and funding has also been flowing into Africa, so for me personally, that criteria was what I was looking at and UCT had a lot going for it."
---
University of Cape Town MBA | Curriculum
The curriculum on the MBA at the University of Cape Town is designed to provide the generalist training of a top MBA degree, with particular attention to how students can apply these concepts in emerging markets.
Core courses include topics such as business and leadership in global contexts, managing complex environments, and strategic decision-making in changing environments, while electives are offered on subjects including Social Finance, Company Valuations, Digital Market-Making, Lean Thinking and Operational Excellence, and Venture Launch.
For Minaz, some of the unexpected highlights of the program were in the more technical modules she expected to find less interesting.
"I hate finance, I'm just not good at it," she says. "I've never particularly seen myself in a financial role and I'm never going to be CFO of a company, but [the course professor] was brilliant at delivering our finance module, giving us a breakdown of corporate finance and making it relevant going into industry."
The MBA also offers students a chance to specialize, selecting specific combinations of core and elective courses to tailor their degrees towards careers in areas like management consulting, corporate finance, and innovation and entrepreneurship.
Naturally given her startup aspirations, Minaz opted to specialize in entrepreneurship, learning how to identify good business ideas, assess demand, and build and deliver a pitch deck. At the end of the rotation, she and her peers were invited to pitch to real investors and receive constructive feedback, an experience she recounts as being very impactful in her early startup career.
---
University of Cape Town MBA | International exchange opportunities
While students coming to UCT from abroad may be keen to use the opportunity to get under the skin of an emerging economy—and to enjoy South Africa's hiking opportunities and stunning wildlife—local students can take advantage of traveling outside the country and being a part of a global business school network by participating in international exchanges. The MBA at UCT offers ample such opportunities.
UCT is very well connected, currently gives students access to almost 50 partner schools, plus another 32 leading business schools through the Global Network for Advanced Management (GNAM).
The study abroad programs available range from one week to six months in duration, with students able to exchange either for a full semester, a Summer School specializing in a particular discipline, or one week with a GNAM exchange.

This option appealed to Minaz: "[Being able] to cover an emerging market MBA [and still] do a couple of months in one of the other leading MBA institutions around the world, to me made a lot of sense."
---
University of Cape Town MBA | Networking
Naturally, when some business schools' MBA cohorts number almost 1000 students, one might expect that a small class like the one at UCT would limit students' networking opportunities. However, Minaz and Caitlin believe that the small class sizes at UCT drive students to network more consciously.
"It's a very small class, but what that meant for us was that we were forced to network outside the MBA," Minaz explains.
As well as building deeper connections with the people on her program, she also branched out into other cohorts, making acquaintances in the part-time and EMBA programs as well as through the alumni network.
According to Caitlin, this is typical of many UCT MBAs' experiences on the program.
"Alumni provide one of the most important networking opportunities for MBA students," she says. "Alumni of the UCT GSB's MBA programme often describe their experience as having been 'transformative', and even the School's most senior alumni are keen to give back by providing advice and mentorship to current students and recent graduates."
---
University of Cape Town MBA | Career outlook
Career outcomes for UCT MBA grads are strong. 80% of the 2020 class and 71% of the 2021 class were employed within 90 days of graduation, increasing to 95% and 86% respectively by 180 days.
This is no doubt thanks to the hands-on learning approach, emerging economy experience, as well as alumni connections made during the program. It is also due to the extensive Corporate Partnerships program offered by the business school.
The Corporate Partnerships, Careers and Alumni Office works with students to coordinate events around networking, sponsorship, fundraising, brand awareness, and access to bursaries and scholarships for prospective students.
Popular examples include the Future of Work Fair, the Women in Business Conference and Fundraiser, the UCT Mega Job Expo, and the Africa Business Conference.
---
University of Cape Town MBA | Application & fees
The essential components of an application to the MBA at the University of Cape Town Graduate Business School are:
—A resume demonstrating a minimum of three years' work experience in a relevant field
—A GMAT score of 550 or above
—Three essays demonstrating what motivates you to apply
—Two references
—A Bachelor's degree or Postgraduate Diploma
Caitlin emphasizes the importance of proper GMAT preparation when applying to UCT.
"First and foremost, we encourage students to commit to studying for the GMAT as this is crucial to obtain a score of at least 550," she says. "The GSB sets students up for success by offering GMAT preparation classes, and there are a host of other preparation opportunities including an 8-week study planner from MBA.com."
Selected candidates will be invited to interview, where they will need to further demonstrate their motivations for applying to the MBA program.
"The ideal candidate for the MBA at the GSB is a motivated, rising executive who has aspirations of operating at an executive level," says Caitlin.
"We tend to find that those entering the MBA program may have been very successful within one or two functional areas of the business but find that in order to get to the executive level they need to develop a broader understanding of all functional areas of the business."
Once accepted, students are fortunate to be studying on one of the best value MBA programs worldwide.
While top North American programs might set you back upwards of $100,000, total fees for the MBA at UCT are $30,000 for non-African residents, and half that for African citizens.
---
Main image source: Ian Barbour on Flickr, reproduced here under this license.
Related Content: