Ivy League giant Harvard Business School (HBS) is consistently ranked among the best business schools in the world. And although the school sat out the FT's Global MBA Ranking in 2021 alongside a host of other schools because of Covid, the Harvard MBA program is renowned for bringing together some of the best young minds in business.

In the Harvard MBA class of 2023, you'll find professionals from the world of financial services, consulting, technology, and manufacturing rubbing shoulders with those from healthcare, the nonprofit sector, and the arts.

If you envision yourself joining the ranks of HBS' notable alumni, our Harvard MBA Class Profile Breakdown* will help you understand what kind of candidates get accepted into the program and maximize your own chances of joining HBS.
---
Harvard MBA | Class of 2023 Overview
---
The Harvard MBA program received 9,773 applications for the class of 2023, a little higher than for the class of 2022. In the end, 1,010 students enrolled at the school, which is also higher than their typical student count (930).
Most of the class (63%) hailed from the United States. Within this, 41% of the class are US minorities. Despite the large proportion of Americans on the course, HBS did increase its percentage of international students compared with last year, from 33% to 37%.
46% of the class of 2023 are women. This is also up from the class of 2022 and puts Harvard Business School above the average for US MBA programs.
---
Harvard MBA | GMAT & GRE Scores
---
The GMAT puts your aptitude for business school to the ultimate test. While average GMAT scores shouldn't be a conclusive factor, they do tell you a rough score to aim for.
The median GMAT for the HBS MBA class of 2023 class is 730, in line with previous years. The GMAT is still the most popular entrance exam to HBS, with 71% of the class taking the test compared to 29% who took the GRE. This means that to earn your place at the school, you should start preparing to take the test.
The HBS MBA class has a GMAT score range of 590 to 790. This proves that a sky high GMAT isn't the be all and end all when it comes to your business school application, and you should continue to focus on other areas of your application.
You'll want to make sure that your HBS MBA application is strong in other places. You should don your thinking cap to ensure that your passion, personality, and academic rigor shines through your MBA application to nab yourself a place at the prestigious HBS.
For GRE takers, verbal and quantitative scores range from 146-170. The overall median verbal score is 163, while the median quantitative is 164.
---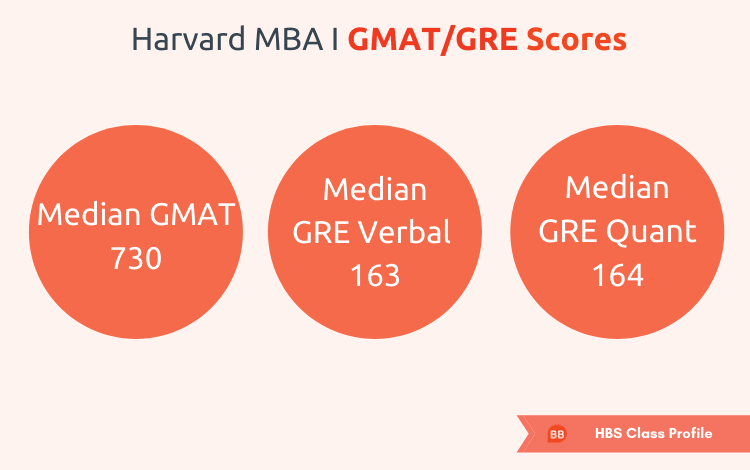 ---
Harvard MBA | Undergraduate Majors & GPA
---
An MBA class made up from a diverse community of learners will enable students to contemplate business issues from various perspectives.
The 1,010 candidates come from a wide variety of undergraduate educational backgrounds including economics, business, engineering, and math. It's not all business-related subjects though—4% of the class have an arts or humanities background, while 13% studied social sciences.
Judging by the diverse range of academic backgrounds in the class, having a non-business undergraduate major won't deter you from entering the Harvard MBA program. Harvard wants to educate future leaders of the world, and those who switch their academic route are likely to be invested in change.
You'll need to be at the top of your game though. Among the HBS MBA class of 2023, students were some of the best in their undergraduate departments—the average GPA among students of the HBS MBA is 3.69.
---
---
Harvard MBA | Pre-MBA Industry
---
Business schools strive for a classroom which mirrors the realities of the business sphere, bringing in experienced students from diverse industries to incorporate a variety of approaches to problems. Harvard's case method thrives on this diversity of thought.
The average student in the class of 2023 has five years of work experience behind them. The most common pre-MBA industry is consulting, with 17% of students coming from the sector into the HBS MBA. Elsewhere, 15% of students came from private equity or VC, 11% from manufacturing, 11% from technology, and 12% from financial services.
Again, it's not just traditional business-related industries represented on the program, and less conventional MBA routes are well represented. 5% of students entered the Harvard MBA program class of 2023 from the military, 8% from nonprofit or government, and 2% from media, entertainment, or travel.
---

---
Harvard MBA | Student Stories
---
Think that MBAs are a pack of money-oriented wolves of Wall Street? Think again. For many HBS students, diversity and social impact factor high up the agenda.
Amy Hernandez Turcios—Latinx leader and former Wall Street banker—joined the HBS MBA in a bid to boost her confidence, public speaking, and assertiveness through an MBA. As a first-generation student, she recognized that these skills would help her advocate for diversity in the corporate sector.
Now a consultant at the Boston Consulting Group (BCG), Amy (pictured below) intends to use the leadership skills that she strengthened in her MBA to elevate other leaders of color.
"I hope it will help me take this high-level problem around the lack of Latinx representation in leadership positions, break it down, and figure out how to tackle it," she says.
---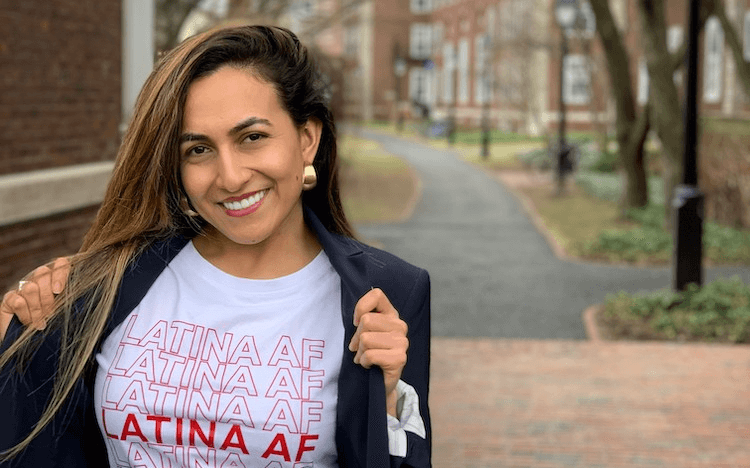 ---
The MBA can also be a catalyst for entrepreneurial thinking. Four HBS graduates founded LivelyHood—a COVID-19 relief initiative set up to combat inequalities within society by matching volunteers with vulnerable community members. Co-founder Justin Lee says that he and his fellow co-founders apply finance, entrepreneurial, and leadership competencies that they learned in their MBA to guide their startup's successful running.
Looking to follow in these graduates' footsteps? Find out how one MBA grad aced the HBS application.
---
Who is the Harvard MBA for?
---

On the HBS MBA you'll learn among an academically gifted class, typically with strong GMAT scores and GPAs. But this isn't the defining feature of the class of 2023.
Although selective, the diversity figures from the incoming class show us that HBS actively seeks out difference with a mix of undergraduate majors, nationalities, and near gender parity in the MBA class.
What do you need to get into Harvard? HBS MBA admissions director Chad Losee confirms that your diverse background is valuable to the school. And you don't have to be outstanding in every category to join HBS.
Chad explains that his team approaches the candidate review process holistically, considering your impact, work experience, as well as your academic scores.
For Harvard Business School, the future leaders of the world are a dynamic group of students invested in altering their academic and industry paths, and the world around them.

---
*The data in this article is based on the Harvard MBA Class Profile / this article was updated on November 3rd 2021 to reflect the new HBS MBA class.