If you're applying to an MBA program at one of the world's top business schools, you'll want to know the MBA acceptance rates.
Acceptance rates are the percentage of applicants who are admitted into an MBA program. They tell you how competitive a school is and how likely your MBA application is to be successful.
Stanford's MBA acceptance rate is 8.9%, making Stanford the world's most competitive MBA program. In 2020, 7,324 people applied to the full-time MBA at Stanford Graduate School of Business, but only 651 got accepted.
Fewer still made the Stanford MBA class of 2022, with 436 enrolled (an enrollment rate of 6%). Schools will always admit more candidates than they enroll, with many accepting offers from other schools or dropping out.
2020 also saw a record number of deferrals, with admitted students postponing their studies due to the COVID-19 pandemic. Harvard Business School typically enrolls around 930 MBA students per class but around 200 deferred their starting year in 2020.
BusinessBecause conducted independent research to source the latest available data direct from schools—including the M7 business schools—and other sources for our MBA acceptance rates and enrolment rates below. All data is for the most recent 2020 full-time MBA intake.
---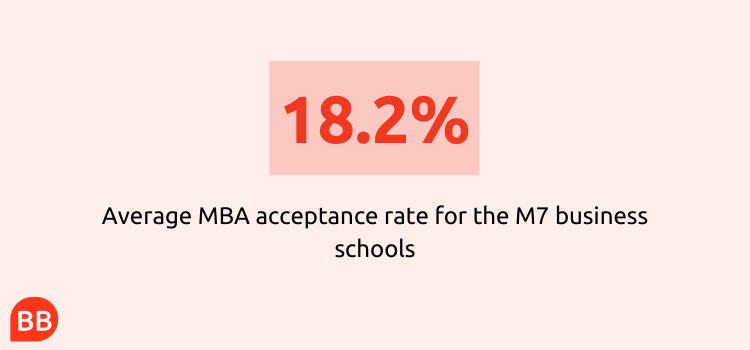 ---
MBA Acceptance Rates for top business schools
With applications to top MBA programs booming, upcoming MBA application cycles are set to be among the most competitive yet.
This can be seen in high number of applications to top schools in 2020. After Harvard's massive 9,000+ applications in 2020, Stanford received the second-most applications out of the schools in our list, at 7,324, followed by Wharton, at 7,158.
The M7 business schools received an average of 6,679 MBA applications in 2020. With the average class size of these schools at 647 for the 2020 intake, only a select number of applicants are admitted, with their applications, essays, and GMAT scores scrutinized by admissions teams before a final interview.
The average MBA acceptance rate for the M7 business schools is 18.2%.
---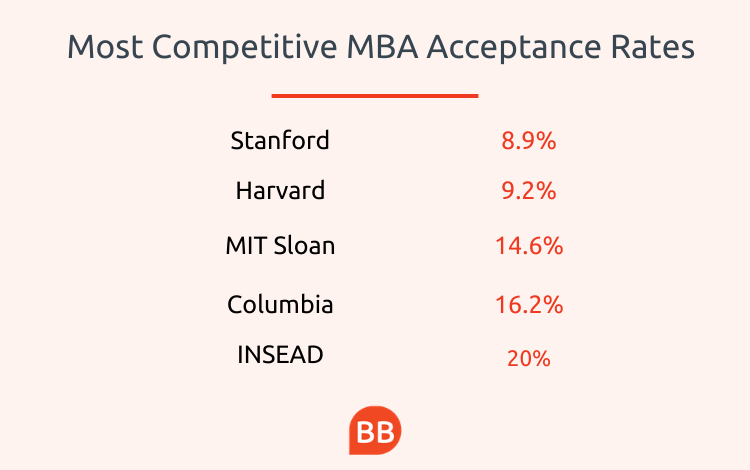 ---
After Stanford, Harvard boasts the next most competitive MBA acceptance rate, at 9.2%. In 2020, 9,304 people applied to the Harvard MBA—more than any other program—but only 859 got accepted and 732 enrolled (an enrolment rate of 7.9%).
More business schools with super-competitive MBA acceptance rates include MIT Sloan (14.6%), Columbia Business School (16.2%), and HEC Paris (21%). We estimate the INSEAD MBA acceptance rate to be around 20%, based on various online sources.
The Wharton MBA acceptance rate is 23.1% and the Yale MBA acceptance rate is 29.7%, while the Kelley School of Business acceptance rate is a friendlier 42.7%
Business schools with less competitive acceptance rates include London Business School, at 34.7%, as well as UNC Kenan-Flagler (51%) and Georgetown McDonough (56.9%).
While MBA acceptance rates tend to be most competitive at the top US schools and can be seen as an indicator of program demand and value, they don't tell you about the quality of the candidates applying.
To assess the quality of the MBA class, you're better off looking at class average GMAT scores or GMAT score ranges.
BusinessBecause has found that the quality of candidates applying remains high in 2021, with schools reporting no significant drop in academic indicators or professional preparation among MBA applicants despite rising applications.
---
---
MBA Acceptance Rate vs Enrolment Rate
While the MBA acceptance rate is the percentage of applicants admitted into the program, the MBA enrolment rate is the percentage of those applicants who actually enroll.
Enrolment rates are less useful in assessing how competitive each school is due to the drop off in accepted candidates, but comparing acceptance and enrolment rates can provide interesting insights.
Stanford's MBA enrolment rate, the lowest, is consistent with its competitive acceptance rate. However, Carnegie Mellon Tepper and USC Marshall record significantly lower enrolment rates (6.8% and 6.9% respectively) than their acceptance rates (27.7% and 24.3%).
This means a significant number of candidates who were accepted into those schools ultimately chose not to enroll in 2020. Most likely, they decided to defer or chose alternative schools.
The lack of difference between Stanford's acceptance and enrolment rates demonstrates the popularity of Stanford compared with other schools. Of the 651 students admitted, only 215 did not enroll—if you get an offer from Stanford, you most likely take it!
While acceptance and enrolment rates are useful, some schools are wary about sharing data. INSEAD does not share detailed admissions data, but INSEAD admissions staff told BusinessBecause they saw a 58% uplift in applications in 2020 and expect numbers to continue to grow.
Although applying to MBA programs is very competitive right now, business schools will likely increase class sizes to meet demand.
Indiana Kelley, which received 728 applications in total in 2020, has already received over 1,000 for its fall 2021 intake and plans to increase the class size from 92 to 135 students.
Harvard aside, MBA classes are generally larger than they were in 2018 despite COVID-19. Wharton's MBA class of 916 students, up from 862 in 2018, is the largest MBA class set to graduate in 2022.
---
If you're considering applying to MBA programs this year, download our free BusinessBecause MBA Application Guide.