The big US institutions like Harvard and Stanford have long dominated the business school market—but there is a force rising across the Pacific.

While US schools have seen a decline of applications, falling by 6.6% overall in 2018, Asian schools over the past few years have seen a considerable rise in MBA applicants, according to the GMAC Applicant Trends Survey—an 8.8% increase from 2017 to 2018 alone.

This rises significantly to 15.4% increase when you look just at international students applying to Asian schools—more specifically those in China and Southeast Asia—while the US has seen a 10% drop in international applications.

So why this shift? What is Asia offering students that you won't find elsewhere?
---
Crossroad of international business
©SubstanceP, used under this licence
---
While the political and economic climate in the US is becoming more unstable, the economy in Asia is growing and strengthening, making it a much more attractive place to work and study.
China alone accounted for 35.2% of global growth between 2017 and 2019, far more than even the US and Europe combined, at 17.9% and 9.5% respectively.
This is particularly true of the Asia Pacific economy, which is predicted to increase to 36% of global gross domestic product (GDP) by 2030, up from 31% in 2015.
As such, job opportunities are considerably more lucrative for MBA students in Asia. Many businesses are beginning to eye up opportunities to set up their headquarters in Asia as a way of penetrating the market there.
Singapore is home to around 4200 company regional headquarters—from LinkedIn and Twitter to GlaxoSmithKline—compared to just 1389 in Hong Kong and 470 in Shanghai, according to Cushman & Wakefield.
Singapore is well-positioned at the crossroads of Asia, connecting the major regional powerhouses of China, India, and Southeast Asia. Singapore has a distinct appeal for those eyeing up international business; that English is the most commonly-spoken language there is significant.
At National University of Singapore (NUS), graduates have a 94% rate of employment in the three months after graduation.
NUS MBA students enjoy a 131% salary increase, higher than top US and European competitors like Wharton (114%), MIT Sloan (107%), and London Business School (102%), according to the 2019 Financial Times Global MBA rankings.
That multinational businesses are growing in Asian countries like Singapore is only strengthening the appeal for international students to study there—88% of NUS MBA students are international.
"If you go to any other market, you are diving into a large domestic market, meaning that the MBA programs will have a strong domestic focus," notes Professor Jochen Wirtz, vice dean of graduate studies at NUS.
---
Tech innovation
©psisa, used under this licence
---
Tech is fast becoming one of the biggest employers for MBA graduates, and where is tech more exciting than in Asia.
"Outside of Silicon Valley, nowhere is as exciting and dynamic overall as what you are seeing in Asia," Jochen says.
Asia alone accounts for 55% of internet users globally, and is expected to contribute largely to the next billion users expected to come online by 2021. Factors such as high GDP growth and a growing middle class are all contributing conditions for the rapid tech growth that Asia is seeing.
Southeast Asia is already home to eight unicorn startups, two of which are based in Singapore— Grab, a ride-hailing and food delivery app, and Garena, a digital entertainment platform.
At NUS, new specializations on the MBA program are factoring in innovations which are taking place in the business world, including courses on data analytics and digital business.
MBA students are being brought up-to-date with on-going developments in those industries. Accounting, for example, looks not just at the human skills but also the digitalization and automation of a lot of the tasks in the industry.
"Business education is being disrupted, and there really has to be true value added to the face-to-face program," Jochen explains.
---
International reputation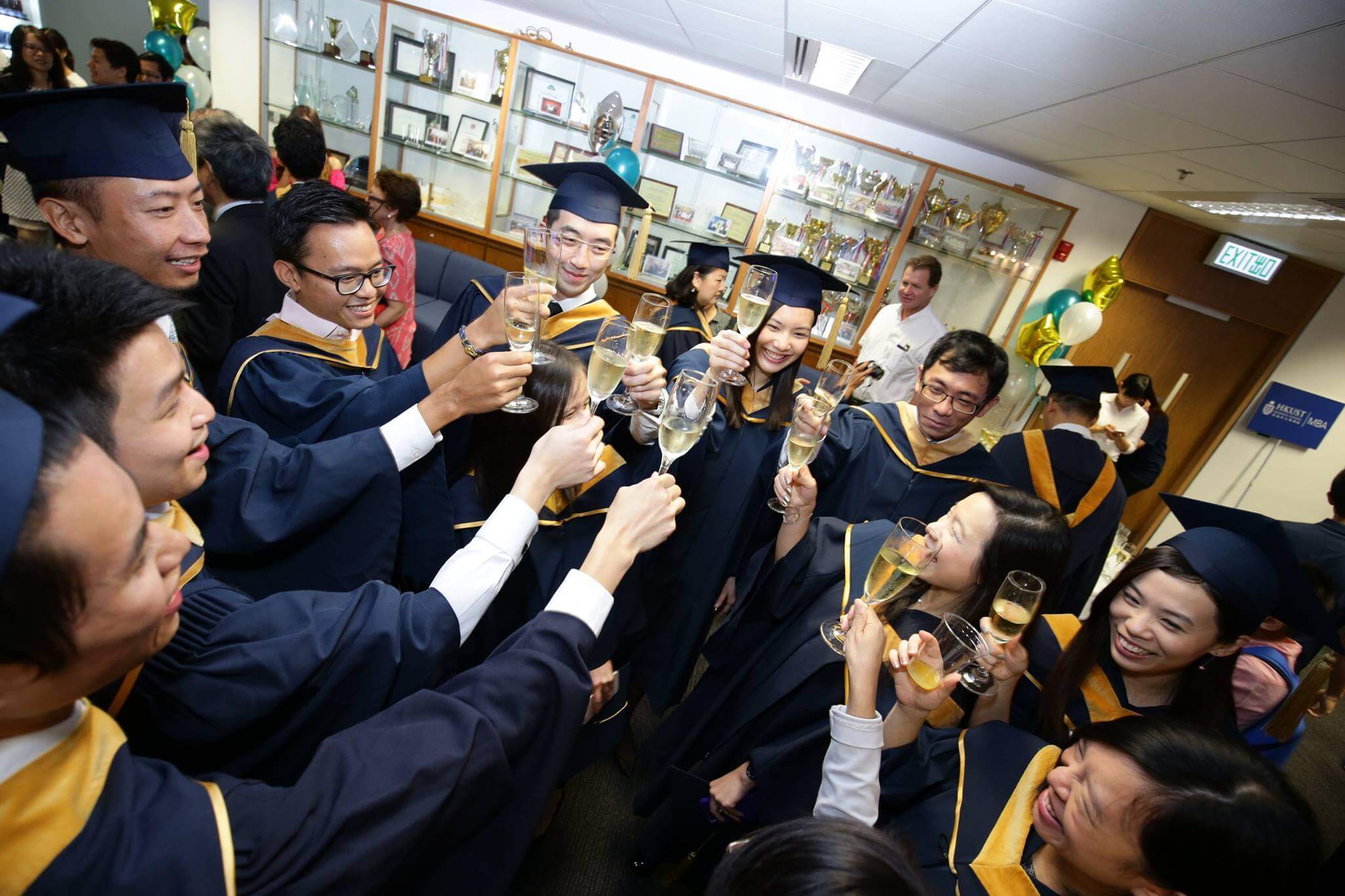 ©HKUST MBA Facebook
---
Just 20 years ago, there were no Asian schools in the Financial Times Global MBA Top 50. There are now 15 schools in the Top 100, and four schools cracking the top 20—Chinese schools CEIBS and HKUST, as well as INSEAD's Singapore campus, and the National University of Singapore at number 17.
This means well for both domestic and international students. According to the GMAC Prospective Students Survey 2019, 15% of students in East and Southeast Asia indicated a preference to study internationally.
The top two reasons for this preference were the reputation of the educational system abroad, and the improved chance of an international career.
Now that Asian b-schools are on a par, or even ahead, of European and US schools, and can provide first-hand access to a booming international tech market, it's no wonder applications are on the rise.
Related Content: