In the 55 years since it was founded, NUS Business School in Singapore has cemented its reputation as one of the best business schools in the world.
NUS led the charge of Asian programs up the Financial Times Global MBA Rankings and, as of 2020, is the second highest ranked Asian MBA, coming in at 15th overall. It has unique access to Singapore's economy, considered one of the most innovative and dynamic economies in the world. NUS also offers the most affordable MBA in the FT's top 20.
So what does it take to get into the NUS MBA? BusinessBecause spoke to the NUS MBA admissions team, to find out what they look for in candidates, and what applicants can expect from the admissions process.
---

---
What does NUS look for in MBA candidates?
NUS is fairly clear on what it's looking for in candidates. Leadership potential, intellectual curiosity, communication skills, and self-awareness are chief among the soft skills which the MBA admissions team actively look for in applicants.
"We're not just looking for academic excellence, but excellence in other areas, and how this plays into their career trajectory overall," explains Wedad Sunny, head of marketing and admissions for the MBA program at NUS.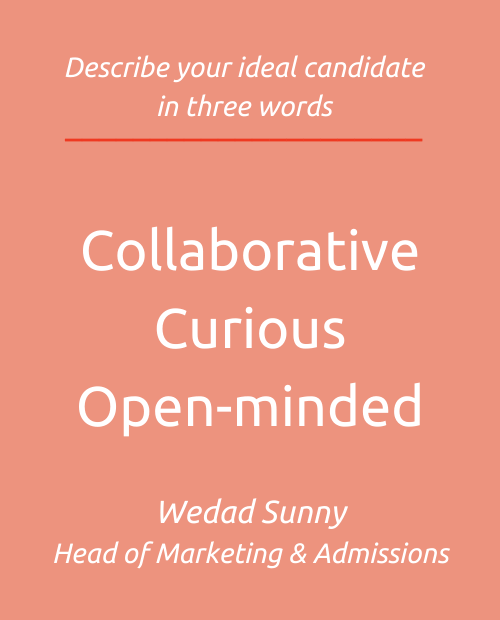 Crucially, the team isn't just looking for a homogenous group: diversity is at the heart of the admissions process.
This includes global diversity: 90% of the MBA cohort is international, drawing in students from across Asia and the rest of the world. But it's also not just about where you are from, but about your professional background, your interests, and your personality.
Su Ann Teo, head of admissions for The NUS MBA, believes this is a big part of looking at what applicants can contribute and bring to the classroom. After all, with an intimate group of 50 students in each class, having active participants is vital.
"We look for a propensity to contribute to classroom discussions, people who are positive about sharing their own experiences with fellow classmates," Su Ann notes.
---
What can you expect from the NUS MBA application?
The NUS MBA application has several distinct stages, on top of standard requirements like a GMAT score, an MBA resume, and references.
First of all, candidates have to complete the online application form. This includes two compulsory essays and one optional essay. For 2021 admissions, the essay questions are: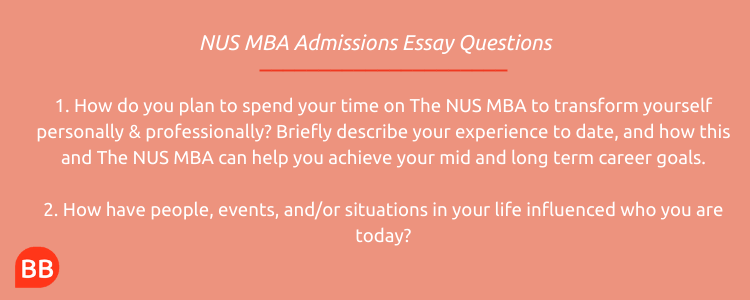 Wedad emphasizes the importance of the word "transform" in the first essay question. "We'd like to hear applicants elaborate on the kind of transformation they are looking for, both personally and professionally. The NUS MBA offers plenty of opportunities beyond the classroom, from exchanges, study trips, internships, to a thriving student club ecosystem where students can deepen their knowledge, explore career pathways, and build their network."
"We want candidates looking for real change and real experiences."
The NUS admissions team strongly encourages candidates to get to the heart of the NUS MBA. They should research the curriculum, with more than 50 academic and experiential electives offered, for students to select and customise their own learning pathway, and speak to current students and alumni to get first-hand insights into their experience.
Crucially, it's not about articulating your fit for any MBA: they want to know why the NUS MBA in particular. "There needs to be a two way fit—not just their suitability for the program, but how the program will fit your overall goals and plans," Wedad says.
---
How can you stand out in the NUS MBA interview?
After the online application, shortlisted candidates are invited to an interview. This is an opportunity to really shine, to bring your application to life and show NUS what you'll bring to the MBA.
"We want candidates to be able to articulate those qualities through examples, stories they can tell us, and personal experiences. Being able to bring that out adds a lot of credibility to their application," Su Ann stresses.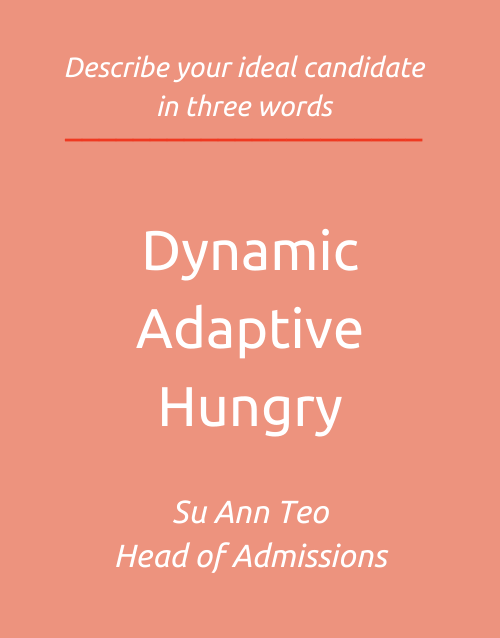 First, thinking about your personal brand is important.
Questions will vary, from the skills, expertise or interests you may bring to the classroom, how you've worked in a team or overcome challenging situations, to asking about your views on leadership and management.
Secondly, thinking about your contributions is important, both inside and outside the classroom. Campus life and MBA student clubs are an important part of the NUS experience, and they want to see that you're keen to participate and contribute.
There are a few big things to avoid during the interview. For example, don't be late, don't start by reading out your resume chronologically, and avoid general statements. "This is your elevator pitch, so first impressions are everything."
Applicants who stand out are those who are honest and candid. The interview process is really an opportunity for candidates to share their experiences, how these experiences have shaped them, and how they see themselves in the future.
"Be authentic. We want to get to know you as a person. We're looking for candidates who have interesting stories to tell, beyond the accomplishments that you have covered in your CV," Wedad says.
Su Ann adds—"Show us more of who you are, that's valuable."
---
Related Content: