Bankers on Wall Street pre-2008 worked around the principle that giant institutions, like Lehman Brothers, were too big to fail.

This was a fatal assumption which saw the demise of big-name firms in the financial crisis. It also forced professionals in the finance industry to reevaluate many things, like risk, that they had otherwise taken for granted.

As many of those hit hardest by the crunch might attest to, it is never too late to keep learning about finance.

Now, specialized MBA programs in finance are giving professionals, both in and outside the finance industry, a better idea of how money works.
---
Promotion, salary increase, and a change of perspective
During her career in project management at oil and energy company OMV, Johanna Hofmann repeatedly came into contact with the financial department—essentially, those who were funding what she was able to do.
The privacy surrounding the department, and the way they were making their decisions, frustrated and intrigued Johanna in equal measure.
"I was just dependent on what the finance people were telling me, and I wanted to know for myself," Johanna says.
Reluctance to abandon her current position drew Johanna towards part-time MBA programs, while her desire to focus specifically on the area of finance meant that a specialized program was high on her priorities.
The Professional MBA in Finance at WU Executive Academy in Vienna ticked both of these boxes.
Instantly, she found that what she was learning in the classroom was complementing what she already understood about finance—the perfect "add-on" to her foundational knowledge.
A personal highlight was the study trip to Boston, which takes place at the beginning of the second year. Candidates are taken around top companies in the Boston area, like ratings agency Standard & Poor's.
Students also spend 10 days at the Harvard Business School campus, learning from HBS professors. "These are places that you would never just be able to walk into!" Johanna proclaims.
From a career perspective, Johanna says her MBA gave her a promotion and a salary increase. Beyond that, it has fundamentally changed the way she conducts herself at work.
"It has given me far more self-awareness and self-confidence to talk to the finance and business people [at work]," Johanna reveals.
"It's really important to dive into wider areas outside of your expertise," she continues. "If you want to go into the managerial sphere, the wider you look, the better the decisions will be that you take."
---
Boosting your professional profile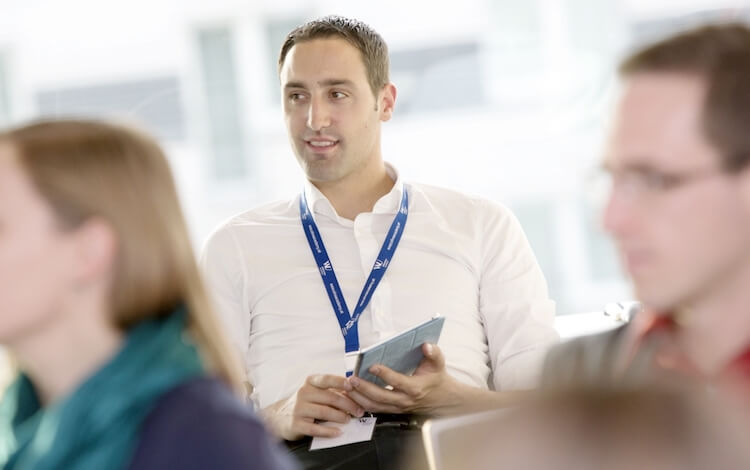 Having originally trained as a lawyer, and having done his PhD in corporate law, Walter Lackner (pictured) was "emotionally and intellectually captured" by banking, he says.
Six years on at Erste Bank, a top bank in Austria, Walter wanted to solidify his own academic understanding, something he hoped would strengthen his own profile at the company.
"I'd come to a point where I felt it was important that I am perceived as a well-rounded banker, both from an experiential and academic point of view," Walter notes.
He looked at top MBA programs across Europe. "Across these programs, the content is comparable," he says. "The real difference is the quality of the class."
Walter says the MBA in Finance at WU offered a diversity of high caliber professionals from across different industries, which boosted debate in class as well as building a strong network across many professions.
Meanwhile, having visiting professors from schools like London Business School and INSEAD meant that he felt he was getting access to the same top quality education that he would have on these other programs.
The time schedule suited Walter perfectly, with classes roughly once a month, meaning he could prepare sufficiently while maintaining his job and his obligations as a married father of two.
And it boosted his professional profile in a big way. He now works as the head of the corporate workout competence center at Erste Bank, managing across seven countries.
"An MBA is voluntary," he says. "Those who do it are the kind of people who want to go the extra mile."
Related Content: