Business schools are quickly recognizing the importance of teaching more technical, digital skills alongside traditional core courses in leadership and management.

The demand is clear—programs with a data analytics specialization, for example, are the fastest growing, with a 33% increase in volume between 2017 and 2018.

Now, some US schools are starting to offer STEM (science, technology, engineering, mathematics) tracks on MBA programs.

Pursing an MBA program with STEM designation is a chance to gain expertise in the more technical areas of business and, if you're an international student, it could help you extend your stay in the US.

Here's five reasons why you should do a STEM-designated MBA:
---
1. You'll be at the forefront of tech innovation
Everywhere you look, businesses are incorporating tech into their operations.
In finance, we've seen the quick emergence of online banking and fintech. In marketing, artificial intelligence technology has become a tool for customer interaction.
The STEM Designated MBA (MSTeM) at Duke University's Fuqua School of Business in Durham, North Carolina, offers students an insight into these innovations.
"Our biggest goal is to give students the opportunity to not only go in-depth on leveraging data, but to be able to apply that across disciplines," explains Russ Morgan, the senior associate dean of full-time programs at Fuqua.
Popular among these are classes in data analytics, exposing students to big data and its many applications across business, as well as classes in fintech, blockchain, and cryptocurrency.
---
2. Your STEM skills will be in high demand

While America's job market is competitive—particularly for internationals—for those with the right skills, the odds may be in your favor.
An increasing STEM skills shortage in the US is estimated to leave two million jobs empty by 2025.
This comes down to lack of qualification and expertise in high-skilled STEM fields, as well as the decision of many STEM graduates from countries like India and China to work domestically rather than relocate.
This is where those with the MSTeM will have a significant advantage in the job market.
"We hope to create a workforce that has the necessary STEM skills to continue innovation in business and meet the needs of the market," Russ stresses.
Given that STEM graduates are expected to be the highest paid in 2019, it's a very enticing prospect.
---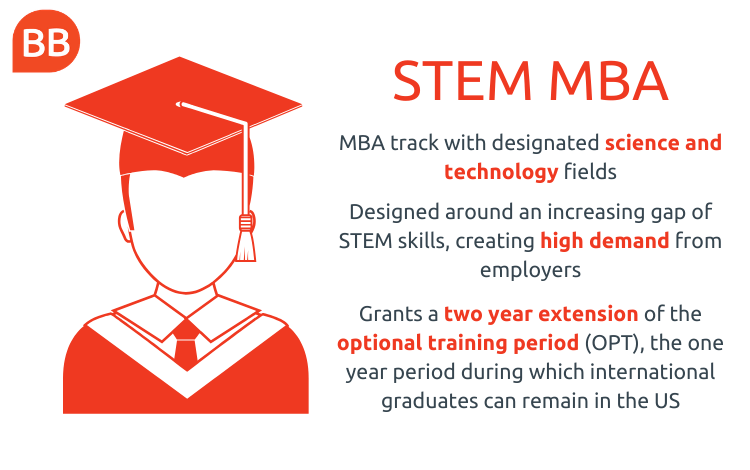 ---
3. Top tech firms will want to hire you
Move aside consulting firms and investment banks—tech companies are fast becoming some of the biggest employers of MBA graduates.
Google and Amazon respectively saw a 75% and 67% increase in their MBA hires last year, while overall, 89% of tech companies planned to hire MBA graduates in 2018, according to the GMAC Corporate Recruiters Survey.
"A few years ago, consulting was the clearly dominant industry for our graduates," Russ illustrates. "But with the rise of the technology industry and the addition of this curriculum offering, we are seeing technology related-careers as being on par for our graduates."
For MSTeM students, mastering core skills like data analytics and digitalization are stepping stones into prime employment at Silicon Valley's giants. Fuqua is already seeing the results of this, with 30% of MBA students finding employment in tech-related jobs.
"Our students stand out because they can translate big data, and leverage their skills and knowledge, to adapt to what is happening in the tech-business world," Russ explains.
"They have the right mix of skills that help them to get the most out of an entire organization in a way that brings these technologies to life."
---
4. You'll become a better leader
As with any top MBA program—it will help you nail down great leadership.
But crucially, MSTeM graduates will boast these high-in-demand tech skills alongside the ability to lead a team.
"We're trying to mix the balance of quantitative and qualitative modules in the program, to make sure that we have leaders who are adept and practical," says Russ.
Fuqua's MSTeM emphasizes that while knowledge and understanding of tech is important, so is the ability to communicate and strategize it in order to benefit society.
---
5. You could extend your stay in the US after graduation
If you land a place on a STEM-designation MBA, you could stay to work in the US for up to three years after graduation.
The STEM designation means a two-year extension on the initial one-year Optional Practice Training (OPT) period that international students are given to work in the US before applying for a visa.
This will also make you more attractive to US employers. "Employers can be comfortable that a new hire won't necessarily have to leave after the twelve months of OPT," Russ explains.
For students who aspire to work in a STEM-related job and stay in the US, a STEM-designation as well as recent changes to US immigration rules offer significant advantages to internationals with MBA degrees.
Related Content: