Jeff Fraser isn't what you'd call a typical MBA candidate.
After graduating from a bachelor's degree in international relations Jeff says, he "basically did the exact opposite of my parents' advice."
He moved half-way across the world from the USA to Asia, hopping between jobs, countries, and industries as he took risks to understand his place in the professional world.
Jeff began his journey teaching English in South Korea, before moving onto Mongolia, then Thailand.
"I've accumulated a pretty eclectic collection of stories along the way," Jeff explains, "like the two years I spent living in a yurt in Mongolia's countryside."
As a Peace Corps volunteer, Jeff helped develop communities in rural Mongolia. Once his volunteering experience was over, he remained in the country to embark on a career that ranged from digital marketing to a stint as a local TV and radio host.
His interest in digital marketing eventually led Jeff to become the head of marketing and communications for a social enterprise organization, Wedu Global in Bangkok.
Now, he's living in Singapore, undertaking the Global MBA program at ESSEC Business School.
---
The five-year plan
Jeff had known since his bachelor's degree that an MBA was on the cards for him.
"I made it part of my original 'Five Year Plan'," he says. Two and a half years in, though, he decided to wait a little longer.
"With only a few years of experience, my mentors rightfully doubted whether I would be able to fully reap the benefits of an MBA program," he explains.
"I put my search on hold so I could gain clarity, perspective, and experience."
Just over five years later, Jeff received an email informing him that his GMAT scores were about to expire. "I had become so consumed in new experiences that I tucked the thought of an MBA in some far recesses of my mind and forgot about it," he says.
Armed with more work experience, and some great advice from his mentors, Jeff decided that it was finally time for his MBA.
---
Living in the future
"I was introduced to ESSEC at a postgraduate fair in Bangkok," Jeff recalls. ESSEC's global recognition, along with its Singapore location, ticked all the boxes.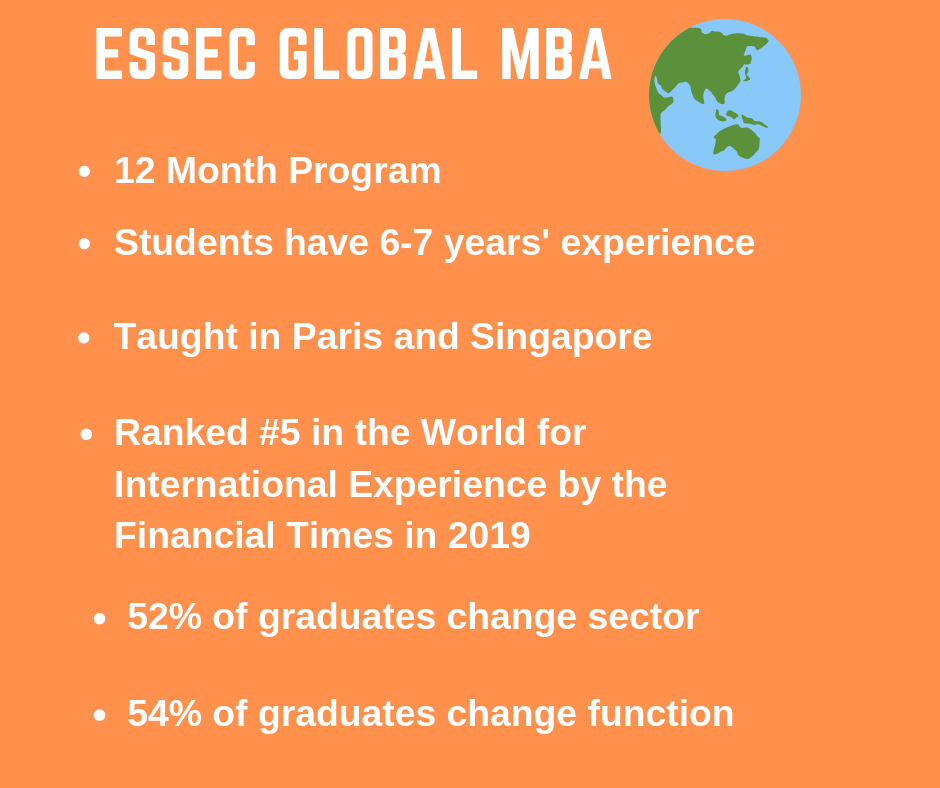 With a GDP of $527 billion and an impressively high score on the Index of Economic Freedom, the city-state is an attractive prospect for more MBA applicants than ever.
For Jeff, Singapore is also a gateway to parts of Asia that he's yet to explore— and the perfect spot for a digital career.
"By now it sounds like a cliché, but living in Singapore really does feel like living in the future," he notes. "It's an incredibly modern city paving the way in digital transformation."
Submersed in this atmosphere, Jeff continued to pursue his interest in all things digital, selecting ESSEC's Global MBA, which features a strong focus on digital transformation.
---
Hands-on learning for the digital world
On the ESSEC Global MBA, participants have ample opportunity for hands-on experience, Jeff says. The program is punctuated by a series of business trips, while back in the classroom work typically revolves around real-world case studies, from Nokia to Kodak.
"We also studied modern cases, like how digital platforms are confronting the issues of last mile logistics, or how big data and AI are being leveraged to deepen consumer insights," Jeff says.
For the class' end of year capstone consulting project, Jeff was able to work alongside lighting giant Signify, developing solutions for a unique business case they presented.
---
Around the world in three case studies
To Jeff's surprise, business trips turned out to be one of his favorite parts of the program.
ESSEC's Global MBA is currently ranked fifth in the world for international experience by the Financial Times, giving participants the chance to study at campuses in France or Singapore, and take part in multiple overseas case studies.
For Jeff, a trip to Morocco proved to be a highlight. Here, the class learned how multinational companies are adapting to Africa while dealing with digital transformation.
Immediately after, participants moved onto ESSEC's Cergy campus in France, to take part in the annual Digital Week Competition. Here, Jeff and his team developed solutions to real-world digital challenges presented by companies.
He was able to broaden his experience of Asia with a trip to Bukit Lawang, Indonesia.
"We worked on a sustainable development business pitch competition to support the area's tourism industry," Jeff explains.
Armed with these experiences, Jeff intends to give his career a "soft relaunch" after graduation. He hopes to make the most of his creative and strategic experience in a digital agency.
"I look forward to a career that encourages me to learn and grow while drawing on my unique experiences to solve complex business problems."
Related Content: