When MBA Jisun Shin started her career at Microsoft in China in 2013, she was already a technology veteran. She'd worked for Yahoo, Naver, and Samsung, and had spent her professional life in an area we're all familiar with: online search.

But she wanted more. She felt she needed a new lease of energy to continue building her career. She wanted to combine academic knowledge with her established career experience and develop a strong network in China.

Jisun didn't want to give up her job at Microsoft though, which is why she opted for the Beijing International MBA (BiMBA) at Peking University (PKU). She chose the part-time program, delivered in partnership with Vlerick School of Business in Belgium and run out of the National School of Development (NSD) in Beijing, a leading university think tank in China.

Students can alternatively study a joint MBA between PKU and University College London (UCL), which is delivered full-time and part-time in Beijing, and takes students to London for an elective module.
---
How the BiMBA program enhanced my career at Microsoft
Jisun is currently senior program manager for enterprise mobile experience at Microsoft. She says that after classes in finance and accounting—topics she previously wasn't exposed to—she's been able to implement her knowledge immediately into work, and evaluate her business processes more fluently.
After marketing and branding, she is now clearer on how to position her product in the market and how to communicate better with customers.
"It definitely added an implement to my work beyond the technical product or engineering perspective.
"I had to learn how to negotiate and deliver messages with the people around me," she adds.
As an expat entering China for work, Jisun explains that she had to get used to a new way of working. Culturally, the MBA exposed her to the nuances of Chinese business.
By interacting and working with her Chinese classmates she saw how they delivered their opinions in a softer, indirect way, as they cared about the feelings of the people around them.
"It was kind of a live learning session on how to organize and process business communication in China."
The MBA pushes you out of your comfort zone, requires you to continuously present and pitch in front of your peers, and teaches you how to be on stage and deliver a keynote before an audience.
---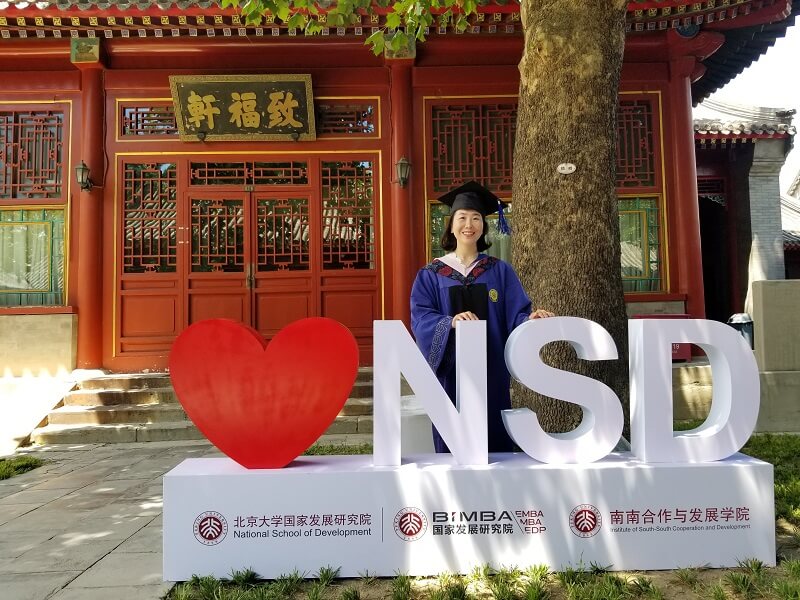 ---
Managing across cultures
In one of Jisun's HR classes, she says students were taught how to manage across cultures.
Working at a multinational like Microsoft in China, Jisun says that she meets people all the time from different backgrounds and cultures.
"Based on experience I know that people behave differently when they express what they think and feel. But, in the HR classes, they provided more specific examples, like the European thinking model, American thinking model, and the Asian thinking model.
When she now meets people from different backgrounds, Jisun can prepare better beforehand, as she says she now has the knowledge about different behaviors and cultures, and how to maneuver them.
"I could fine tune and polish my manners when working with colleagues from different countries," she says.
---
The benefits of the PKU-Vlerick partnership
Jisun has taken all of her classes in Beijing, with professors from Vlerick travelling to PKU to teach the students on the MBA.
There is the perfect balance, she says, between the academic rigor of the professors from PKU, and the professional experience brought to the table by the Vlerick professors. Many have worked in international companies, so when they teach you about a specific topic area it's coming with real-life experience.
"I think that was very valuable because we need to apply the learnings in the class to our day to day business," Jisun says.
A second major benefit of the BiMBA program, she adds, is the NSD. Being one of the top social science think tanks in China gives students a different perspective beyond the typical business school.
"It provided a better knowledge about the overall Chinese economy beyond specific business topics, and BiMBA and the NSD organized many external lectures, inviting professors and scholars skilled in the Chinese economy."
So, you get the best of both worlds. You don't feel that China specific or European specific classes are siloed, Jisun explains, because as well as looking at country specific case studies, you focus on the common factors between the two.
Her career at Microsoft took Jisun from working on the Bing app for Android to Microsoft Edge for IOS and Android—since starting the MBA, she's moved into her current position as the senior program manager for enterprise mobile experience.
The program is therefore a no brainer, Jisun concludes, for any foreigner wanting to tap into the potential of the Chinese economy. She says that if you're an expat working in the country, the part-time PKU-Vlerick MBA is a great way to add more value to your career.
Related Content: