There's never been a better time to pursue jobs in STEM. STEM salaries are 12-to-30% higher than salaries in non-STEM professions. And STEM careers are in high demand, with over two million jobs predicted to need filling by 2025.

This is particularly good news for graduates from STEM MBA programs, with big tech companies like Google, Facebook, and Amazon continuing to increase their MBA hires each year.

For business professionals eyeing up these sought-after careers in STEM (science, technology, engineering, mathematics), here are five skills you need to succeed:
---
1. Creative problem solving
Whether it's a STEM, or non-STEM field, approaching problems with a creative mindset continues to be one of the most sought after skills for MBA graduates. The increasing digitalization of business is creating new, more efficient technological tools for dealing with problems.
"Employers are looking for the same core skill of problem solving, but through the lens of technology," explains Sheryle Dirks, associate dean for career management at Duke University's Fuqua School of Business.
"Leaders have more technology, more data, tools, and resources than ever before."
The Fuqua MBA's management science and tech management (MSTeM) designation offers students the chance to grasp these tools for addressing problem solving. Courses in programming fundamentals and data analysis all demonstrate how typical cores of business, like marketing and finance, have been changed by technology.
---
2. Big data analysis
Mastering big data is becoming a key skill in the age of digitalization, and employers are finding it particularly difficult to find in employees.
Google product manager Ran Mor, and Fuqua MBA graduate, illustrates how data is helping businesses to understand their customers better, and how they use it to refine their products. And it's not just up to data analysts to understand it.
"You can't make wider decisions if you don't understand the data. It's important to be able to look at it yourself and know what to do with it," Ran explains.
He particularly benefited from the data analytics class on the MSTeM, an introduction into the cores of data, as well as how to practically apply it. As part of Google's Mobile App Ads team, Ran deploys and analyzes data to help mobile developers promote their iOS and Android apps across Google's various platforms.
---
3. Ability to bridge the gap
The diverse nature of tech companies makes them a particularly unique challenge for business leaders looking to get involved. Unlike industries like finance or consulting, where knowledge backgrounds are fairly similar, tech brings together a variety of industry professionals.
This makes it even more important for STEM leaders to be able to bring together roles to make sure everyone's pulling in the same direction.
Ran, from a software engineering background, remembers the conflict between engineers and managers from his former role as a mobile developer. Part of his MBA was learning how to bring together these different sides of the business.
"Data analytics is a good example. It's not just about coding, it's not just about marketing, it's about how you bring together both worlds for the benefit of the company," Ran stresses.
---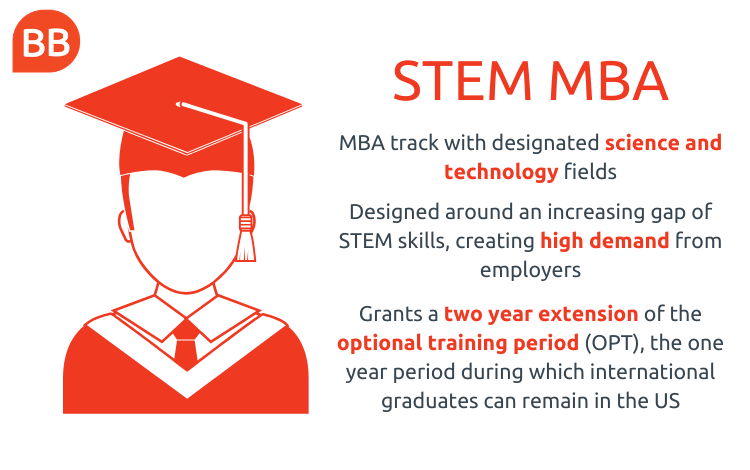 ---
4. Adaptability
The fast-evolving wave of digitalization means that employers are looking for leaders who are going to be able to adapt to change and progress.
"While having hard skills, such as those in specific programming languages, can be an asset for an MBA candidate, the higher order benefit is being able to demonstrate to an employer that you can learn quickly and adapt to change in a rapidly moving environment," Sheryle underlines.
This is the key behind the course in programming fundamentals, which teaches the underlying competency that leaders will need to learn new web languages.
This applies to many technologies, which are likely to undergo several changes even over a short career span.
"You should show employers that you have the ability to learn new technologies that might be specific to each workplace and those that will emerge in years to come," Sheryle insists.
---
5. Strong leadership
All these skills are secondary to strong, confident leadership.
Leaders can't be purely engineering focused, nor solely concerned with the management of the company. The "hybrid leader,'' Sheryle explains, can "bring together the technical and focused skill set [of the STEM world] with broad strategic mindset of the MBA".
With a STEM shortage in the US at the moment, programs like the MBA at Duke, with a STEM certification, offer significant benefits to international students who can demonstrate this hybrid leadership. This includes an extension on their visa, which increases the number of times they can apply for an H-1B (international work) visa.
Strong leadership also stresses the importance of vision. While top employers like Google, Facebook, and Amazon want people with soft and hard skills, they want people who are going to drive innovation and bring the business forward. The Tim Cooks and the Sheryl Sandbergs of this world.
"Somebody who can harness the power of technology and think about how it can serve our customers better, help us operate it more efficiently, and help us be a better business," Sheryle underlines.
Related Content: