Going from the military to the MBA worried Frank Mozingo before he set foot on campus at Cornell University's Samuel Curtis Johnson Graduate School of Management. He comes from a military family, has military friends, and worked in the military—he didn't know what to expect when he arrived at business school.

Frank spent five years in the US Army as a field artillery officer. He had been stationed in South Korea, the US, Germany, and Poland.

"I learned a lot about myself," he says, "about leading others, and it was a great way to gain skills that would help me in any career field after transitioning and getting out of the military."
---
Going from the military to business
Coming out of the military, Frank knew he had plenty of good soft skills. He could manage teams, deal with ambiguity, and work in high-pressure situations. He lacked the hard skills, though, that would allow him to compete in the business world.
"I knew I needed additional training to help me be up to the level of the competition," he recalls. "I began looking at different programs and found that the MBA was the best fit for what I was trying to do. Then I found Cornell, and I've loved it since."
The two-year MBA program at Cornell stood out for Frank because he says he could immediately see the tight knit veteran community. He reached out to students and alumni whose responses confirmed that it was a support network that would have your back.
"That meant a lot to me as I was transitioning from active duty to school," Frank explains. "Cornell is a smaller school in a smaller town, so that really brings this group of people close, you make tremendous friends, and I feel that you can really only do that in a small town."
Veterans can often suffer from imposter syndrome when they first arrive in the MBA classroom, Frank reveals. But he acknowledges that needn't be the case—arriving with the skills you obtain in the military can give you a competitive advantage.
"Be confident," he advises. "Try to fight that imposter syndrome that can sneak up on you. You're bringing a lot to the table, and you may not realize but you have a lot to offer and your opinions are extremely sought after when you do get into the program.
"My advice is to get out there and talk to everyone, make sure reaching out to veterans from different programs, picking their brains. Also talk to non-military students at these programs too, as you can gain so much from the experience of others."
---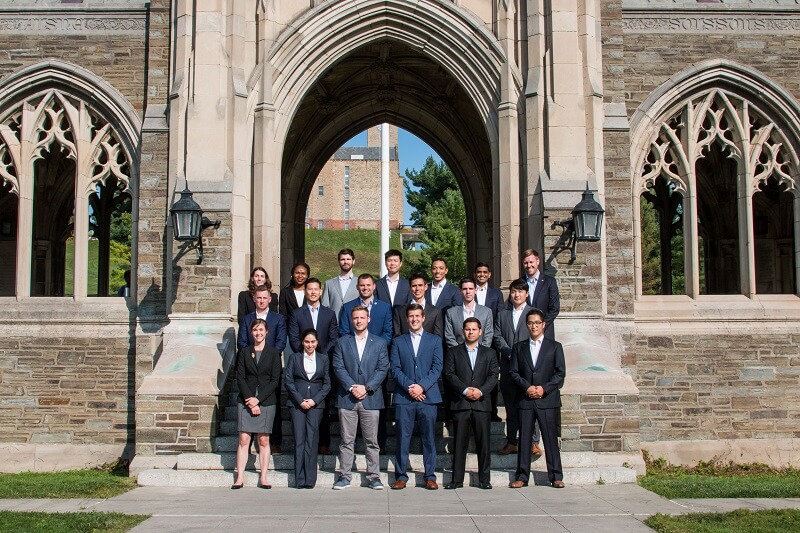 ---
The value of a support network at business school
So far, Frank says he has had a great experience on the MBA. Everyone's opinion at Cornell is valued, he adds, and you look at people holistically, without pigeonholing them into their individual backgrounds.
The value of inclusivity at Cornell extends to the Office of Diversity & Inclusion, which supports the rise of women, underrepresented minority, and LGBTQ leaders.
He is also part of the diversity council, which is made up of different student leaders from various student organizations with diverse backgrounds. There are members from the Black Graduate Business Association, the Women's Management Council, and the Association of Veterans.
"We gather every other week and talk about diversity and inclusion issues within the school, and how we as a community can raise our standards and hold ourselves accountable to become an even more inclusive environment.
"Being able to have the veteran perspective in these rooms that have formalized support have really allowed us to build this amazing community."
The combination of a supportive community, the military soft skills he brought into the classroom, and the MBA education at Cornell has developed Frank into an all-round modern business leader.
He took the marketing immersion on the MBA, and through the MBA Veterans Conference in Chicago landed a brand management internship at SC Johnson—he is set to start a full-time position with the firm after graduation.
"I think It's the perfect marriage of skills," Frank explains, "in the business world it can take a while before you develop and build upon your soft skills, whereas in the military from day one it's like, 'hey you're in charge of 30 soldiers and a couple million dollars of equipment.
"So coming into the MBA with that I think really makes military and veteran candidates stronger overall."
Related Content: