Big tech companies have been under the spotlight for the past few years. Facebook, Uber, WeWork, Amazon; they've all come under close scrutiny for scandals that have unfurled in the public eye.
These companies represent the digital economy and the way that business has moved online. But they've also created a schism between financial value and value for society.
Karan Girotra is professor of operations, technology, and information management at Cornell University's Samuel Curtis Johnson Graduate School of Management and a faculty member for the STEM-designated Johnson Cornell Tech MBA —a one-year residential program run out of Cornell's New York city campus—which is different from a traditional MBA in that it focuses on aspects of the technology industry, data analytics, and entrepreneurship.
Karan says that there are two rules that govern management at big tech firms when creating a new company or service.
"I believe that companies should pay attention to building products and services that create value and be wary of the externalities that arise from the things you're building; think Facebook, for example, and the wider impact the company has had on society.
"Understanding that those two things are key to good management in the digital age is a lesson to be learned for MBAs who want to develop into strong, competent business leaders."
---
What does it take for MBAs to lead at big tech companies?
The typical MBA skills you develop in operations, finance, learning to manage people, accounting, and so on, are still important, thinks Karan. But what you need in addition to that is the ability to build.
"It's not just about managing or making sure the trains run on time or making them run two percent better every year or cutting costs," he explains. "In the digital era, because there's so much opportunity for creating new things you need the skill set to build them.
"That could be new business lines, new products, new business models. All these things are made possible by rapid advancement in digital technologies. The new, core skillset MBAs need to learn is the builder mindset."
---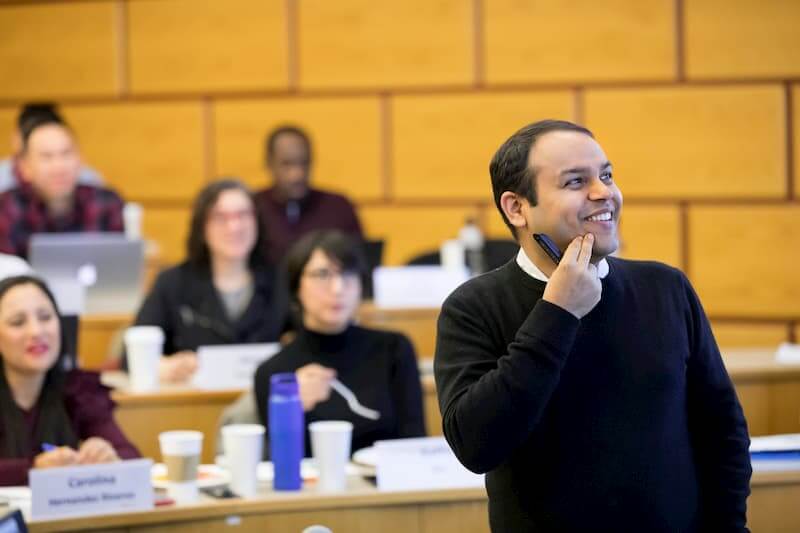 ---
Tech MBA students are immersed in an environment that challenges them to develop tech solutions for leading startups, companies, and organizations in New York City.
Karan explains that for around one-third of the program students work in teams to build something that is viable to take to market. They create a real product, working with investors and stakeholders in existing companies to do so.
"The best way to become a builder is by actually getting your hands dirty and building, that is via an experiential real-world curriculum," says Karan.
The product building is done through Cornell's Studio, where students work in diverse teams akin to the real world. Teams combine engineering skills, management skills, marketing, software, legal, and design.
"Traditional MBA programs have an overrepresentation of business and management skills," says Karan. "At Cornell you're part of a multidisciplinary team. You have one MBA, a software engineer, hardware engineer, data scientist, operations research expert, and maybe a designer.
"That's the typical team in which we build things, and it brings it much closer to reality, replicates what happens in the real world."
---
Managing at big tech companies requires an understanding of ethics
Anyone who read the news headlines in the past few years will know the importance of ethics when creating new technology products. WeWork's failed IPO, multiple reports of alleged sexual assault at Uber, and the Facebook and Cambridge Analytica data breach are just a few examples. They all carry important lessons for future business leaders.
"We saw a number of failures where people built [products] but didn't think enough about the ethical, social, or legal implications of what they were building," Karan says.
"The failures are obvious around building platforms to maximize engagement without thinking too much about the consequences or influence on society at large."
Overall, maybe three years back, someone could have said you build a great product from the point of view of raising money and get away with it. But anyone who's had their eyes open in 2019, Karan believes, knows that's no longer a viable option.
Even if you build something that has a financial gain, it can have a detrimental impact on society. In retrospect, Karan adds, it's the business models that need to be fixed.
That's what the Johnson Cornell Tech MBA is trying to accomplish, by creating diverse teams who can bring a multitude of perspectives to the table.
"It is tech management done with a focus on creating true value for society, it is tech management done not for the short-term gain of raising money or big headline valuations, but for creating sustainable businesses."