Is an MBA still worth it? With the investment required to go to business school, it's a question worth pondering before enrolling in an MBA program.

The coronavirus pandemic has wreaked havoc on the global economy, staff have been furloughed, and jobs lost. But we will recover and, when we do, an MBA could be what helps you stand out in the post-coronavirus job market.

Here's why.
---
How an MBA could help you stand out in a crowded job market
According to the Graduate Management Admission Council's (GMAC) Corporate Recruiters survey in 2019, 86% of companies surveyed either agreed or strongly agreed that business school graduates were well prepared for success in their firm.
The industries that have the most confidence in business school graduates are finance, accounting, technology, and healthcare.
Business school is a great way to retrain or pivot your career towards one of these industries—consulting is also high on the MBA agenda—with a post-MBA job the reward at the end of it.
In the US, the traditional two-year degree gives you the chance to take on a summer internship in between your first and second years. This is an ideal way to make yourself known and build expertise in an industry of choice.
Take Alex Fein, for example, a current Global MBA student at Temple University's Fox School of Business, who landed an MBA internship with The Hershey Company in summer 2019.
After considering his business school options, Alex chose the full-time Global MBA at the Fox School to hone his existing skill set, extend his network, and launch a career with a large corporation.
Alex was exposed to The Hershey Company in a professional setting on the Fox School's campus, where he attended an information session by Hershey's representatives. Connecting with the firm through the Fox School laid the groundwork for him to impress, he says, once he'd found the role and landed an interview.
An MBA that offers the opportunity to gain first-hand business experience and build a network within a large corporation could be what helps you stand out in the post-coronavirus jobs market.
---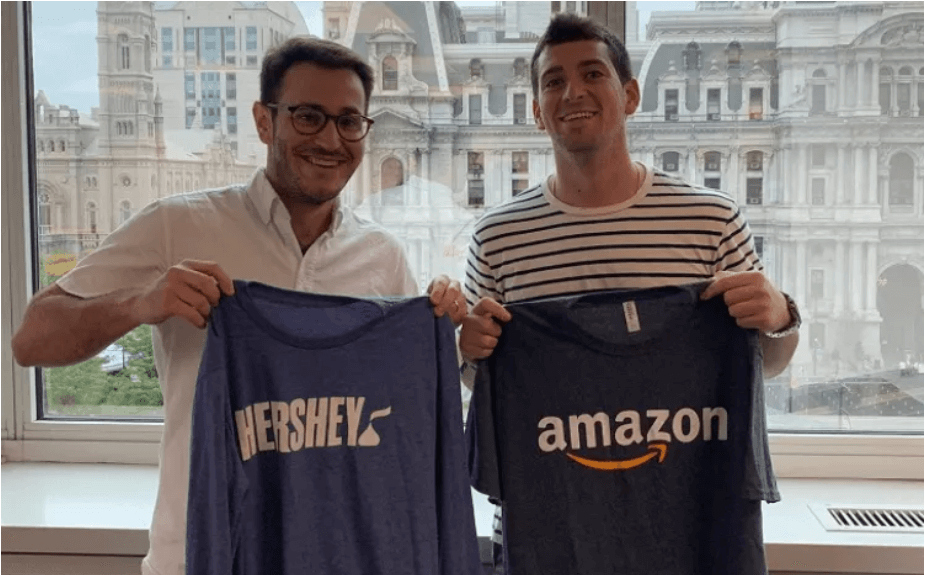 ---
Real-time application of knowledge
There are multiple MBA degree formats depending on your own personal circumstance. The two-year, full-time Global MBA at the Fox School is geared towards the career switcher, someone who can afford two years out of the workforce to pivot their career in a new direction.
But leaving a job to pursue full-time education isn't an option for everybody. That's where the Online MBA comes in. An online MBA can be the ideal way to enhance your skill set and land a promotion in your current role.
Eric Rivera, senior associate director of graduate enrollment at Fox School of Business and a graduate of the school's Online MBA program, says the flexibility of the program accommodates busy professional, personal and family lives.
In current circumstances, having the infrastructure in place to shift campus education online is of huge benefit to students. The Fox School launched its Online MBA over a decade ago, and was one of the earliest entrants into the distance learning MBA arena.
The degree type is a great place to gain virtual international exposure, and to develop the skills necessary to lead and manage across both digital and cultural borders.
An online MBA could also be a great option if you're an entrepreneur, as Warren Kucker, a graduate from the Fox School's online program, found out. Warren studied for the online MBA while in a logistics role at Apple.
Being able to balance work and study meant Warren was able to acquire the business knowledge he needed from the MBA to start his own business. He left Apple to launch Boxton, a logistics startup that simplifies the processes involved with shipping products.
---
Applying To Business School During COVID-19?
---
---
Average MBA Salary
In addition to the global business opportunities, flexibility and enhanced career prospects, the average MBA salary far surpasses what students earn before business school.
In GMAC's most recent corporate recruiters survey, it was reported the median annual base starting salary US employers plan to offer new hires was $115,000. That's more than double the median for new bachelor's degree hires.
Average median MBA salaries in the US are highest in consulting ($135,000), and finance and accounting ($125,000).
In Europe, the average median salary new MBA hires were given was $95,000, and in the Asia-Pacific region it was $45,000.
With companies actively seeking to hire MBA talent, and confirming that they believe MBA students well equipped to be successful in their companies, business school is a ticket to a new career.
Though starting salaries may take a hit in the post-coronavirus recovery, getting your hands on a degree that gives you ample international experience and the opportunity to gain first-hand business experience through an MBA internship could be how you stand out in the coming years of post-coronavirus economy recovery.
With all of the above in mind, and when the coronavirus pandemic eases to allow the normal workings of on campus MBA programs, the answer to whether the degree is worth it is an overwhelming yes.
---
Read more Fox MBA stories:
Here's What You Can Expect From An Online MBA
MBA Jobs: Amazon Hired Me After My Fox School Of Business MBA
Related Content: