The current economic forecast is fairly bleak, making it a particularly uncertain time to apply for business school.
Scott Kennedy can sympathize. He enrolled at Alliance Manchester Business School in 2007, just as the world was about to witness a global financial crisis. He graduated in 2009 into one of the worst job markets for decades. In 2009, he landed a job at HSBC, where he worked for five years. He is now the managing director of the Swinton Group, a UK-based insurance broker.
We spoke to him about the lessons he learned from the experience of graduating from business school during a crisis, and asked about his advice for prospective students.
---
Value of an MBA in a Crisis
Read other stories of MBA graduates from the 2008 financial crash.
Audrey Hametner | Imperial College Business School
Adam Siegel | MIT Sloan School of Management
Cesar Aya | Said Business School, University of Oxford
Damian Wisniewski | MIT Sloan School of Management
---
What was the climate like back in 2008 for MBAs?
As we were going through the course, it got worse for us. We started in summer of 2007, then Lehman Brothers collapsed in October '08.
Most people started seriously searching for jobs in February 2009. I remember, going to talk to recruiters, and they just said, bonuses are not being paid, they're closing down MBA and graduate programs, and there will be a hefty amount of layoffs. At the worst part there was a bit of desperation across the group, especially people who'd been invited to interview, and even these interviews were disappearing.
The feedback was constantly that you're a good candidate, you've interviewed well, but we're not hiring any more.
---
What were your key takeaways and lessons learned?
You can't change the time of what's happening, it is what it is.
What you need to do is by the time recruitment reopens, make sure you're in the front line in terms of getting in a role or a company that you've been keen to work in. You can only do that by being well-prepared, thoughtful about the types of roles that you're appropriate for, and just keeping abreast of what's happening.
---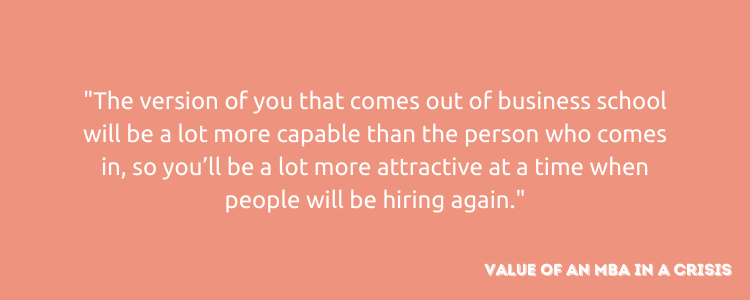 ---
What advice would you give to prospective students?
Don't give in, be resilient, and be opportunistic. In the MBA, remember, you have multiple channels of finding jobs.
You have to use your network, use the business school, use job portals, and it requires difficult work. But it works, because doing things in unconventional ways often works.
A crisis always feels the worst at the time, but these memories are quite short. 12 months into the crisis, I was at HSBC, who started hiring a lot of people. They were quite specific about the quality of people they hired, and the type of education they had, and the skills they had.
---
Is now a good time to apply to business school?
There's not a better time to go to business school.
You might worry, I don't know what'll happen in a year or two years' time, if there's a job for me.
The good thing about business schools is they offer you options. You can do online versions, you can do shorter versions, you can do the full two year program as well, and they all have their own benefits. Schools will quickly work out how they can run programs that are remote and in person.
The best time to go and educate yourself is in times of crisis, because this is where you will learn a lot about yourself, about the world around you, you'll have time to learn (when you're doing a job you have to focus on that).
The next year will be difficult, because we're constantly working out what this will mean, so taking yourself out of the workforce now isn't necessarily a bad thing. It's an opportunistic thing, the version of you that comes out of business school will be a lot more capable than the person who comes in, so you'll be a lot more attractive at a time when people will be hiring again.
---
Main Article: Why Now Is A Good Time To Apply For Business School
---