The current economic forecast is fairly bleak, making it a particularly uncertain time to apply for business school.
Cesar Aya understands exactly what this feels like. He graduated with an MBA from Saïd Business School at the University of Oxford in 2008. Aspiring for a career in finance, he saw as major institutions like Bear Sterns and Lehman Brothers collapsed. In 2013, Cesar switched Europe for his home country of Colombia, where he set up his own venture capital fund T2M Capital.
We spoke to him about the lessons he learned from the experience of graduating from business school during a crisis, and asked about his advice for prospective students.
---
Value of an MBA in a Crisis
Read other stories of MBA graduates from the 2008 financial crash.
Audrey Hametner | Imperial College Business School
Adam Siegel | MIT Sloan School of Management
Scott Kennedy | Alliance Manchester Business School
Damian Wisniewski | MIT Sloan School of Management
---
What was the climate like back in 2008 for MBAs?
When we enrolled at Saïd in 2007, we were starting to see the first signs of how this could turn, and how bad the crisis could get. We started seeing the failure of some financial institutions in the UK.
I think the most striking element was seeing how the recruiters in general stopped attending any event at the business school. Because why would they if hiring stopped.
Me and my wife attended the same program, and we were very keen to join a financial institution, and it felt like our dreams had been taken away from us, and we'd never get a job. The whole purpose of making such an investment was to get that.
I remember applying to many companies that started opening jobs just after the crisis, and it took hours to create the application and profile, and five minutes after hitting the send button, we got a reply that everyone in our class was getting. "After careful consideration, we regret to inform you that…" It was so sad that it ended up being funny.
---
What were your key takeaways and lessons learned?
I took part in a program called "Silicon Valley comes to Oxford", and we started meeting these people, like [LinkedIn co-founder] Reid Hoffmann and [venture capitalist] Chris Sacca, people who had been through the rough and been very successful.
They came to tell us this—the world is not perfect, and we failed. They shared their failures with us. It wasn't even because there was a financial crisis, it was because they had made some poor decisions.
Looking back, you can see many people from our class went to start their own companies— some have failed, like many ventures, but some have turned out to be quite successful, raising millions of investments in the past few years.
When these dramatic situations emerge, it might be good to go to your basics, and find out what really moves you. Rather than complaining, think about how you might create something that is more meaningful for your community and society, at a small scale, and you might end up managing your own business.
---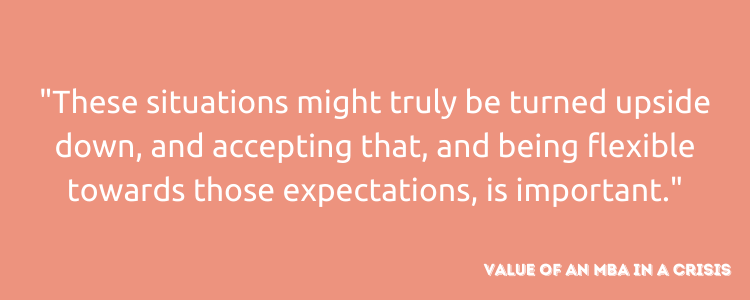 ---
What advice would you give to prospective students?
I think firstly, you need to open your mind. Sometimes we have a fixed set of expectations about what we want to obtain, and when we apply for a business school, we are asked what we want to get from this program, and where do you see yourself in X number of years.
These situations might truly be turned upside down, for anyone and everyone, and accepting that, and being flexible towards those expectations, is a first thing.
Secondly, to really rely and devote a lot of time to create meaningful networks, and by meaningful networks, it's not just about expanding your LinkedIn network with weak links, but about having smaller but more meaningful networks.
People that really know you, know who you are, what you have done, and who you can ask for help—for an endorsement, for getting a job, or introductions to someone who might invest in your idea. That's more meaningful than a wide network of weaker links.
---
Is now a good time to apply to business school?
I would say that it's a great time to do it, because the economy will take a while to be where it was, and if you have the time for yourself, to reinvent yourself, and in the meantime meet the people who are creating the next game changers in many industries, then I think an MBA is the best place.
Financial services, tourism, airlines, transportation, education, real estate—all need to reinvent themselves. In an MBA, you'll meet great minds who'll have been thinking about these things for a while, and how they can change during a financial crisis. To be exposed to those people, who have thought about it, gives you a great advantage.
---
Main Article: Why Now Is A Good Time To Apply For Business School
---