The current economic forecast is fairly bleak, making it a particularly uncertain time to apply for business school.
Audrey Hametner knows a thing or two about surviving these times of crisis. She enrolled on the Executive MBA program at Imperial College Business School, alongside her full-time job at job finding site Monster. Just weeks after graduating in 2009, she was made redundant. She switched the UK for Czech Republic, heading up financial operations at Piksel in Prague. She now runs her own consulting firm based in Dubai, while also providing career coaching to young adults.
We spoke to Audrey about the lessons she learned from the experience of graduating from business school during a crisis, and asked about her advice for prospective students.
---
Value of an MBA in a Crisis
Read other stories of MBA graduates from the 2008 financial crash.
Adam Siegel | MIT Sloan School of Management
Scott Kennedy | Alliance Manchester Business School
Cesar Aya | Said Business School, University of Oxford
Damian Wisniewski | MIT Sloan School of Management
---
What was the climate like back in 2009 for MBAs?
It was tough, it was when most people were out of work and looking for work, so the job market was saturated. I'd had a really good position at Monster, the HQ in London, and I was a senior finance person, and we had finished the coursework of the MBA in April, graduated in 2009, and then I got made redundant.
I found myself jobless, with a new MBA, trying to figure out what to do, and I was due to get married. Thank God we'd already paid for the wedding in advance! My husband convinced me to take the summer off, because I'd just finished my MBA, and everyone around me was saying that finding a job was going to be almost impossible.
Fast forward to the end of summer, I'm starting a job hunt, and I'm getting no interviews. I was doing it the traditional way—I was either finding ads and applying, or working through a recruiter. It was bleak, it was really tough.
But by October, through a recruitment agency, I got an interview with a US firm, who had just bought a company in Prague and were looking for a finance director to manage financial operations. This was a dream.
---
What were your key takeaways and lessons learned?
I think the biggest takeaway was the importance of understanding that, if I wanted to take my career further, I needed to extend my competencies, and having done that was one of the biggest door openers. I could understand the business from all perspectives, I could really extend my finance career from the more empathetic view of the other parts of the business I was meant to be serving.
We get caught up in the siloes of our positions all too often. Good leaders have a complex understanding of the business which others don't because they are in these siloes.
---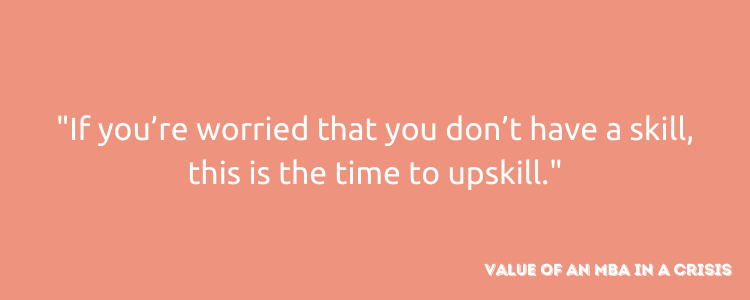 ---
What advice would you give to prospective students?
The biggest thing for me wasn't to fall into this depression and stop learning, and stop networking, and stop putting myself out there, because then i wouldn't have found that opportunity.
Other people got frustrated and felt it wasn't worth it.
When I found my opportunity, everyone was amazed. If you look at LinkedIn now, lots of people have lost their jobs, but lots of people are posting about new roles.
There's always another side—whenever someone loses money, someone's making money. Restaurants are closed, for example, but everyone is still going to the grocery stores.
---
Is now a good time to apply to business school?
I'm speaking to a lot of young adults, university students, or people just starting on their careers, and they're really down and out and frustrated.
One of the biggest things for me is saying, "What areas were you struggling with, and wished you had more time to grasp?".
You can now use this time to take a quick coursera course, or go over your material, or get onto a tutoring service and start to grasp, with no time pressure, a theory or concept that was just aching.
If you're worried that you don't have a skill, this is the time to upskill. If you're worried that you wanted to learn something that you never had time to do because you were busy, now you have no reason not to do it. Don't overwhelm yourself—but identify what's most important, and what you want to stick with, and do it one course at a time.
Because when life goes back to normal, and we're running that rat race again, you'll just come back with the same excuse.
---
Main Article: Why Now Is A Good Time To Apply For Business School
---