Shikha Malhotra
---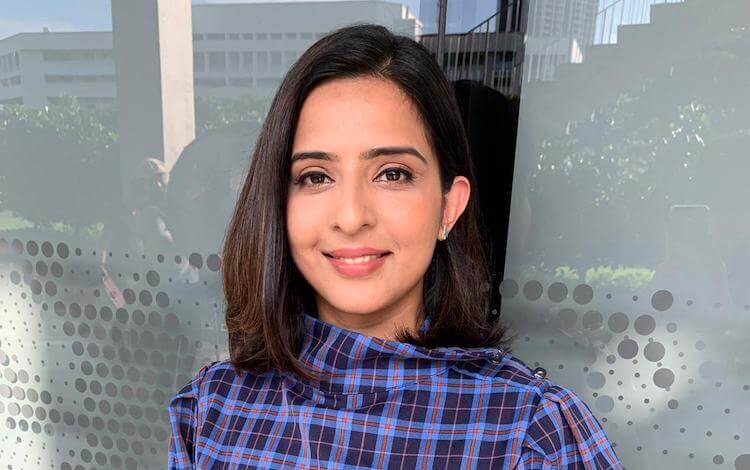 ---
Shikha joined NUS after several years working in marketing and communications, following her bachelor's in electronics and communications.
At NUS, Shikha's the outgoing president of the NUS Women In Business Club, launching the inaugural NUS MBA Leadership Conclave bringing together leaders from world-renowned businesses. She was also named as one of McKinsey's Next Generation Women Leaders in 2020.
---
1. Describe your personal brand.
A full-time creative thinker, a part-time fitness and sustainability enthusiast and a lifelong proponent of chasing dreams.
2. Why did you pick NUS?
NUS Business School was at the intersection of my interest in the Asian business environment and my desire to share the room with people from different geographies, mindsets, and schools of thought. Having spoken to many alumni and hearing their stories from the classroom to the boardroom, I learned that at NUS, I'd be able to carve out a galaxy of my own with the plethora of opportunities around me, both personal and professional.
3. What has been the stand-out experience of your MBA?
The MBA Olympics brings together sporting teams from all major schools in Singapore for one day of adrenaline-pumping moments. At NUS, we take the Olympics very seriously having been winners for three years in a row.
As a member of the core team, I saw my peers struggle with pain on some days, yet they never backed down, so when you lift the trophy together, the feeling is extraordinary.
4. Who is your personal hero?
Someone who has inspired me beyond imagination with her fearlessness and perseverance in the ongoing battle against Covid-19 is my aunt, Ms. Vandana Verma. She works as a Senior Dietitian at one of the busiest hospitals in New Delhi, India.
Although I have seen her fight the toughest of circumstances ever since I was a kid, I have been at a loss of words looking at her commitment to her patients, her team, and her family these past few months.
5. What are your next steps?
With the unprecedented crisis that we are facing right now, so much has changed about where we wanted to be and what we wanted to do. I am glad that I channelled my MBA program toward learning and preparing for digital innovation and enterprise transformation, and that is something I'd like to focus on, at least for the next few years.
6. What advice would you give to other MBA aspirants?
The pandemic has had a sweeping impact on economies and people. As an aspirant, you should be prepared for the new world. Your skills will definitely help you, but as a future leader, it's crucial that you value empathy and optimism and build a strong character as you navigate unchartered territories.
---
Related Content: