Proposed F-1 visa changes which would have prevented many international MBA and master's students from studying in the United States—and blocked their access to more than half of the world's top-ranked business schools—have been revoked.
That means the F-1 student visa is still on the table, and the door is still open for internationals looking to pursue MBA and master's degrees at schools like Stanford, Harvard, and Wharton.
---
Read on to find out more about applying for an F-1 visa or skip to your section of interest by clicking one of the links below.
Before you apply: America's visa uncertainty
---
F-1 Visa Requirements for MBA & Master's Students
---
Who qualifies for an F-1 visa?
An F-1 visa allows the recipient to study for one year at certain types of US institutions, including colleges. You must be a full-time student during this time.
An F-1 visa only applies to the student in question—spouses and children, for example, will be required to apply for a different visa, the F-2. While the F-2 won't allow your spouse to work, children will be permitted to attend school.
---
How do you apply for an F-1 visa?
Before you can apply you have to have been accepted by an institution approved by the Student and Exchange Visitor Program (SEVP).
You will then be registered on the Student and Exchange Visitor Information System (SEVIS) and must pay the SEVIS I-901 registration fee. You will then receive a document called a Form I-20 from the school.
You can complete your visa application online. The next step is an interview at your country's US embassy or consulate. Note that you will be required to present a print out of your online application and your Form I-20, as well as other documentation including:
- Letter of admission from your business school
- Financial support documents. Proof that you can pay for your program in the form of bank statements, award letters, or loan approval letters
- Passport valid for a minimum of six months into the future at the time of entry
- Form DS-160 'Non-immigrant Visa Application' available at your local US Embassy or Consulate's website.
- Two photos
- MRV fee Machine Readable Visa
- Receipt for payment of SEVIS Fee
You may be asked to prove your eligibility for the F-1 student visa by providing academic transcripts, diplomas, degrees, or certificates, or test scores such as the TOEFL, SAT, GRE, or GMAT.
You may also be asked for proof of your intent to leave the US after your program is complete.
---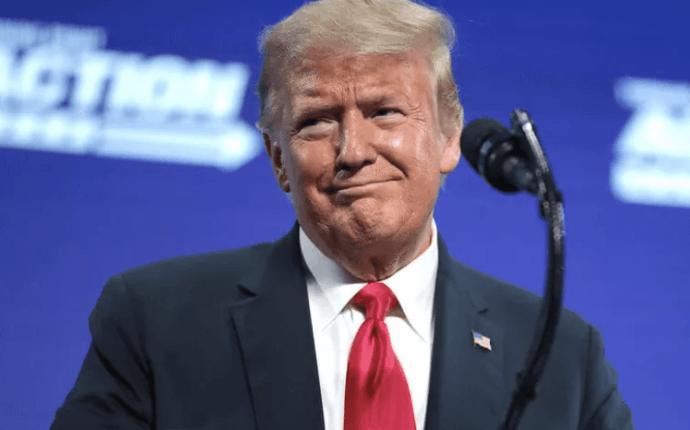 Donald Trump has revoked restrictive F1 visa proposals, but the ban on H-1B work visas remains | ©GageSkidmore

---
How much does the F-1 visa cost?
The SEVIS I-901 fee is $350, and the only online non-immigrant visa application costs $160, totalling $510.
Applicants from certain countries may have to pay a visa issuance fee after their application is approved, but the amounts vary: these fees are imposed reciprocally if a foreign government imposes fees on US citizens for certain types of visas.
---
Can I stay in the US after I graduate?
After graduation an F-1 visa allows you to participate in the Optional Training Program (OPT), whereby you may work in the US for a total of 12 months after your course concludes.
For MBA and master's students who have graduated from STEM-accredited programs, this period is extended to 24 months. Afterwards you would need to apply for an H-1B work visa to remain in the US
Check out our list of the top STEM MBA programs in the United States, and how much they cost.
---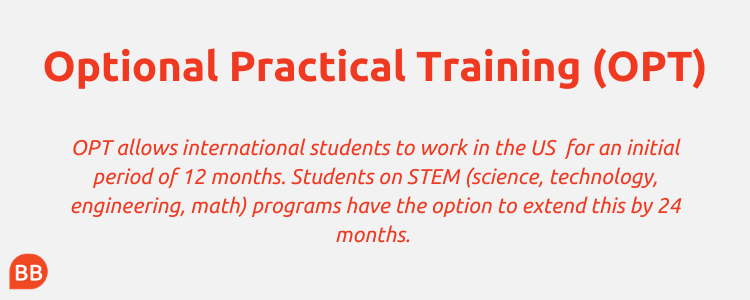 ---
What happens if my visa is rejected?
You will be notified of the rules by which you've deemed ineligible, and in some cases you can apply to have that ineligibility waived.
Alternatively, you can reapply for an F-1 visa once your circumstances change—you will not have to pay the SEVIS registration fee again but you will be required to pay another application fee.
---
F-1 visa application tips
---
1. Wait times for interview appointments can vary, so apply for your visa early.
2. Contact the US embassy/consulate in your home country for information on any additional F-1 visa application requirements and procedures, and for information on issuance fees.
3. The F-1 student visa be issued up to 120 days before your course's start date. You will only be able to enter the US 30 days before your start date.
4. The ICE advises that you pay your SEVIS fees in a timely manner, in order to have it processed before the embassy/consulate must decide whether to grant your visa.
5. Also, according to the ICE, the quickest way to pay your SEVIS fee is to file your Form I-901 online, pay by credit or debit card, and print a receipt. Allow three working days for the information to be posted to SEVIS and the Department of State consular information system.
6. If English is not your first language, try to practice before your interview and look up any vocabulary you might need to answer the interviewer's questions.
You will be asked about your qualifications and plans for your studies, but the interviewer may also want to know what you plan to do after you graduate. They will likely want you to give convincing reasons why you will return to your home country rather than trying to stay in the US, such as family and professional ties, business ownership, property ownership, etc.
---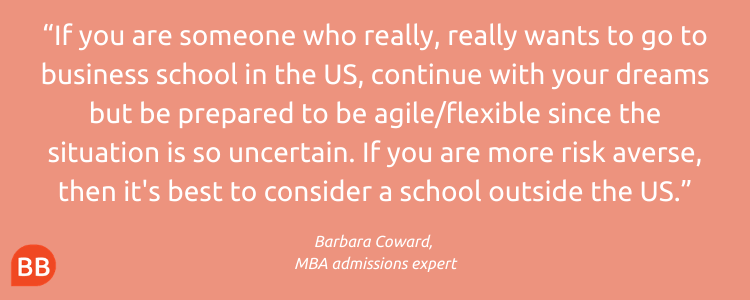 ---
Before you apply: America's visa uncertainty
---
Before you apply for your F-1 visa, be mindful that visa rules have been highly changeable under the Trump administration.
The US has temporarily banned the issuing of H-1B visas for foreign workers and the L-1 visa, which allowed foreign employees of American companies to relocate to the US.
With the coronavirus pandemic forcing many American institutions to move their classes online, the Trump administration also announced changes to F-1 visa requirements which meant that international students completing their courses exclusively online would not be able to stay in the country for the fall semester, from late August.
Foreign students make up a high percentage of US business schools' enrolment, however, and business schools did not take this lying down. Just two days after the announcement on July 8, Harvard and MIT filed suit to block the revision.
On July 14, the day after another suit was filed by 17 states and the District of Columbia, the proposed visa changes were cancelled.
---
---
Many candidates are reconsidering the expense and effort required to study in the US. American business schools have already seen international application rates decline by 14%.
Leading MBA admissions consultant, Barbara Coward, says candidates should think hard about what they want to get out of their MBA experience in the US and assess their own appetite for risk.
"If you are someone who really, really wants to go to business school in the US, continue with your dreams but be prepared to be agile/flexible since the situation is so uncertain. If you are more risk averse, then it's best to consider a school outside the US."
International students should take comfort in the fact that leading US schools are willing to take action on their behalf.
The US remains home to the majority of the world's top-ranked business schools and, once accepted into a US MBA or master's program, you can still expect a strong return on your investment.
---
Next Read:
What Do MBA Graduates Earn In The USA?