The Forbes China Philanthropy List highlights 100 Chinese business leaders who are committed to solving the most pressing social and environmental issues through philanthropic work.
In 2020, 21 of these leaders were alumni from Beijing's Cheung Kong Graduate School of Business (CKGSB).
Of the $2.58 billion donated by list honorees and their companies in 2019, $446 million came from CKGSB alumni and professors. As a training ground for current and future leaders, CKGSB is committed to encouraging this kind of philanthropic work, along with other sustainable business practices.
The school offers tuition scholarships to candidates with NGO and social enterprise backgrounds, which helps them access programs that can help their organizations thrive, increasing the impact they can make.
The curriculum on CKGSB's programs equally encourages students to explore ESG issues within their organizations.
Professors like Juliet Zhu, director of the school's Social Innovation and Brand Research Center, help students to understand and apply sustainability strategy. Under Juliet's initiative, the Executive MBA program at CKGSB became the first of its kind to introduce a compulsory ESG module in 2018. These students also need to complete 48 hours of voluntary work before they can graduate.
Below are three notable CKGSB alumni to feature on the 2020 Forbes' China Philanthropy list.
---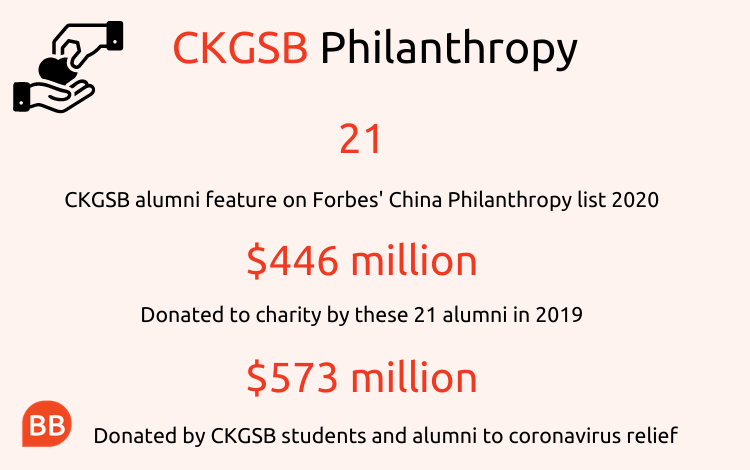 ---
1. Dang Yanbao
Chair of the Ningxia Baofeng Energy Group, Dang Yanbao undertook the CEO program at CKGSB. He is currently worth $8.5 billion, and channels significant sums into education.
He made it onto the 2020 Forbes' China Philanthropy list thanks to this passion for education. In 2018 alone, Yanbao donated $46.2 million to the Ningxia Yanbao Charity Foundation for scholarship and poverty alleviation, which helps pay children's school tuition fees in Ningxia Hui Autonomous Region.
The region, located in northwest China, is historically impoverished due to its dry climate. Better education is contributing to the near elimination of poverty in Ningxia, by preparing residents for the new jobs being created as part of the Chinese government's larger plans to eliminate extreme poverty by the end of 2020.
Dang Yanbao is also fostering ESG initiatives within Ningxia Baofeng Energy Group. Earlier this year the group, which specializes in coal chemical products, launched a multi-million dollar project to produce hydrogen using solar power.
The implementation of this technology is predicted to reduce carbon dioxide emissions by 445,000 tonnes each year, helping the group transition into more sustainable ways of operating.
---
2. Jack Ma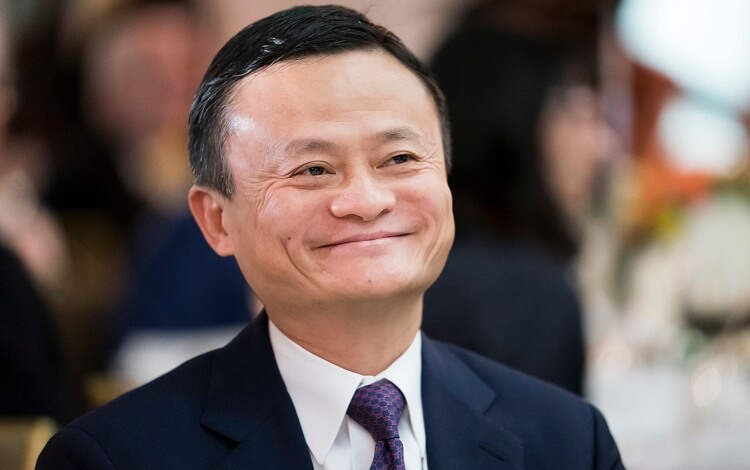 Jack Ma © Foundations World Economic Forum, reused under this license
---
Alibaba co-founder Jack Ma is one of CKGSB's most notable alumni. Currently worth almost $50 billion, he is the wealthiest man in China.
Ma is also one of China's most significant philanthropists. In 2014, soon after Alibaba's IPO, he established the Jack Ma foundation. This organization oversees philanthropic projects in areas ranging from environmental protection to supporting women in leadership.
More recently, the foundation committed to providing 100 million surgical masks, and one million COVID-19 test kits to the World Health Organization (WHO), in response to the ongoing coronavirus pandemic.
Since Ma stepped down as Alibaba's executive chairman in September 2019, he has been focusing more of his attention on the philanthropic work kicked off by his foundation.
As a former English teacher, education will be an important component. Current education projects include the Rural Teachers Initiative, which offers grants to 100 outstanding rural teachers in China every year.
---
Related Content: