The growth of MBA degrees in China means that internationals living in the country don't need to return to the west for business education. Nearly 10% of the Financial Times Global MBA Ranking is made up of schools based in China or Hong Kong.

Asia offers strong career and salary growth for MBA graduates, but why else are internationals staying to study an MBA in China?
---
To change career
Priyesh Patel grew up around business. He lived with his brother, parents, and grandparents above the family's convenience store, in Watford, UK. By the age of 16 he could run the shop on his own.
It's no surprise then that the pursuit of a career in management followed, and an MBA from China Europe International Business School (CEIBS), where he is a current student.
Many students who enroll on the CEIBS MBA are experiencing China for the first time, but Priyesh had lived in Shanghai for four years before pursuing an MBA. He's seeing the value of an MBA from China for an expat living in the country.
Priyesh studied for a PhD at University College London with a focus on fuels and combustion engines, looking at increasing the efficiency of energy we get from diesel fuels.
Pre-China he worked as a senior systems engineer for car companies in Europe. He became an expert in the technology being developed in Europe, and was transferred to Shanghai in 2016 as a lead applications engineer to help customers in China.
He experienced tier one, two, three, and four cities across China, travelling to meet and sell to clients. But the time came when he wanted to shift away from the technical side of things and move into business.
"I always wanted to try to shift from being an engineer to a more senior management position, something that would allow me to take more strategic decisions in a company," he explains.
He also felt that the heightened talk of Electric Vehicles (EVs) meant he needed to move away from the combustion engine and try something different. He needed a generalist education.
The CEIBS MBA provides students with a broad-based business knowledge they'd acquire at any of the world's top business schools. Core modules focus on strategy, entrepreneurship, economics, finance, accounting, marketing, organizational behavior, and HR management.
---
To learn about Chinese business decision making
Chinese companies are going global, the country is developing tech titans of its own in Alibaba and Tencent, and the market size of nearly 1.4 billion provides huge opportunity for business.
Priyesh (pictured right) says that the CEIBS MBA has so far provided him with a deeper understanding of Chinese business and decision making.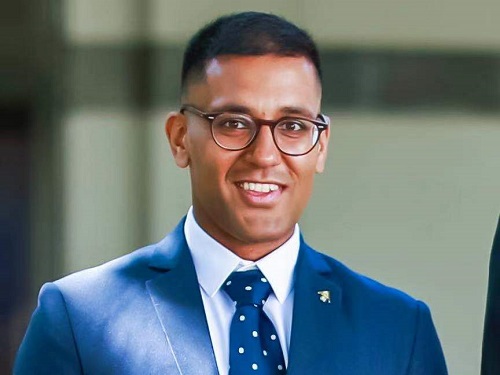 "I felt I'd already been in China for four years, so already had some specialized knowledge of China, and if I went to CEIBS I could capitalize on that even more," he says.
Priyesh has experience working with Chinese State-Owned Enterprises (SOEs), but says that his knowledge of working with them was unstructured before the MBA—"I felt if I did an MBA at CEIBS I'd better understand my past experiences and what I could do better in the future.
"Through the MBA I now understand the management structure within SOEs and understand some of things I've experienced before, what's going on in the background, and have a better way of understanding decisions made by companies."
---
To keep up to date with business trends
Most foreigners when they arrive in China are specialized in a certain subject or technology, Priyesh says. The pace of change in China means that specialized knowledge can quickly be made redundant by new technology.
You have to be aware of how quickly industries are changing, and an MBA provides that platform for an expat working in China.
"The CEIBS MBA can help you as a foreigner in China to keep up the pace," Priyesh explains. "With digitization and digital marketing, as a foreigner here you can see the implementation, but the decision making isn't always clear, so an MBA helps you better understand the logic behind decisions."
Electives on the CEIBS' MBA also prepare students to dive deep into business in China. There are modules on strategic innovation under a new tech paradigm, marketing strategy in a data-rich environment, and how to gain a competitive advantage in digital China. There are classes on blockchain, AI, machine learning, and healthcare.
---
To take the time for self-improvement
Asier Guevara is another international who was living in China before the CEIBS MBA. He graduated in 2016 and now works as China managing director for talent representation agency, You First Sports.
He first moved to China from Spain in 2009 as part of a trade commission for the Spanish government. Asier was helping companies integrate into the Chinese market. He then became a brand manager for Exit Brand Management China, working with brands like Real Madrid and F.C Barcelona.
He won a full tuition scholarship from a Spanish bank in 2014 to enroll on the MBA at CEIBS. It was time away from the pace of working life to focus on improving himself professionally and personally.
"I liked the idea of getting a better-rounded education in business, of stopping for a couple of years to focus on education and self-improvement," he says. "When you're in a company day to day, it leaves you with very little room to focus on the things you're most interested in."
---
To get a traditional MBA education
When you're an expat studying for an MBA in China, because of your pre-experience of the country and language, you can focus on getting the most out of the degree, without worrying about assimilation.
"It's totally different," explains Asier, "what I got from the MBA is what you get from a more traditional MBA choice: the education, the brand, and the network."
66.3% of the MBA class at CEIBS is from mainland China. That provides an opportunity to enhance your domestic network and to learn first-hand about the latest developments in an array of industries across China. Students come from financial services, manufacturing, technology, healthcare, consumer products, energy, and more.
Staying in China to develop your career as an international means CEIBS is a no-brainer, Asier thinks.
"If you happen to be in China and you want to get an MBA degree, this is a fantastic option, and I think that if it aligns with your goals then it's a great opportunity."
Related Content: