Business schools will be filling the final slots in their MBA programs around this time of year. But if you're still interested in applying for business school in 2021, now's a great time to start focusing on your application.
In our BusinessBecause Facebook Live event, 'How To Stand Out In Your Business School Application In 2021', we caught up with David Simpson, admissions director for the MBA and Master of Finance programs at London Business School. We spoke about the ins and outs of applying for business school in 2021, what's different this year, and how candidates should prepare.
Here are our key learnings about MBA admissions 2021. You can check out the full recording on Facebook.
---
1. Applications are up at most top business schools
While you may think COVID-19 may have restricted applications in 2020, the numbers tell a different story.
David reveals that London Business School experienced huge application volumes earlier on in the application cycle, while things have cooled off approaching final deadlines. From talking to colleagues at other top schools, he says this has been the same across the board.
As such, schools are fully prepared to deliver top quality education, regardless of the circumstances. "We're prepared to deal with all eventualities, whether that's hybrid (as LBS is now), or for all students to be on campus all the time."
---
2. Certain characteristics make your application stand out
All business school candidates are different. Business schools actively look for diversity across a number of criteria, including gender, nationality, and industry background.
Across this diversity, however, David admits that there are certain characteristics that will make you stand out.
Being collaborative is one of these. "We want to see people who are passionate and curious about learning with other people," David says. Linked to this is having a global interest: while global experience isn't a prerequisite, they value candidates who actively want to learn from their internationally diverse classroom and discover new ways of doing things.
Finally, David looks for people with a longer term perspective. Not just candidates who are thinking about their first job after they graduate, but rather people who are aware of their long term goals, and how studying an MBA will help them get there.
---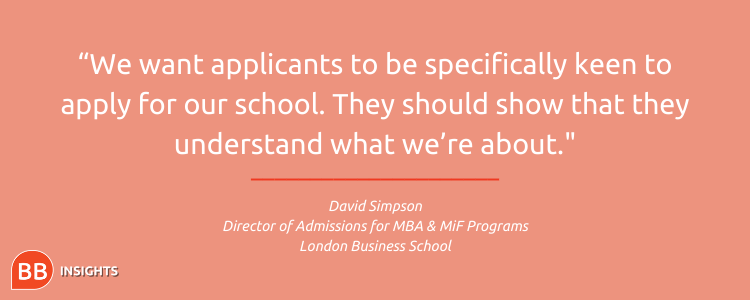 ---
3. It's worth doing research before your application
You may just want to apply to schools like LBS because of their reputation. But David believes it's important to do proper research before starting your application.
This will help you prepare properly for your written application and interview. It will also help you understand if you're a good fit for the school. "When people are applying we want them to be specifically keen to apply for our school. They should show that they understand what we're about," David says.
Beyond scanning school websites, you should reach out directly to school admissions teams, or even alumni. Most schools, like LBS, have student ambassadors in most countries around the world, who are well-placed to answer any questions you may have.
---
4. Use your application to tell your story
Each applicant will have their own different story to tell, and your application and interview are the best times to do this.
In the LBS written application, candidates have a series of shorter questions followed by one main essay question. What this essentially boils down to, David explains, is this: "What have you done, what do you hope to do, and how can we help."
Interviews will adopt much of the same approach. They're not designed to catch you out or put you under pressure: rather, they're meant to help you talk about yourself and your story, and how applying to business school fits into that.
Candidates should still read and listen to questions properly, and make sure they're giving relevant information. David says that one of the most common mistakes applicants make is saying what you think your interviewer wants to hear, rather than talking candidly.
---
WATCH: How To Get Into A Top MBA Program
---
---
5. Interviewers are matched to your profile
When it comes to your interview, do some research into your interviewer ahead of time. At LBS, prospective candidates are interviewed by LBS alumni, who are matched up to fit a similar profile and background.
This is one of the main advantages of virtual interviewing, which has become the norm this past year and looks set to remain for 2021.
The reason for this matching is designed to help the school see if you are a good fit for the program. Alumni also have the best idea of the overall experience and outcome of the program, and so will have a good perspective on who the right candidates are. For this reason, as in the written application, make sure you speak openly and honestly in your interview.
"Don't misrepresent yourself. Our interviewers are there to get the best out of you," David says.
Any strong interviewing advice? "Listening is the most important part of any interview. You can only answer it really well if you listen."
---
6. It's not too late to apply for business school this year
Time is certainly ticking towards final deadline day for applications. But David says you still have time to apply for programs this year. Many round four deadlines are in June.
Better still, start getting your application in order for next year's application cycle. This will leave you with far more time to gather references, do any test preparation, and research different schools. David says candidates can already start reaching out to schools to ask what their application dates are, as well as any information on essay questions for next year.
"Make sure that you can do it thoroughly and in time. Don't be rushed into it," David says.
If you're still sat on the fence about applying—especially given the uncertainty that's remained in 2021—David advises considering this. "If you think it's a good time for you to take a break from your career and do an MBA, then it's the right time."
---
Next Read:
Top Business School Application Tips For 2021
Please Enter the Code Below