One thing's for sure: MBAs love a challenge. But few enjoy a challenge more than those successful grads who go on to complete the MBA 'triple jump'—changing job, sector, and location.

The MBA 'triple jump' is popular among graduates who crave new professional and personal experiences and are excited by change and novelty.

One such ambitious grad is Oludare Oluwajuyitan (Dare), an Asia School of Business (ASB) MBA alumnus. Mirroring his name, he took a daring leap into the business world after his degree, completing the fabled 'triple jump', which gained him a competitive edge within the Thai real estate sphere.
---
Moving from banking to real estate
MBA grad Dare travelled from his native Nigeria to Kuala Lumpur, Malaysia, to join ASB. With a desire to explore Asia, ASB's setting at the center of Southeast Asia was an attractive feature for him.
"I had never travelled to Asia, and I thought it was a great combo—to be able to visit, study and potentially work in one of the fastest-growing regions in the world," he reports.
But why an MBA? Having worked as a relationship manager at First Bank of Nigeria for four years, immersed within business and working alongside c-suite executives, Dare still wanted to challenge himself. "I felt I still had a lot to give," he admits.
Through ASB's Action Learning (AL) program—an initiative where students participate in projects within global companies—Dare gained exposure across television, investments, private equity, and real estate.
AL projects function as a critical bridge between classroom theory and real-life application, he believes. "In class, you have all the data, so it is easier to solve problems and devise a perfect solution," he adds, "in real life, you realize there is no perfect solution, and you can never have enough data."
Throughout these practical projects, you'll learn what it takes to be a good decision-maker since you'll often be thinking on your feet instead of planning and deliberating like you would in a classroom environment.
It ended up being real estate that struck a chord with Dare, who recognized the room for technological growth within the sector. The growing role of property technology, or proptech, showed him the possibilities of applying technology across areas like building design and transactions.
"Unlike traditional banking, which I found was a highly regulated environment, in real estate there's more room and flexibility in terms of strategy and execution," he notes.
---

---
Leveraging 'Smart X Sharp' skills when transitioning to a new role
The practical projects you'll participate in during your MBA will teach you valuable skills to take into your future career.
It's been exactly these skills that have helped Dare pivot from relationship management within the banking sector in Nigeria to business development within real estate in Thailand, where he works as operations and business development manager at a real estate firm in Bangkok.
His position involves improving processes and operating efficiency, which entails collating data from developer projects into the database, reviewing new market data and financial forecasts, and developing business strategies based upon the analytics.
Throughout AL projects within multiple host companies, Dare had to learn business frameworks and apply them quickly. As a result, he honed 'sharp' technical skills in managerial analytics and various data analysis tools, which he now uses in his strategy-driven role when interpreting the story behind the data.
It wasn't all about the technical skills, though. By working alongside people from all walks of life across many projects, Dare acquired 'smart' intelligent skills like cultural awareness and emotional intelligence, which he's found to be of "greater importance in the workplace."
"Working on AL projects in different companies in different countries, in different teams, made me very culturally aware. Now, I feel I can work with anyone, from anywhere, no matter their background," he states.
---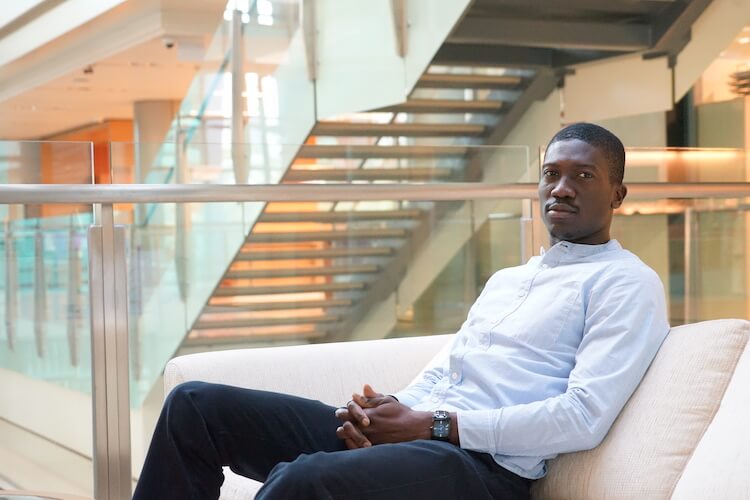 ---
Starting a new career in Thailand
For many grads, launching a career in a brand new region can be a great challenge. Before you've even started your job, resettling can be complicated.
Despite the onerous visa paperwork Dare had to fill out before arriving in Thailand, he reports that he found the visa process relatively straightforward.
"There was a great supporting team in Thailand who helped with accommodation and arrival paperwork, which was very important since I do not speak Thai," he says.
And while he didn't have an existing network in Thailand, he found it easy to quickly meet new people in the vibrant city of Bangkok.
"Thai people are generally friendly and respectful. I've found I can easily strike random conversations with strangers. Some have even become very good friends," he notes.
What's more, his experience on ASB's AL projects has helped him to make valuable connections in a new country. It's helped improve his cultural awareness, transforming him into an ethical and global business leader. For students craving a similar career adventure, Dare believes there's no better place to start.
"After an MBA, the sky is your limit; you can fly or 'triple jump' anywhere you want to."
Related Content: