Madrid is one of the world's greenest cities, and the third largest in the EU. It's also a cultural hotspot—take a walk along the Gran Via, Madrid's most famous street, and you'll be struck by an impressive blend of 20th century architectural styles and modern high fashion stores.

The city is also home to a thriving technology sector, and some of the world's top business schools. If you're looking to study an MBA in Europe, Spain's diverse and culturally vibrant capital could be the place for you.

Here are three reasons you should study an MBA in Madrid.
---
1. Join an innovative business school
The quality of the business schools in Madrid is a top reason you should consider studying an MBA there. The city houses a number of world-renowned institutions, including IE Business School, which has a stellar reputation as one of Europe's best business schools.
IE is a regular feature in the Financial Times Global MBA rankings, and is home to the world's second-best online MBA program.
The school is renowned as a hub of innovation. It recently pioneered a new 'liquid learning' model based on cutting-edge education technologies to deliver an entirely new MBA experience for students. Liquid learning gives all students the same immersive experience, no matter where they are in the world, or at what time they are studying.
"Since we have technology that enables us to do things in better ways, we will use it," says Paula Robles, IE's executive director of MBA programs.
The school also offers the chance to customize over 50% of your MBA program as part of its creative approach to learning. The curriculum includes lab periods where students choose between four immersion labs covering subjects like tech and entrepreneurship, along with an elective period containing over 100 optional modules.
"I loved how customizable it was," says Taylor Pond, an IE MBA alum, "that really helped you focus on honing your strengths. IE taught me that your strengths are what will propel you to your next step."
---
READ: Why You'll Be Liquid Learning On Your MBA After COVID-19
---
2. Immerse yourself in a flourishing tech scene
Technology companies are now the biggest recruiters of MBA graduates, and Madrid is Spain's burgeoning tech hub. Another reason to study an MBA there.
Around a quarter of all technology related research and development funding in Spain is found in Madrid. Likewise, 31% of Spain's largest companies—those with over 200 employees—are located in the capital. Multinational fintech payments company Klarna also recently revealed plans to open an office in Madrid following the growth of Madrid's tech sector.
IE Business School sought to tap into Madrid's growing technology industry when it launched Europe's first tech MBA in September 2020.
IE's program offers an intensive curriculum encompassing various elements of technology, including highly technical aspects like coding and artificial intelligence. This requires students to have STEM designated undergraduate training before applying.
The Tech MBA also offers a digital female leadership mentor program to encourage women to pursue roles in technology. The idea behind the program is that Tech MBA grads are able to use technology to innovate the workplace—whether that be in a corporation or startup.
"Even traditional companies are undergoing digital transformation—this is the new mantra in the business world," says Jose Esteves, associate dean of the Tech MBA. "It's about knowing how to align technology with business from a leadership and change management perspective."
---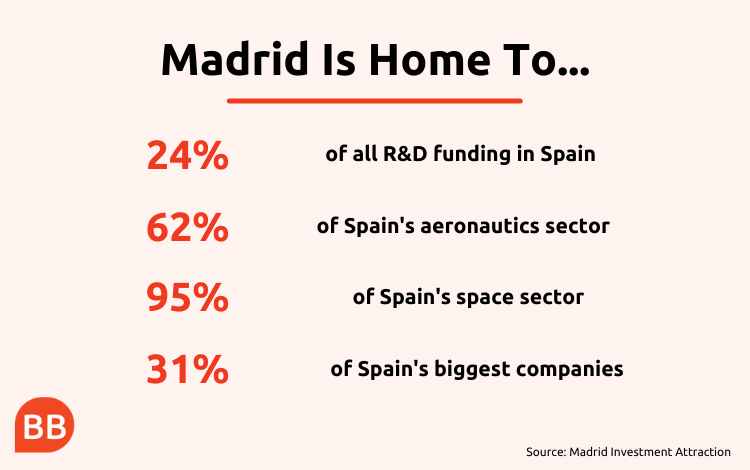 ---
3. Experience a new culture
An MBA in Madrid is about more than boosting your career. Every year tourists flock to Madrid to experience its wealth of culture, and more than seven million people visited in 2019.
Madrid is an ancient city dating back to the ninth century. It features architecture from a number of dynasties—including the Roman empire—and it's also home to a 'golden triangle' of museums, and even the world's oldest restaurant.
Denny Morawiak was drawn to the diversity of life he could experience in Madrid when he chose to study an MBA there. "I came with my wife, who obtained a master's in management at IE while I did the MBA," he says, "we wanted to live in a vibrant city and not on a campus far out of town."
Denny also seized the opportunity to fully immerse himself in the culture by learning Spanish, "As IE also offers a Spanish track for the MBA, I was excited about the opportunity to meet many people from Spanish-speaking countries," he says.
What's surprising is that you can gain all these experiences at a low cost. According to Numbeo, which measures a city's cost of living according to factors like transport, utilities, restaurants, and rent, Madrid is cheaper than other European capitals like Paris, London, and Milan. It's even cheaper than Barcelona.
Choosing where to study your MBA is a huge decision. You'll be spending at least a year of your life in one place, and you want to make sure you make the right choice.
---
Madrid provides low costs and an array of cultural experiences. If you choose to study an MBA there, you also get great career potential, especially if you're focused on tech. It's definitely a city to think about when applying for an MBA in Europe.
Related Content: