There are many reasons why you might choose to enroll in an MBA or master's degree. You could be looking to upskill or enhance your knowledge in a certain area; or you might want to gain international exposure, interact with people from around the world, and launch a global career.

If going global is part of your plan, there's a wide range of opportunities available at business school to help launch your career. They include international trips, internships with multinational companies, and networking events.

But should you choose an MBA to launch your global career, or a master's degree?
---
You'll get international career opportunities on both an MBA and a master's
Business schools aim to give you the tools and experience to bolster your career. That means alongside theory-based learning in-class, you'll get opportunities to gain practical experience during company visits, internships, and business simulators.
Many of these experiences increase your international exposure, whether you do an MBA or a master's.
At EDHEC Business School in France, for example, students on the MBA program can choose between week-long trips to the likes of Silicon Valley, London, and New York.
These international opportunities help the majority of students land jobs outside of their home country after graduation. You can find EDHEC MBAs working across the globe in Europe, Asia, the US, Oceania, and the Middle East.
Alongside the MBA, EDHEC also offers a 'Grande Ecole' dual-degree which features a Master in Management combined with a specialist track in subjects like finance and business analytics.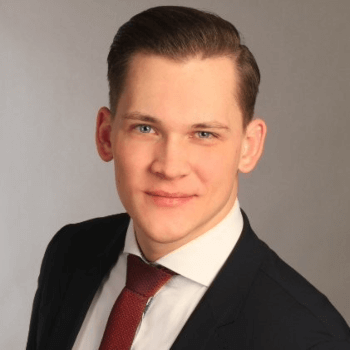 Students on the program get similar international opportunities: they're able to undertake internships with multinational companies and can even spend a semester studying abroad.
Grande Ecole graduate, Henrich Ricar (pictured), took part in a week-long trip to London during the program, where he visited the offices of several leading financial firms. That was one of many opportunities to interact with top multinational companies during the program, Henrich explains.
"EDHEC also invited people from top banks to give presentations and speak with us and answer our questions," he adds.
Midway through the two-year degree, Henrich moved to London for three-months as a summer investment banking intern with HSBC. The internship gave him a platform to launch his career after graduation, when he returned to London to work for HSBC.
Henrich is one of many EDHEC Grande Ecole students who launch global careers after graduation. As many as 82% of grads secure jobs with an international focus after leaving the program.
---
Both MBAs and business masters help you develop a global network
Networking is key to launching your career—according to HubSpot, 85% of jobs are filled through connections. Your network is even more important if you're looking to move abroad or work with a multinational company after graduation.
Fortunately, the diverse range of people you'll meet at business school is helpful in expanding your network, whether you pursue a master's or an MBA.
At EDHEC, for example, the global MBA features around 30 different nationalities, while a total of 23 languages are spoken among the Grande Ecole cohort.
Chilean born technology entrepreneur, Plinio Herrera Schuwirth (pictured), studied on the EDHEC MBA before launching his blockchain startup. He was impressed with the platform the school provided for networking during group projects and practical work.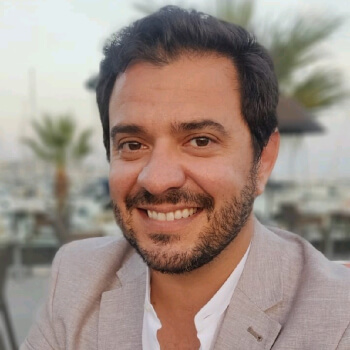 "They really put attention to detail, putting us in groups that were diverse so you didn't have two nationalities in the same group," he says.
Beyond the classroom you'll also get the chance to meet professors from around the world, gain access to your school's alumni network, and make new connections during real-life consulting projects
"You get significant interaction with global players, providing a breadth of perspectives that is valuable in any job," explains Michelle Sisto, associate dean of graduate studies at EDHEC.
The result of these networking opportunities is that, by the time you graduate, you'll have developed an understanding of various different cultures, along with the knowledge you learn in class, she says.
"Business schools can help build your global career through exposure to global ideas and people from around the world."
---
Your choice of master's or MBA depends on your career path and experience
So if you'll gain similar international opportunities and meet a diverse range of people during both a master's and an MBA, how can you choose between the two?
Well, it all depends on the stage you're at in your career and where you'd like your degree to take you, says Michelle (pictured).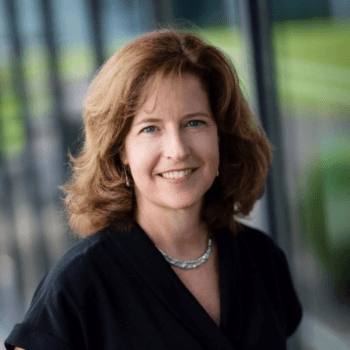 A typical MBA degree requires more work experience than a master's program, as there's greater emphasis on the experience students bring to class. The average age among EDHEC Grande Ecole students is 23, while on the MBA it's 32.
If you're at an early stage in your career you may find a master's offers a better platform to launch your career, whereas if you're an experienced business professional looking to make a career change, an MBA might be a better choice.
If it's a particular function that you're interested in, like human resources, or a more specialized industry, like finance, a specialized master's will probably be better suited to your career goals than a more generalist MBA degree.
No matter which program you choose, by applying to business school you're giving yourself the chance to gain international exposure and opportunities that are tough to match elsewhere, Michelle explains.
"Any business school degree—MBA or master's—can take you global because of the nature of the way they are organized; they all have an international aspect."
Related Content: