Warwick Business School is ranked among the best business schools in the UK and the world, boasting a network of more than 53,000 alumni across 167 countries globally.

Students at Warwick may choose from a suite of MBA programs.

This includes the flagship one-year, Full-time MBA, an Executive MBA where participants have the option to study at either the Warwick campus or WBS London base at The Shard with different study schedules available, and a Distance Learning MBA, ranked the best online MBA program in the world by the Financial Times.

After graduation, Warwick MBA students get hired by top firms across industries like Amazon, Deloitte, GSK, and Goldman Sachs. Full-time MBA students earn over $100k on average after graduation and many make a career switch, changing role, industry, or location, or even starting a new business of their own.

Beyond the classroom, students have access to over 250 student societies, 60 sports clubs, and a 750-acre campus less than an hour train journey away from the center of London.

What's it like studying at Warwick Business School? BusinessBecause caught up with current students from three different Warwick MBA programs to find out.
---
Marco Luna-Straffon | Exploring career opportunities
---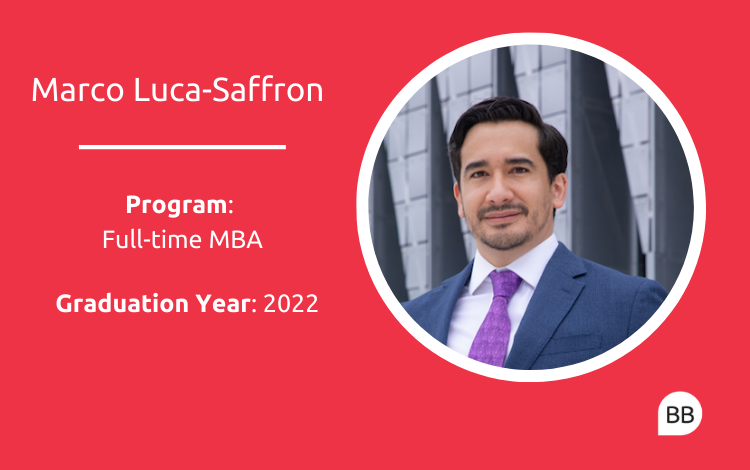 ---
Marco Luna-Straffon spent almost a decade working for Mexico's state-owned oil and gas company, PMI, as a logistic supervisor and manager, before he thought about switching to a more sustainable industry with a career focus on healthcare.
Marco's first criteria when choosing where to do his MBA was to study at a global university with a focus on career development and coaching. At WBS, there are many opportunities to help you dive back into the job application process, including coaching sessions, a personal mentor, mock interviews, and assessment center training.
"I did not expect these sessions to be so insightful. It also opens the possibility for international students, like me, to access training in a different language and culture," Marco explains.
One highlight is the practical learning approach Marco has experienced at WBS. During the Marketing module, he worked with a group on creating a marketing plan for a company owned by his friend.
"The outcome of the project helped him with marketing ideas and how to boost his brand. Helping a company, adding some value to them, and being able to help a friend whilst learning was really rewarding.
---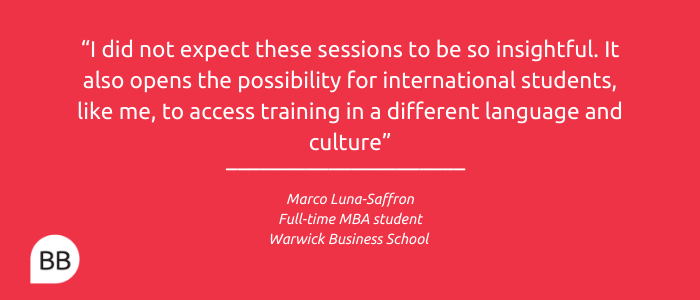 ---
"The international diversity at Warwick is also astonishing," he continues. "We get to hang out with over 38 nationalities after classes and on weekends, and talk about our lives and hear the stories that everyone has to offer."
Marco is already putting the skills he's gained at WBS to good use, creating his own entrepreneurship club on campus where he gets to build ventures and interact with colleagues from the EMBA and Distance Learning MBA at Warwick.
"At Warwick, it's not just about academic practice, you get to do a lot of things that you otherwise would not have time to do," he says.
---
Nicola Graham | Combining business, family, and an MBA
---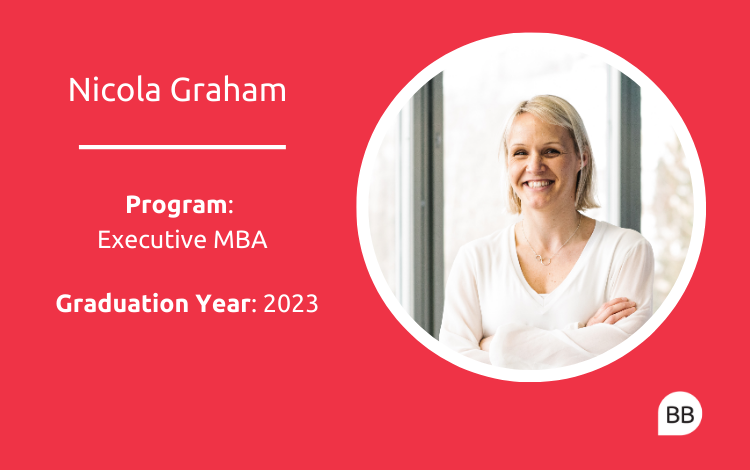 ---
Nicola Graham has run her own physiotherapy clinic for the last eight years, without a formal business education. As a more experienced professional, she wanted to pursue an Executive MBA that could teach her business theories and strategies as well as their implementation in practical business cases.
The Warwick EMBA is designed for professionals with at least four years management experience, compared with the Full-time MBA that targets professionals with three years' work experience post-university.
While the MBA is a full-time program, Warwick EMBA students come to campus every six weeks for four days, and in the meantime they return to their full-time jobs, continue with project work, and read over materials for upcoming modules.
What's surprised Nicola most about the program is the focus on groupwork. For every module, at least 20% is dedicated to a group presentation, which is assigned to you during the four days students come to campus. Students spend Wednesday to Friday preparing the presentation and presenting it over the weekend.
"This is a great opportunity to revisit your presentation skills, as well as learn to work together and collaborate with different people from completely different industries, backgrounds, and nationalities," says Nicola, who runs her business and studies the EMBA at the same time.
Although the four days are intensive and students must immerse themselves within Warwick's campus environment quickly, it's part of what Nicole loves about the program.
"There's a social aspect at Warwick where we can all sit down and have a drink at the end of the night, sometimes till two in the morning because there's not enough time to chat to all the people you want to," she smiles.
---
Niyati Joshi | Advancing into leadership roles
---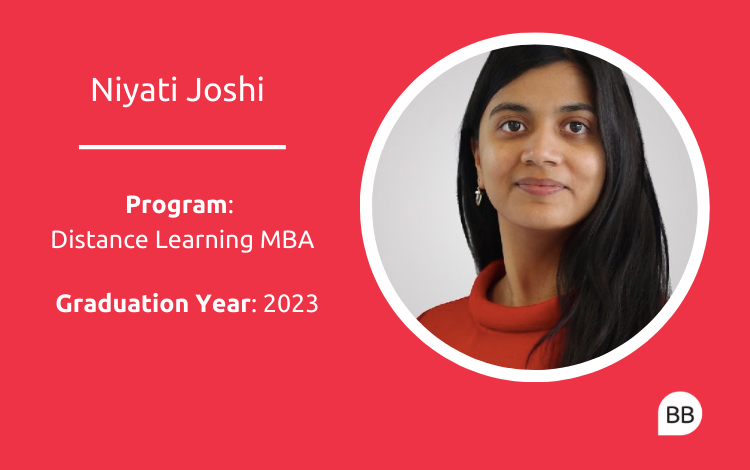 ---
After several years in product management within the financial service industry, Niyati Joshi wanted to invest in further education to develop her strategic thinking and leadership skills to transition into a more senior general management role.
Niyati was drawn by the syllabus of the Distance Learning MBA at WBS which covers a breadth of topics including Innovation and Strategic Entrepreneurship to Leadership with a focus on diversity, sustainability, and innovation.
Choosing the online MBA format is about choosing flexibility and being able to fit the program around your work and life commitments. During the week, Niyati studies one hour before and after work, using the weekends to either catch up on additional work, organize group calls with classmates and professors, or write assignments.
And she's able to apply the concepts and frameworks she's learned during her MBA directly to her full-time job.
"I saw the Warwick MBA as a comprehensive program that would be educational and help me transform into a senior leader," she says. "I've found that every module contributes to a new way of working or framing of a problem and solution that helps drive the business forward."
Niyati says she most enjoys the in-person networking events held at The Shard in London, where she meets with some of her cohort face-to-face, as well as students from other MBA program types and alumni.
"These have been amazing, enriching experiences where you meet like-minded people, learn from them, and work with them," Niyati exclaims.
---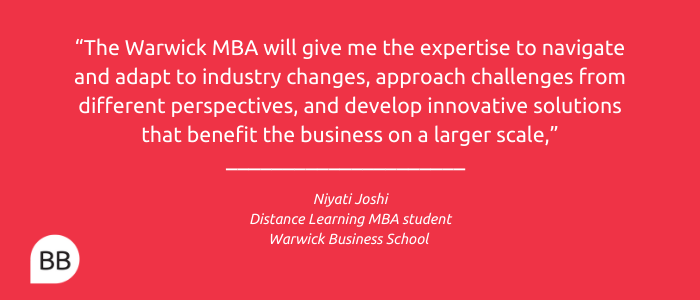 ---
Now, Niyati is looking forward to applying the knowledge she's gained from the MBA to transition into a leadership role in her company.
"The Warwick MBA will give me the expertise to navigate and adapt to industry changes, approach challenges from different perspectives, and develop innovative solutions that benefit the business on a larger scale," she says.
---
Related Content: