Mexico is rich in culture, diversity, and landscape, from canyons to mountains, deserts to rainforests. You'll find treasured historical sites, tequila, and a top-ranked MBA.

While Mexico is a popular holiday destination, it's also home to top-tier business schools, including the number one MBA program in Latin America, IPADE Business School.

IPADE's two-year, full-time MBA includes internships, international immersions, core management courses, and electives, giving students access to Mexico's thriving technology and startup scenes.

Want an MBA with a difference? Here are six reasons to study abroad in Mexico for your MBA:
---
1. Mexico offers a welcoming, vibrant culture for MBA students
A vibrant, family-oriented culture should draw anyone looking to study in Mexico. The country hosts colorful celebrations for holidays like Day of the Dead and Cinco de Mayo.
Carolin Scheffer, originally from Germany, fell in love with Mexico when locals she met backpacking showed her around. She decided to stay because of the potential she saw in the country and chose the IPADE MBA to develop her business and leadership skills.
"I felt like part of the community. My friends invited me to cultural events and family events. I thought, 'This is amazing. I feel at home'," she says.
In Mexico, there are Indigenous, African, and European populations, and over 300 languages spoken.
Juan Eduardo Marques, a fellow IPADE MBA alum from Venezuela, moved to Mexico for his MBA together with his wife and son.
"What's not to love? People are as nice and warm as the weather, the food is amazing, and Mexico City and Monterrey are eclectic, cosmopolitan, and vibrant. People have been so generous and welcoming that we've felt right at home from the start," he says.
---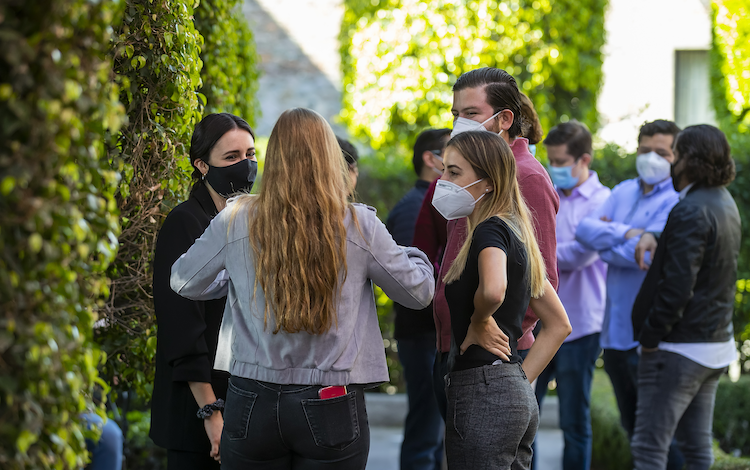 ---
2. Study in Mexico to join a supportive management community during your MBA
Across IPADE's main campuses in Mexico City and Monterrey, the school welcomes an intimate MBA class of 150 students, fostering a supportive community.
Carolin explains that teachers are dedicated to their students, and teamwork is an integral part of the program. "You get assigned a specific mentor through your whole journey."
IPADE students hone their managerial skills by using their personal experiences to assess a business case study and then work to combine their experiences to make decisions like a company's board of directors.
"The case method taught me how to approach a problem rigorously. It also allowed me to learn from my classmates and benefit from their various backgrounds and experiences," Juan says.
---
---
3. Studying an MBA in Mexico is more affordable than elsewhere
Along with the beautiful scenery and vibrant culture, the affordability of Mexico is a clear draw. Goods and services cost less, you can get a local beer for $3, and transportation is very affordable.
While in the US, MBA programs can cost over $150,000, the IPADE MBA costs around $50,000 in tuition fees.
IPADE offers various MBA scholarships, available to all enrolled candidates based on financial need.
The admissions team also helps arrange off-campus housing for students, from shared apartments to family rooms, and rent costs between $500 to $650 per month.
---
4. Studying abroad in Mexico means immersing yourself in a leading technology hub
The World Bank named Mexico Latin America's largest exporter of high technology goods in 2020. Mexico has trade deals with more than 45 countries, giving it market access to over 50% of global GDP.
Before IPADE, Juan had an entrepreneurial background, but the MBA broadened his perspectives, he says, and he identified the potential in tech.
Now, he works as a senior program and operations manager at Amazon, working on digital and emerging payments.
"This change would not have been possible without IPADE's help and influence," he says.
---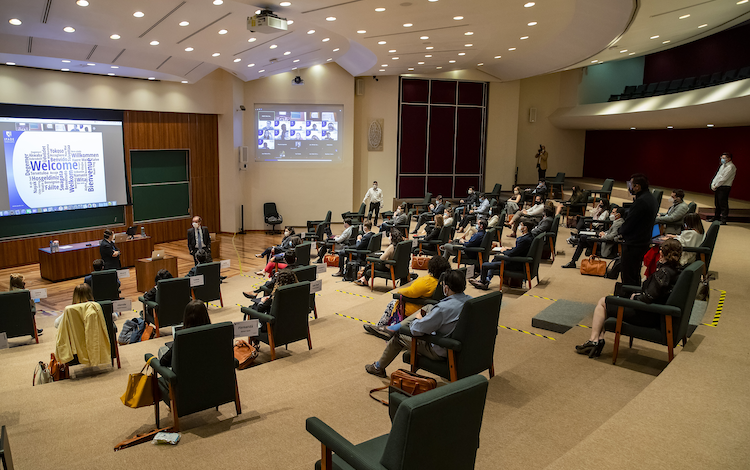 ---
5. Discover Mexico's entrepreneurial spirit with an MBA
To foster entrepreneurship, the Mexican government has invested in faster mobile and data telecommunications and well-connected rail services between Mexico and border cities in the US in recent years.
"Mexico is in an enviable position, with strategic access to one of the world's most important export markets in the US, a young and growing population, and abundant natural resources. Despite this, there's still a gap left to fully capture the country's potential," explains Juan.
IPADE cultivates entrepreneurship, helping students tap into these opportunities. In Carolin's entrepreneurial finance class, entrepreneurs were brought in to pitch to students who acted as investors, learning to see business from an investor point of view.
Meanwhile, IPADE's Research Center for Business Entrepreneurial Initiative brings together research from entrepreneurs, investors, and alumni in IPADE's business community.
The full-time MBA at IPADE enables you to be part of a foremost business and networking community in Mexico.
---
6. Study abroad in Mexico to access Latin America's best-ranked MBA
This year, IPADE's MBA was ranked number one in Mexico by Expansión Magazine for the 14th consecutive year, and earned a place in the Financial Times Global MBA Ranking again.
IPADE's faculty members are all experts in their field with consulting and management experience from companies like Deloitte and KPMG.
To apply for the IPADE MBA, you need a bachelor's degree, two years' work experience, proficiency in English, and a GMAT score.
IPADE also boasts an impressive alumni network of 34,000 graduates. According to the FT, 82% of IPADE MBAs are employed within three months of graduation and they increase their pre-MBA salaries by 171% after three years.
For Juan, who knew he wanted to do an MBA in Mexico, IPADE was the obvious choice.
"It's a top-ranked program in Latin America," he says, "and it combines a world-class faculty with a stunning campus in Mexico City and Monterrey."
Related Content: