Rocketing into a career at SpaceX—a major spacecraft manufacturer and satellite communications corporation—isn't something that every business school grad can say they've achieved.
But Garrett Nelson has always been determined to fly high in his career, and has used his engineering background and passion for aviation to stand out from the crowd.
It isn't just his technical expertise that has helped him reach new heights, he's also made the most of the all-important connections formed during his MBA degree, enabling him to secure his SpaceX career.
---
A fast-track path to an MBA in California
Far from the traditional MBA student who brings around five or more years of work experience, Garrett had the itch to study for an MBA degree straight after completing his undergraduate degree in engineering.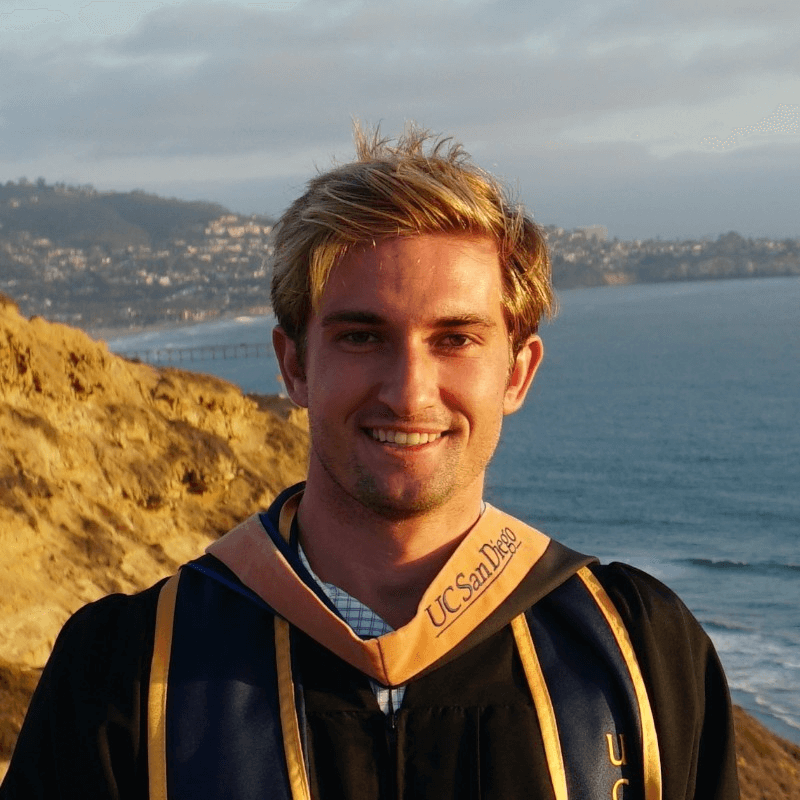 Growing up in Minnesota, Garrett (pictured) had always been a hands-on, practical type of person. Alongside his engineering studies, he spent his free time working on motorcycles, planes, and mechanics.
Yet his interests didn't just lie in the technical side of things.
"I always knew I wanted to eventually twist from engineering to business, and to own my own business in the future," he says.
After becoming attracted to California's startup and entrepreneurship culture during his undergraduate studies in the Golden State, Garrett set his sights on one business school in California: the University of San Diego's (UCSD) Rady School of Management.
UCSD Rady is one of the best MBA programs in California for entrepreneurship, ranking fourth in the US in the Best Business Schools for Entrepreneurship rankings 2022-23, according to Bloomberg Businessweek.
The Rady MBA is a Science Technology Engineering Math (STEM)-designated MBA, and offered Garrett the perfect opportunity to delve into business while experiencing a data-focused curriculum too.
---

Pictured: Scripps Memorial Pier, San Diego, California
---
Learning the skills to thrive in his future SpaceX career
STEM MBA programs are often practical in nature, offering students the experience of solving technical and data-focused business issues in a supportive setting.
The capstone course that is part of the Rady MBA invites students to find logical business solutions to data-based problems.
"The world is swamped by data," Garrett says, "by navigating through the data presented, I learned how to make logical decisions that could inform strategic solutions."
For Garrett, it wasn't just the data-focused courses that appealed to him. He says that some of his most valuable learnings were from the parts of the program that he wasn't familiar with, such as accounting, finance, and marketing.
"These core courses helped me understand how these different areas in a business drive strategy and operations, and [how they] work together," he says.
---
Accessing MBA internships at a business school in California
MBA internships are a valuable way to gain first-hand experience of what it's like to work in business, helping you to decide the exact areas in which you want to launch your career.
Garrett interned at MagnaFlow, an automotive exhaust manufacturer, during his MBA in California.
He was responsible for the packaging line and advising the company on different business recommendations, which involved gathering data about the existing packaging process.
"This is where I was able to utilize my learnings from the capstone course as I was making practical recommendations on capital."
His experience also helped him to see that working in automotive exhaust systems wasn't the ideal route and that he'd need to look further to find the job of his dreams.
---
Working the MBA network to make connections at SpaceX
MBA networking isn't just about making connections with your classmates and employers—you can also gain a lot from connecting with professors.
Garrett took an elective at Rady in Strategic Cost Management where the professor of this class, Jimmy Anklesaria, had recently taught a course at SpaceX.
Jimmy informed the class that the purchasing director at SpaceX had reached out to see if he knew any talented students who would be interested in this line of work.
Garrett, a qualified pilot with a love for all things aviation, knew he had to apply.
During the interview panel at SpaceX, he leveraged his learnings about purchasing strategy from the Rady MBA class.
"I owe my job to Rady," he says.
Among many things, the panel was impressed by his passion, engineering experience, and drive to complete an MBA straight after his undergraduate degree.
Now in his career at SpaceX as a sourcing specialist, Garrett oversees buying the capital equipment for the manufacture of spacecrafts.
"My engineering background helps me to dive into these more technical conversations, while I use my business knowledge to connect with sales teams to find the right quote."
The equipment Garrett purchases can range from 3D metal printers and injection molding machines, to vertical presses—anything and everything that's involved in the manufacturing of a spacecraft.
For others looking to join a similarly challenging career at SpaceX, Garrett provides some wise words of advice. He says that SpaceX is looking for those who can put their ego aside at work, which he says is something his MBA from Rady has instilled in him from the very beginning:
"You're involved in launching rockets into space and [in] the global Wi-Fi revolution, so you need to have a drive to be part of something bigger than just yourself."
Related Content: