Ranked among the best business schools in India, the Indian School of Business (ISB) is a triple-accredited school with campuses in Hyderabad and Mohali.

ISB was founded in 2001, and has already built a prestigious reputation for the strength of its faculty and graduate network. In 2021, it was ranked number 23 in the world in the Financial Times Global MBA Ranking.

Notable alumni from ISB's Postgraduate Program in Management (PGP)—which is equivalent to an MBA—include prominent entrepreneurs, CEOs, authors, and broadcasters.

The PGP is a one-year program taught in English, attracting students from industry backgrounds ranging from consulting, to government, to retail. The program is well-known for attracting engineers, with 64% of the 2021 class having a background in engineering.

To get into ISB, you must have at least two years' work experience, and demonstrate leadership potential, ambition, and self-awareness.
---
---
Companies Hiring ISB MBAs
ISB graduates go on to work with top companies in diverse sectors. Top ISB MBA employers include McKinsey & Company, The Boston Consulting Group, Accenture, Apple, Facebook, Microsoft, Google India, and Ernst & Young.
Despite its relative youth, ISB has already built a diverse global network of alumni across sectors. You can find ISB alums in over 60 countries, and over 600 grads have made it to C-level positions.
---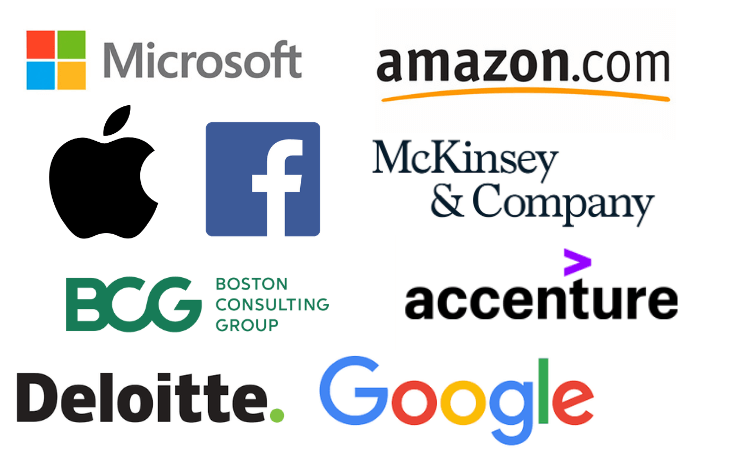 ---
Popular MBA Jobs
Most ISB MBA graduates switch industries, functions, or both after the program. Although ISB MBAs pursue careers with global companies, the vast majority of alumni land jobs in India when they first graduate—unsurprising since India is the second fastest-growing economy in the world.
Consulting is the number one industry destination for ISB MBAs, thanks to the global opportunities, challenging work, and high consulting salaries on offer. In 2021, 34% of jobs offered to PGP graduates were in consulting.
26% of ISB MBA graduates from the class of 2021 accepted job offers in IT or technology, with the Hyderabad campus located near HITECH City, one of India's leading technology hubs. 16% of ISB MBAs got jobs in IT and 10% got jobs in the wider tech industry.
The next most popular industry for ISB MBA graduates is finance, with 10% of the ISB MBA class landing jobs in finance in 2021.
---
---
ISB grads also find meaningful work in retail, FMCG, pharma, biotech, and healthcare.
Hiring remained strong in 2021, despite the global disruption caused by coronavirus, with a total of 1,145 offers made to students. ISB MBAs tend to land post-MBA jobs several months before graduation.
"The future-ready focus on technology and analytics [at ISB] enabled our students to find their place in key leadership and management positions in various organizations," commented dean Rajendra Srivastava.
---
Average ISB MBA salaries
According to our BusinessBecause Cost of an MBA Report 2020, the average top-ranked MBA program in Asia will set you back $98k, between tuition, fees, and living expenses.
At ISB, tuition for the PGP costs around $33k. Students must also fund their living expenses on campus, which costs between $3,700 and $5,600 for the year depending on whether you choose shared or individual accommodation.
Although still a large investment, that's a much more affordable price tag than similarly-ranked programs in the US, which can cost upward of $100k in tuition alone.
And strong ISB MBA salaries mean grads can recoup their investment in the program fairly quickly. Three years out of the program, ISB MBAs earn an average salary of $163,550, representing an impressive increase of 173% compared to their pre-business school earnings.
The ISB MBA is currently ranked third in the world for salary increase by the Financial Times.
---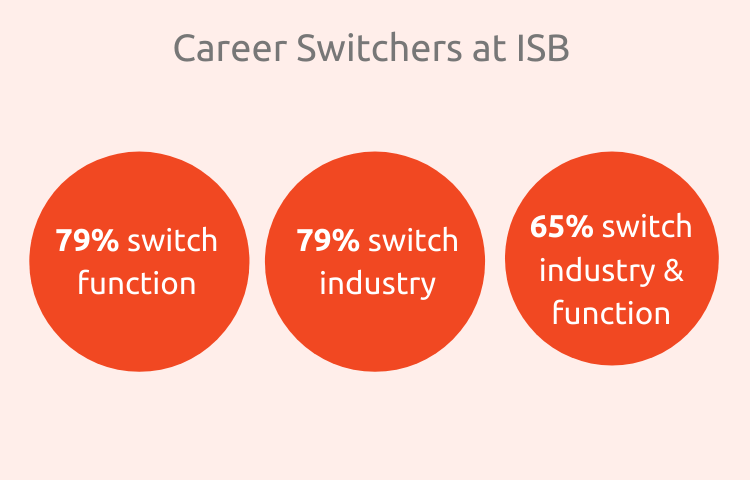 ---
ISB MBA Success Story
Studying the ISB MBA stands you in good stead to access well-paid roles at top companies when you graduate. This is exactly what happened for Parichit Bagga when he graduated in 2019.
Like many ISB applicants, Parichit was an engineer before he came to the school, but he was determined to build managerial abilities so he could pivot into less technical, more strategic roles.
ISB stood out for its prestigious reputation and exciting career outcomes. For Parichit's cohort, 98% of students secured a job offer three months before they graduated—the result of a one-week on-campus recruitment event called Placement Week.
During the event, Parichit went through 12 interviews in just two days, and although it was an intense experience, he felt well-prepared by the coaching on offer at ISB.
---
Read: Engineer Lands Job 5 Months Before Completing Indian School Of Business MBA
---
After being shortlisted by five different companies, he accepted a job as chief manager at an energy company in Delhi.
"Getting placed early allowed us to concentrate on other aspects of the program," he reflects. "We learned a lot over the final months of the program and having a placement secured gives you a sense of stability."
---
Who is the ISB MBA for?
---

Why do an MBA at ISB? If you're an early-career professional looking to kickstart your career in India and boost your salary, the ISB MBA (PGP) is a great option.
ISB is a sought-after brand among India's top employers, and you'll be able to access opportunities at some of the world's biggest organizations.
Like most business schools, ISB prepares you especially well for careers in consulting, tech, and finance—but don't feel limited by these three options.
ISB MBA students live on-campus for the full 12 months, which will help you build strong connections with your peers and keep up with extra-curricular activities.
Although most ISB MBA students are domestic, the immersive experience of the ISB MBA gives international students unrivalled access to local industry and an impressive network in India

Next Read:
Which Companies Hire The Most MBAs?
---
* The article is based on ISB's placement data for 2019, in addition to 2021 data supplied by the school directly, and data compiled by the Financial Times