Duke University's Fuqua School of Business is nestled within the buzzing business hub of Durham, North Carolina, and is ranked among the top business schools in the US.

The school was founded in 1969 and is known for its strengths in healthcare education. Still, since the Duke MBA offers tracks and certificates in areas like technology management and finance, the program offers MBA grads an array of career paths.

The school has also attracted some impressive alumni, including Melinda Gates and CEO of Apple, Tim Cook. Having produced such high-flying alumni, it comes as little surprise that Duke Fuqua ranked ninth in the world in the Financial Times Global MBA Ranking in 2021.

Aside from educating future CEOs and philanthropists, Fuqua School of Business believes in the value of collaboration, with team exercises featuring as a core element in their MBA classrooms.

The school is also famous for its global outlook and exposes students to new cultures and ways of working by facilitating visits to international organizations and exchange partner programs across 28 countries.

When they graduate, Fuqua MBAs can also expect an array of job opportunities and impressive compensation. So which companies hire Duke MBA graduates? And what's the average Fuqua MBA salary?
---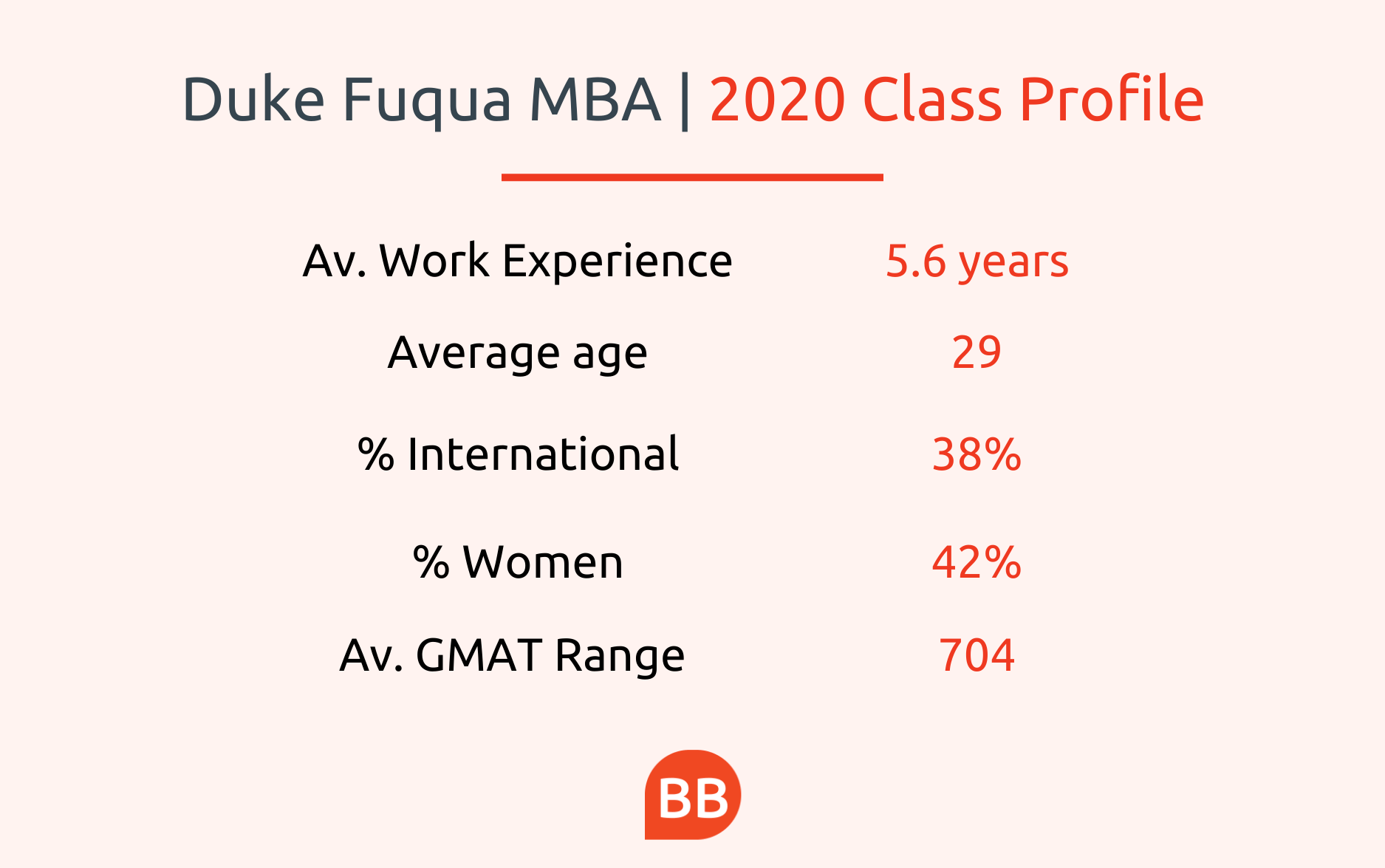 ---
Companies hiring Fuqua MBAs
---
MBA grads from Fuqua School of Business join top companies across a range of industries. Big tech giants like Amazon, Apple, Google, and Big Three Consulting Firms McKinsey, Boston Consulting Group (BCG), and Bain are among the top Duke MBA employers of the class of 2020.
Big finance companies like Bank of America and JP Morgan are also among the top employers of Fuqua MBA grads, as are healthcare companies Sanofi Genzyme and Optum.
Grads impressively weathered the Covid storm, with 90% of Fuqua School of Business MBA grads receiving offers for full-time employment by graduation, up from 84% in the previous cohort. 93% of Duke MBA grads received job offers three months after graduation.
Duke MBA grads leveraged the school's strong career links, with the school facilitating 80% of the accepted full-time job offers through providing internships, interviews, and activities organized by the career center.
---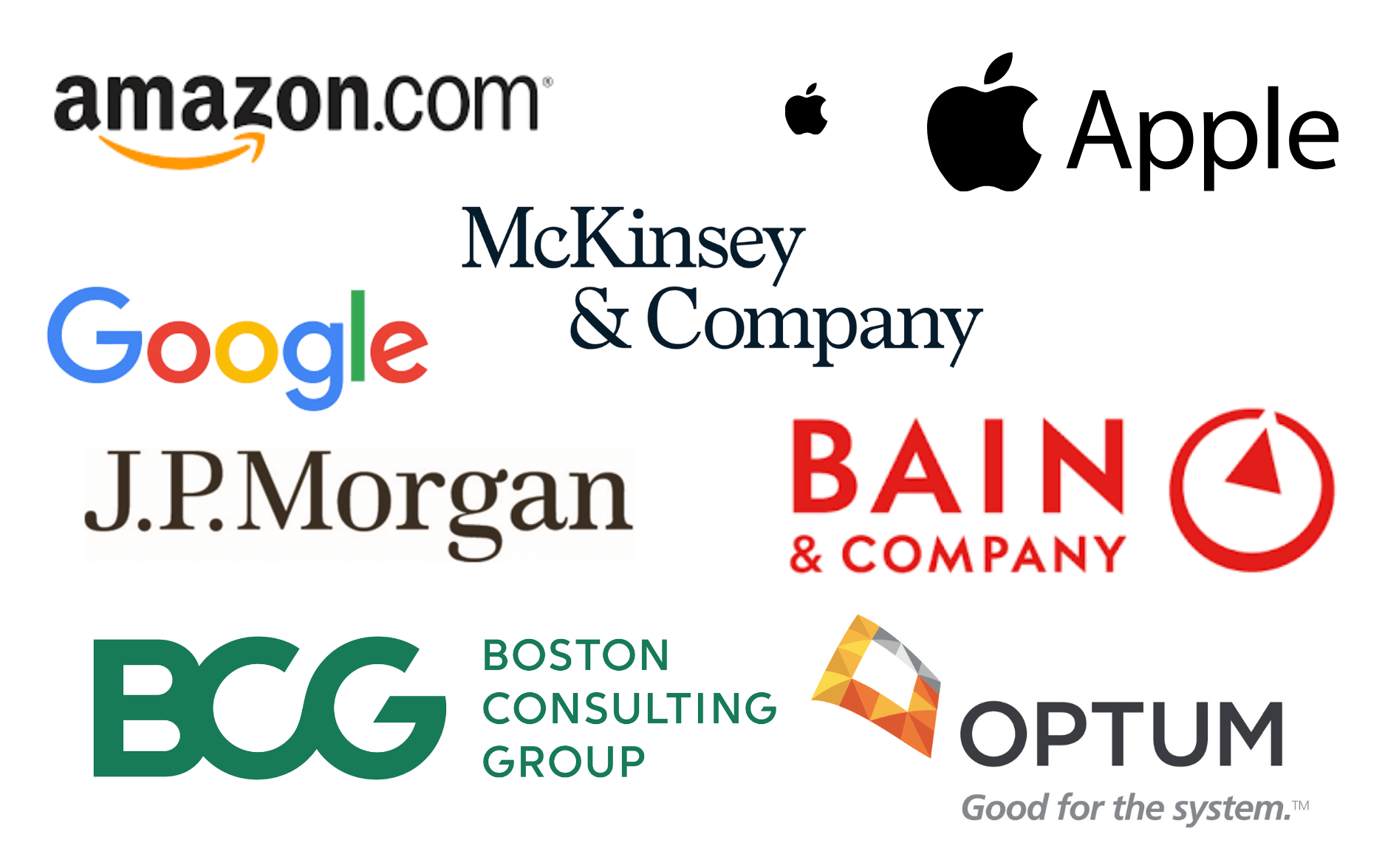 ---
Most popular industries for Duke Fuqua MBAs
---
Fuqua School of Business placed 31% of its MBA grads into the well-paying field of consulting. Grads were also attracted to the growing tech sector, with 27% of Duke MBAs joining the industry—an increase of 4% from the previous class.
Financial services featured as the third most popular route for MBA grads: 18% entered the high-paying finance field. Unsurprisingly, due to Duke's strong links with healthcare, 8% of MBAs joined the healthcare industry, making it the fourth most popular sector.
A further 5% of the class of 2020 landed roles in consumer packaged goods in 2021. Retail, media, transportation, and energy were also among the top industries MBAs entered.
---
Duke MBA: Most Popular Industries
---
---
Average Duke Fuqua MBA Salary
---
As a top 10 global business school, the salaries attained by Duke MBAs are equally as impressive as the school's top ranking.
The mean base annual salary for Duke MBAs in the class of 2020 three months after graduation was almost $136k, while grads picked up a signing bonus of around $35k—a slight increase from the previous year's signing bonus of roughly $33k.
The highest paying industry for Duke MBA grads was consulting, with grads landing a mean salary of around $154k. Grads who joined financial services had the second-highest salaries, with a mean MBA salary of around $139k. Meanwhile, in the tech sector, Fuqua MBAs landed the third highest salary by industry at roughly $128k.
These high salaries are sure to be comforting for those calculating the costs of an MBA. The Duke MBA costs $70k in tuition fees per year, with an estimated total cost including living expenses of just over $195k.
---
---
Duke Fuqua MBA career destinations
---
94% of Duke MBAs, including international students, overcame Covid and US visa-related issues to pursue careers in the US in major destinations like New York, Seattle, Chicago, and Silicon Valley. There are also 24 Duke MBA grads who are planning to work outside of the US in countries such as South Korea, Japan, China, Mexico, Chile, and Brazil.
For the class of 2020, those who landed jobs in North America gained the highest salaries of around $139k, while those working in Latin America and the Caribbean reached strong salaries of around $88k. In Asia, MBA grads reached salaries of roughly $86k.
---
Duke MBA Success Story
---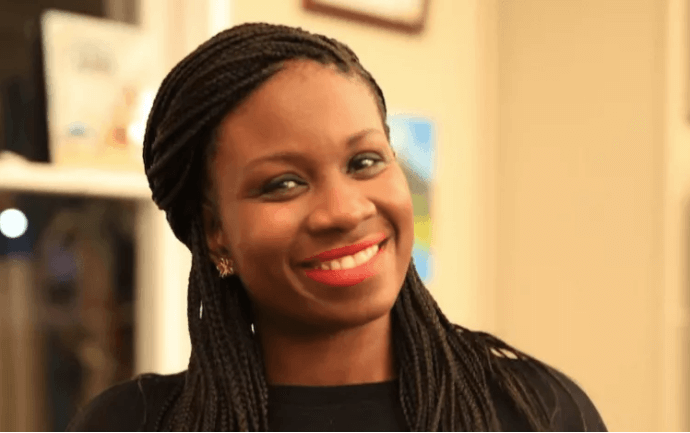 ---
Before joining the Duke MBA, Susan Sasu worked in customer marketing at Unilever in Ghana and South Africa, but after deciding she wanted to pivot into a fast-paced tech role, she embarked on an MBA in a country at the forefront of the tech sector: the US.
The Duke MBA stood out to Susan as they offered a Management Science & Technology Management (MSTeM) track, which provides students with the technical aptitude and experience needed to succeed in the burgeoning tech industry.
"It gave me a lay of the land, particularly in terms of how the technology industry is evolving," she says.
Armed with this tech-focused knowledge, alongside an awareness of managerial principles, Susan has used her MBA to land a role as a product marketing manager for surface devices at Microsoft.
Her Fuqua MBA not only improved her tech knowledge, but she credits the global nature of the program for helping her to connect with people from diverse backgrounds and thrive at a US-based tech company.
---
Who is the Duke MBA for?
---

If you're after an MBA program that could help you launch a career in the top three MBA industries of consulting, tech, and finance, the Duke MBA could be for you. The degree places over three-quarters of grads into these industries.
A key focus on healthcare also means the industry is a key destination for MBA grads from the school. If you want to enhance or launch your career in the sector, this could also be a strong MBA choice for you.
The Duke MBA also fosters a sense of community and has smaller class sizes compared to many top US MBA programs, and provides a strong international cohort. That means plenty of international networking opportunities throughout your time on the program.
If you're dreaming of a career within a major city in North America, the Duke MBA is a great place to enhance your business acumen, network with employers, and gain subject-specific knowledge through the many concentrations and certificates on offer at the school.

---
Next Read:
Find out how this grad aced the Duke MBA application