Located in the heart of Greenwich Village, New York University's Stern School of Management has been awarding management degrees for over a century. In 2023, its MBA program ranks in the top 20 worldwide according to the Financial Times.
Thanks perhaps in part to its proximity to New York's financial district, NYU Stern is well-known as one of the best business schools for finance.
Since opening its doors in 1900, the school has welcomed many students who went on to make names for themselves in the financial sector. These include Fortune 500 CEOs and CFOs from companies including American Express and Chase Manhattan Bank.
This year, the school's employment report shows that 94% of graduates accepted jobs within three months of graduation. But what careers have NYU Stern MBA grads chosen? And what salaries can prospective students expect? We broke down the report to find out.
---
Popular industries for NYU Stern MBA graduates
The top industries for NYU MBA grads in 2023 remained consistent with previous years.
The third most popular industry was tech, claiming 14% of graduates.
Finance was the second most popular industry, with 29% of grads taking up roles in financial services. The most popular career track was investment banking (23%), while asset management and venture capital each attracted just under 2% of the graduating class.
Consulting claimed the top spot, with 41% of grads opting for roles in this industry. As well as being a popular industry for NYU Stern alumni, consulting was also the most popular function for the class of 2023, with 48% of the graduating class going into consulting jobs, mainly in management. Interestingly, both of these were 10% increases on previous years.
Outside these 'big three' industries, consumer packaged goods and entertainment, media, and sports were also popular, each accounting for roughly 3% of the class.
Law accounted for 2% of NYU Stern grads, perhaps thanks to the school's strong JD MBA program.
---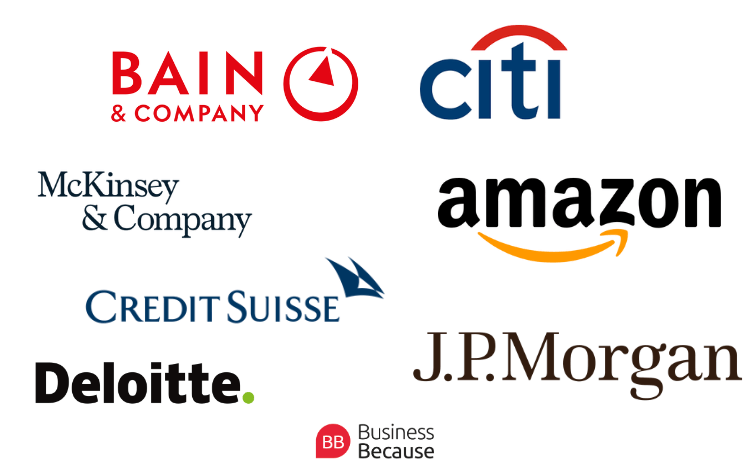 ---
Companies Hiring NYU Stern MBAs
The top employers for the NYU Stern MBA class of 2023 were, unsurprisingly, consulting firms.
McKinsey & Company claimed the top spot in terms of accepted offers at 24, followed by Deloitte, Strategy&, and Boston Consulting Group (BCG). Bain & Company, EY-Parthenon, and PwC were also featured in the list.
In the finance sector, the biggest employers were JP Morgan with eight accepted offers, followed by Credit Suisse, Citi, and Morgan Stanley.
Amazon was also a top employer for NYU Stern MBA grads this year, welcoming 10 alumni into its ranks.
---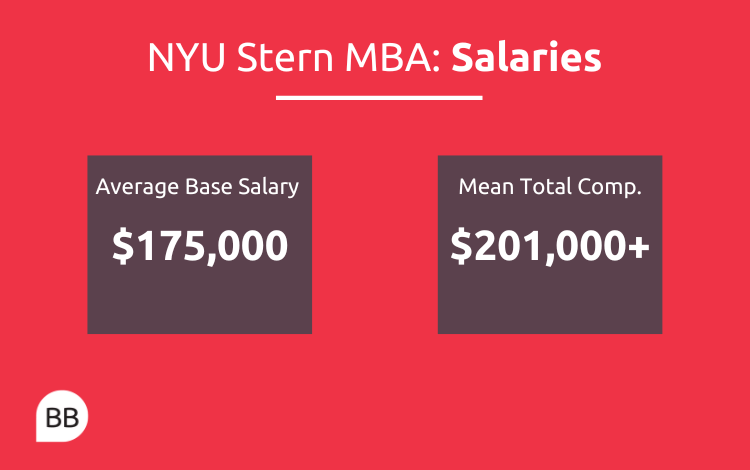 ---
Average NYU Stern MBA salary ($)
Perhaps the most important question for many prospective MBAs is about salaries. What compensation can you expect after an NYU Stern MBA?
The NYU Stern class of 2023 broke records by having the highest average GMAT score of any class in the school's history at the time of their enrolment, and the record-breaking didn't stop there.
This year, MBA grads achieved the school's highest-ever mean total compensation for a graduating class, at over $201,000. The median base salary for the group was $175,000, a 3% improvement on the previous year.
This trend looks set to continue, as median internship salaries are also their highest ever for the class of 2024. With 63% of the class of 2023 securing job offers through internships facilitated by the school, this bodes well for next year's salary outcomes.
But how does all this affect the return on investment of the NYU Stern MBA?
The NYU Stern MBA costs roughly $127,000 per year including living expenses, for a total of $254,000. Although this is a large sum, the average salaries of MBA grads suggest it could be worth it.
Graduates who went into law achieved the highest average salaries at just under $217,000. Consulting grads were not far behind, achieving average salaries of $179,000, followed by investment bankers at $172,000.
---
Who is the NYU Stern MBA for?

For prospective MBAs targeting careers in the northeastern United States, the NYU Stern MBA provides a strong foothold: 77% of Stern MBAs settle there after graduation.
It is a particularly strong choice for students targeting careers in the 'big three' MBA industries: consulting, finance, and tech. Although consulting is the strongest industry by numbers for the class of 2023, investment banking claims the top spot for salaries—all-important when weighing up the price tag of education in the heart of Manhattan.

---
Image © ajay_suresh, reproduced under this license.