A stone's throw away from Greenwich Village, NYU Stern School of Business is known for its strengths in finance and fashion, with students reaping all the benefits of life in central NYC. Ranked among the top 25 MBA programs in the world, NYU Stern has just welcomed its MBA class of 2022.

If you're considering applying to NYU Stern, you need to understand what kind of students fill the MBA class and how to leverage your own experience and background in your application.

NYU Stern received 3,652 applications, admitted 1,059 students, and enrolled 317, with an admission rate of 29% this year. Applications to NYU Stern were up 4% on the previous year.

Students in the NYU Stern MBA class of 2022 include professionals from financial services, nonprofits, the arts, and education, technology, engineering, law, the military, and more. 30 nationalities are represented in the class.

In this BusinessBecause Breakdown, we explore the NYU Stern MBA class profile, covering class GMAT scores, diversity statistics, and students' previous experiences.
---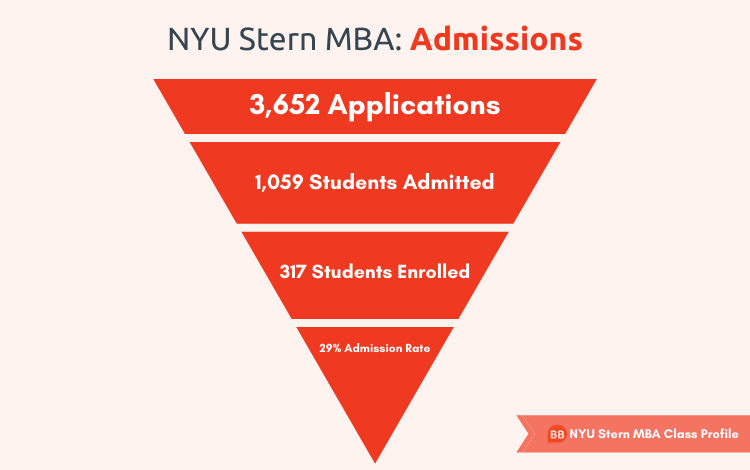 ---
NYU Stern MBA Class of 2022 | Overview
---
The entering MBA class of 2022 is academically impressive. There are students with a range of undergraduate majors from engineering, math, and science, to social science, economics, and the humanities. The class also have an average GMAT score of 723, the highest in NYU Stern's history, and up from 721 for the last cohort.
The average age of the MBA cohort is 28, with the youngest in the class 22 and the oldest 40. To enroll in the MBA class at NYU Stern is to also enroll in a classroom fueled by diversity. Female representation is up from 36% to 43% in this cohort, tied for the highest in NYU Stern's history.
There are 30 countries represented, 32% of students are from minority backgrounds, 12% of the class are from underrepresented minorities. 32% are international.
---
---
Read: NYU Stern's Dean Talks Big Data, Machine Learning, And The Tech MBA
---
GMAT Scores
---
As the standardized admissions test for business school, the GMAT scores of an MBA class are a good benchmark on which to assess the quality of a class.
Looking at the GMAT class statistics for your target schools though is a...
Register for free to continue reading