Millennials are set to dominate the work place with research by Deloitte predicting that three of every four people in the workforce globally will be a millennial by 2025. As top executives reach retirement age and millennial MBA grads take on more leadership roles, the culture of work is set to change.

Born between 1984 and 1996, for now, Generation Y's effect on the future of work is only just starting to take shape.

The key trait setting millennials apart from previous generations is their affinity with the digital world. They've grown up with the internet, laptops, smartphones and other digital innovations that has made them digitally native.

As technology proves to be another major driving force of change, many millennials enter the workplace with a better grasp of tech tools than their senior workers.

"Tech has become the bedrock of almost all industries and we see students interested in tech companies. But many companies in many industries are recruiting people who are tech literate and comfortable with analytics" says Cynthia Saunders-Cheatham, the executive director of the Career Management Centre, Johnson at Cornell University.

It's not just a superior grasp of these tools that sets millennials apart either. The way they plan to use these tools differs from previous generations.

"[Millennials are] focused on changing the way things are done and being able to drive change," Cynthia explains. "That's why there's interest in tech. It's a bigger goal for students now to change things in a major way as opposed to incremental changes that we've seen in previous generations."

"Students now want to hear from companies about what they're doing around social impact and sustainability," Cynthia continues.

"Even if they don't pursue a career in sustainability, they're interested to hear what companies are doing in that space. They want to work for companies where they feel they are doing the right thing from a social impact perspective."

Cynthia's view is echoed by Ali Fenwick, an Executive MBA professor at Hult International Business School and founder of LEAD TCM&L a behavioral insights-driven management consulting and training firm.

"I think that younger generations are probably the biggest disrupters of future business models, in a positive sense," he says. "If technology doesn't change how things are done today, the next generations will."

In his work, Ali uses managerial psychology and research into people's behavior to improve various business outcomes.

"New generations with new thinking styles and the changing nature of work will impact business behaviors," he continues.

"I think that there will be a big difference in how younger generations think about their future, adapt to change, integrate technology into their lives, express themselves, engage with others, and foster relationships."

So, millennial MBAs are motivated by social impact. But they want to work differently too. A recent millennial branding report found that 45% of millennials will choose workplace flexibility over pay.

Celine Enriquez, a millennial MBA grad from France's EMLYON Business School works in digital marketing for a big pharma firm.

"Technology has opened borders," she says. "It's so easy to communicate with someone halfway across the globe. Part of my job preference therefore, is to eventually be able to work from anywhere in the world.

"We millennials are more demanding," she continues. "We want something that is challenging. I cannot imagine myself, for instance, working for one company for 30 years, unless this company continues to challenge me. It may be called a short attention span, but it's also a challenge. We have to be in environments that are dynamic and ever-changing."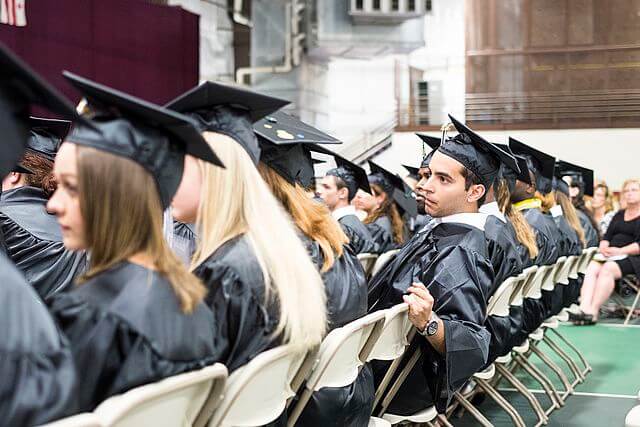 ©Community College of Vermont via Wikimedia Commons used under this license.
With shifting demands from millennials, business schools are having to react to a changing job market.
"We have significantly beefed up our analytics curriculum," says Cynthia. "It's not just Google, Facebook and Amazon. All industries want and need tech talent. Students can bring that perspective to many companies and industries that they go into."
Johnson at Cornell is not the only school to ramp up its focus on big data analytics. Italy's MIP Politecnico di Milano offers a specialized Business Analytics and Big Data master's program in partnership with IBM. Nottingham Business School's Online MBA with Data Analytics was launched in response to employer demand.
Generational changes have seen more MBA grads look to join startups or take the leap into entrepreneurship themselves. In 2012, 3% of Harvard MBAs joined startups upon graduation. In 2015, 9%.
25% of graduates from the International University of Monaco – which offers an MBA specialization in entrepreneurship – go on to start their own companies.
What is clear is that the future of work has never been more uncertain and subject to as many sources of change. Business schools and MBAs alike are having to adapt.
"Flexibility is important as no one has a crystal ball," Cynthia continues. "Being able to stay on top of what we think is going to happen and being able to flex as needed is going to be really important. It's a big skill that needs to be developed – some people can do that easier than others."
---
Main image in this article was used under this license.