When Hillary Batchelder wanted to "hit reset" on her career, an MBA was the ideal solution. Her efforts paid off, and she left her one year program with a job offer from Microsoft Germany.
Originally from the USA, Hillary began her career in a sales role with digital publishing startup, SmartBrief. Although she enjoyed the job, there were few opportunities for advancement within the small company.
Hoping to open up new opportunities, and underpin her skills with broader business acumen, she decided to attend business school.
"I thought the MBA would be a really good way to pivot my career," she says.
---
Finding a place to lay roots
While looking for the perfect MBA program, Hillary had a few goals in mind. She wanted to complete the program in one year, to avoid taking a long break from her career, and to expand her horizons by studying in a vibrant new location.
When she came across the MBA program at ESMT Berlin, it ticked all the boxes.
"Berlin is such a great place to do an MBA because the startup scene is booming," Hillary recalls. "I knew that I'd also be able to network in the city, and go to meetups."
The city's friendly international atmosphere, and affordable cost of living, made Hillary feel she could start a life in Berlin when she graduated.
At ESMT, Hillary was soon immersed in her classes, and the 'Managerial Decision Making' module stood out in particular. The module focuses on perfecting processes rather than only considering outcomes.
"That's something that's really stuck with me, and has been important for the jobs I moved into," Hillary reflects.
The study trip she took to Singapore and Vietnam was another highlight, she says. Here, she put her new knowledge to use evaluating how and why these countries had developed so differently despite their proximity.
---
Launching a Microsoft career
When Hillary graduated from the MBA, she took up a role in Munich with Microsoft, as part of the tech giant's MBA program.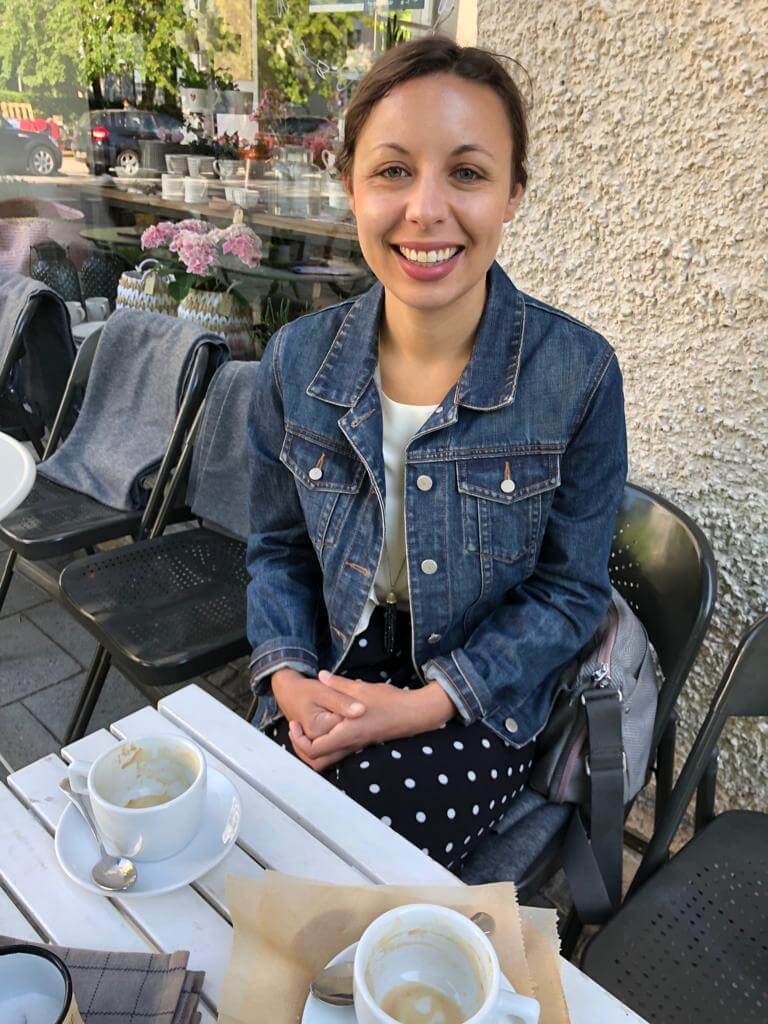 In the program, graduates are placed in a role that suits their skills, and given support by mentors in the company.
Hillary credits ESMT with connecting her to Microsoft, and supporting her through the application process. During the MBA, she visited the Munich office on a class trip, and got a taste of the culture.
"Without that connection, it would have been much harder to apply," she reflects.
---
Creating a collaborative culture
Having worked with startups for most of her career, Hillary was a little sceptical about joining a large firm. After speaking with some ESMT graduates at the company, though, she felt more confident in her decision.
When Hillary joined Microsoft in 2018, the company was in the middle of a huge cultural transformation effort, led by CEO Satya Nadella.
In the past, different departments had become quite siloed, causing tension to develop between them, Hillary explains.
"Nadella had been promoted from within the company, and wanted to restructure things so it could be more collaborative," she says.
When Hillary was offered a role in Microsoft's HR department, the timing was ideal.
As Business Manager in HR, she worked on various cultural transformation projects, using the communication and collaboration skills she developed at ESMT Berlin.
On the MBA program, she worked with a diverse mix of people, from different professional and cultural backgrounds, and with different goals.
"I saw myself growing so much from term to term in how I was working with the groups I was in," she recalls.
At Microsoft, Hillary leverages these skills when working across teams. "Being able to pinpoint the interests of different stakeholders that I'm working with, and finding areas of overlap has been really important," she explains.
---
Working at home with Microsoft
Hillary recently transitioned to a new job with Microsoft, as product marketing manager for the company's UK operations.
In this role, she helps businesses through technological transformations, advising on the right suite of Microsoft products and services.
Although she is working remotely for the time being due to coronavirus, Hillary feels connected to her new team.
Moving entirely online has been a challenge, but she believes it will strengthen company culture overall, by encouraging staff to be inclusive with colleagues who require more flexible working conditions.
Mindfulness classes offered by Microsoft have also helped maintain a culture of work life balance, Hillary adds, helping staff take care of themselves.
"It's on everyone's mind to make sure we keep a balance, because it's a marathon not a sprint," she notes.
Hillary is keen to continue her journey in this inclusive culture. "I feel really lucky to be part of this organization, and I feel like there's still so much more for me to learn," she says.
Related Content: