As one of the most popular study destinations for business school candidates, MBA students are becoming increasingly sold on Australia for its career opportunities, liveable cities and work-life balance. But when looking for the best MBA jobs in the country, it all comes down to having relevant local experience.
"It doesn't matter if you have 10 years of experience in another field or country," says Tanmay Bhardwaj, who moved to Australia from India to study at Melbourne Business School (MBS). "Employers want to know if you'll be a good fit for Australia's unique business culture."
It's a culture which relies on close-knit networks. Government statistics show that one-in-three jobs in Australia are not advertised, relying instead on referrals and recommendations from those in the know.
"Industry-specific experience is pivotal," adds Tamara Cherrington, another MBS alum, who used the work experience she gained during her MBA to switch focus from engineering to strategy. "It just shows you're that little bit more tried, tested and trusted."
BusinessBecause caught up with Tanmay and Tamara to find out about their experiences studying Australia's top-ranked MBA and the internships and contacts they gained through it – providing the ideal launchpad toward career success in Australia.
---
Using an MBA to pivot my career
Tamara Cherrington, senior strategy analyst, Australia Post

After seven years working as an engineer, Tamara wanted to move away from solving technical problems and towards solving commercial ones.
A Melbourne native, Tamara knew MBS had strong connections with the city's business community, and felt an MBA was her chance to develop the business knowledge she needed to jump careers.
"It was a no brainer," she says.
Now, she works as a senior strategy analyst for Australia Post, a position offered to her after she took part in an internship there, which was gained through MBS. Once she had her foot in the door, changing roles and industry quickly became a reality.
"An internship is your chance to get to know the ropes of a company, and showcase your skillset," she says. "If you leave a good impression, it's far easier for the organisation to keep you on over hiring someone new."
But connecting her with contacts at Australia Post was far from the only way the MBA helped Tamara's professional development.
"Strategy roles these days aren't just about financial modelling, but also stakeholder management," she says. "Having strong communication skills is crucial, as well as an appreciation for how cultures are formed."
The MBA encouraged these skills in two major ways. Firstly, through its curriculum, which includes classes on people management, as well as immersive business experiences based on real life projects.
MBS professor Sven Feldmann says the immersive business experience offered at the school is pivotal to preparing students for the Australian jobs market.
"Our students get to tackle complex, real-world business problems and experience how their advice and analysis can have a real impact," he says. "It's their chance to practice organising a team, designing analysis and learning the importance of successful communication with business partners."
"I really enjoyed this practical side of the MBA. It came with real life frustrations— like vague briefs from clients, but that's exactly why you do it," Tamara says. "That experience is a lot more valuable than being handed a theoretical table of data."
She also gained invaluable insight from international peers.
"Having a bunch of really smart people, with varied professional and cultural backgrounds, all coming together to learn—you don't find that many times in your life," she says. "It was a real highlight."
---
From Indian army major to consulting in Australia
Tanmay Bhardwaj, consultant, Innovoir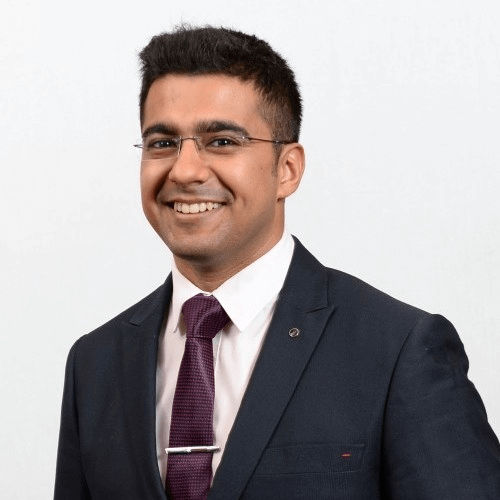 Tanmay was an Indian army major for over eight years before moving to Australia with his family. The MBA at Melbourne Business School was his springboard into the corporate world.
Now, he works as a consultant for Australian firm Innovoir, which uses cutting-edge technology to solve complex business problems.
"From my army background, people management is my strong suit, as well as dealing with constraints on resources, and navigating complex problems," he says. "Consulting seemed like a natural fit, and I like that no day is the same."
The MBS alumni network was a great starting point for making connections. In their semi-annual alumni meet, graduates of the MBA return to campus to get to know current students and provide them with contacts and support.
"It's a great help, particularly if you've never worked in Australia before," says Tanmay. "Alumni are really keen to refer other MBS MBAs to their company and suggest any positions they think are a good fit for you."
This network helped him break into Australia's uniquely close-knit business community.
"Instead of six degrees of separation, in Australia it's more like three," he says.
The MBA curriculum also helped bolster Tanmay's confidence in the corporate world, offering him an overview of business that allowed him to switch smoothly over to the private sector.
"I realised I'd been doing a lot of the same things in the army that you do in business— corporate strategy, operations management, overseeing supply chains— I just didn't know the technical terms for it until I did the MBA," he says.
When Tanmay did encounter processes unique to the private sector during his internship, like client interaction and stakeholder management, the company provided the support he needed to learn on the job.
"The MBA really helps you become a jack of all trades," he says.
Related Content: