As the home of Silicon Valley and birthplace of innovative companies from Google to Uber, the San Francisco Bay Area is an attractive destination if you're an ambitious professional hoping to make an impact on the business world.

But there's more to the Bay Area than the tech giants it's known for. Over the last few years some exciting new MBA jobs have sprung to life in industries ranging from finance to nonprofits.

If you want to launch your career in the Bay Area, read on. Here are five promising MBA job opportunities you could explore in the area.
---
1. Customer success
For MBA grads who want to enter the Silicon Valley and Bay Area tech scene, customer success is an appealing launch pad. Customer success managers are usually found at software as a service (SaaS) companies, helping their users get the most out of products.
"In the last few years customer success has gotten big," notes Danielle Anne Glynn, senior director of external engagement at the University of San Francisco (USF) School of Management.
And many SaaS companies are growing fast.
"Some Bay Area companies, like project management software provider Asana, are in hyper growth mode," adds Elisabeth Merkel Bagai, head of industry and corporate relations at USF.
In response, USF launched a career accelerator program in customer success—the first academic program of its kind—for MBA students.
---
2. People and culture management
The shift to remote and hybrid work spurred by the coronavirus pandemic is influencing the way we think about corporate culture—and this could create new opportunities for MBAs, Elisabeth thinks.
"Companies are asking themselves how they can sustain a corporate culture when the majority of employees aren't in the same building," she explains. "For this reason, there's growing interest in hiring on the people and culture side."
---
Regular recruiters for USF MBAs
---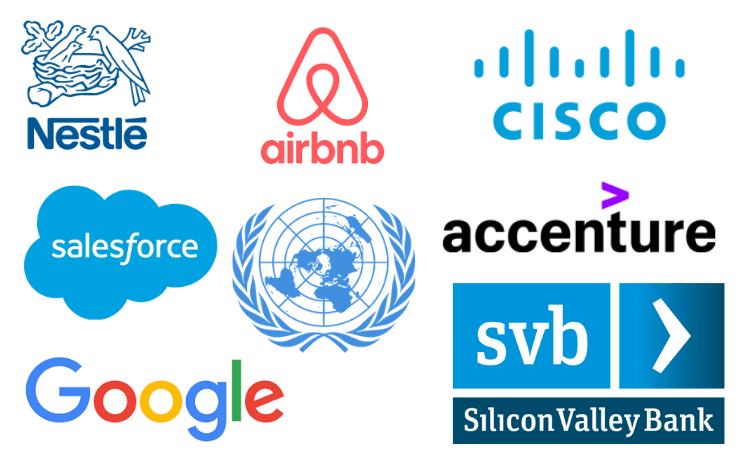 ---
3. Diversity, equality, and inclusion
USF is also preparing MBAs for another growth area: careers in diversity, equality, and inclusion.
According to research from Glassdoor, hiring diversity and inclusion specialists is set to be a recruitment priority for companies over the next decade. This could be a particular trend in the Bay Area, where people of color and women continue to be underrepresented in tech leadership.
A good understanding of diversity and inclusion is equally valuable to MBAs who want to join a nonprofit or government body, adds Danielle.
"We're seeing new MBA jobs come up in nonprofits and government bodies," she explains. "And a lot of our students are interested in jobs around diversity, equality, and inclusion."
In 2019, about 10% of MBA grads from USF went on to work in this area, and Danielle and Elisabeth suspect this number could grow.
---
4. Finance
Finance remains a strong career path for MBAs, offering high salaries, a fast-paced environment, and plenty of opportunities for progression. It's a prominent industry in the Bay Area, with San Francisco alone hosting over 30 international financial institutions.
"About half of the jobs for business school graduates I see are in the finance area," says Elisabeth. "That is a place where there's a lot of interest right now, and where we're seeing a lot of change and new challenges."
These challenges include planning sustainable recovery strategies in the wake of coronavirus, and navigating the tax and payroll implications of an increasingly scattered workforce.
To ensure MBAs are equipped with the knowledge they need to thrive in this quickly-changing environment, USF offers a career accelerator platform in business finance.
Along with modules in corporate finance and credit management, students in this track have the chance to practice their financial analysis skills through studying real-world cases.
---
5. Marketing
Marketing is another popular function for MBA grads in the San Francisco Bay area—and with new companies and products launching all the time, it's a big growth area for MBA jobs.
"In the Bay Area, we're well-placed for students interested in marketing," Danielle explains.
"All the startups and creative agencies here need marketing experts—and working in a smaller company gives grads a lot of opportunities to work cross-functionally."
Studying an MBA in the Bay Area can help you network with these local companies, Elisabeth adds.
USF offers regular networking events and guest speaker events to connect current students with alumni and local employers.
"Our approach is very personalized because we work with a small cohort," says Elisabeth. "We're able to ask students what job opportunities they're looking for, and source relevant speakers from our network."
This ensures that MBAs from USF who want to stay in the Bay Area have the connections they need to land a role in one of these growth areas.
Related Content: