BlackRock is a major player in the financial services world and hires MBAs from a range of business schools such as Columbia Business School, Darden, SMU Cox, Wharton, and Yale.

As the world's largest asset manager, BlackRock could be a great place to build an MBA career in finance or technology, given the firm's expertise in investment management and increasing focus in the fintech space.

The firm's FinTech Fund invests 70% of capital in companies developing fintech solutions, and in January 2021 Blackrock partnered with fintech company Clarity AI, to support its sustainable investing efforts.

These new developments mean it's an exciting time to launch a career at BlackRock, and Blackrock is planning to hire more MBAs in the coming year.

BusinessBecause caught up with Pasquale Quintero, VP of early careers recruitment, to find out more about BlackRock careers for MBAs.
---
What does BlackRock look for in its MBA hires?
Pasquale is focused on developing Blackrock's MBA Summer Associate Program, an internship program for active MBA students.
To be eligible for a role as a summer associate at BlackRock, you'll need to be enrolled in a full-time MBA program and have at least three years of pre-MBA work experience behind you. The latest cohort took on around 25 MBA students.
---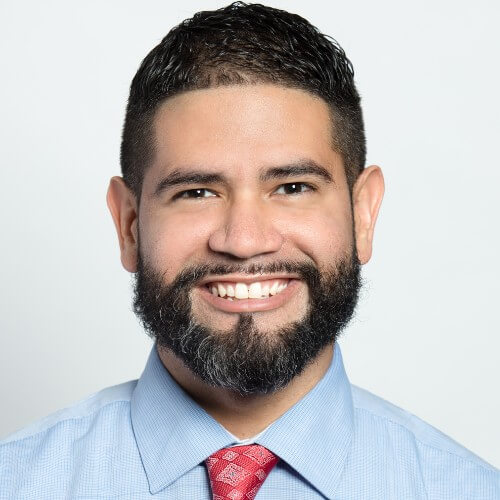 ---
There are several important soft and technical skills that BlackRock wants from its MBAs, Pasquale (pictured) explains. "We look for candidates to have strong leadership, communication, analytical, and critical thinking skills."
The ability to work collaboratively in a close-knit team is equally important, and candidates should demonstrate an interest in the industries in which BlackRock operates – financial services and technology. Exactly which technical skills you'll need to showcase depends on which business area you apply to work in.
Once the internship begins, you can build more specific skills and knowledge with expert guidance from your BlackRock colleagues.
---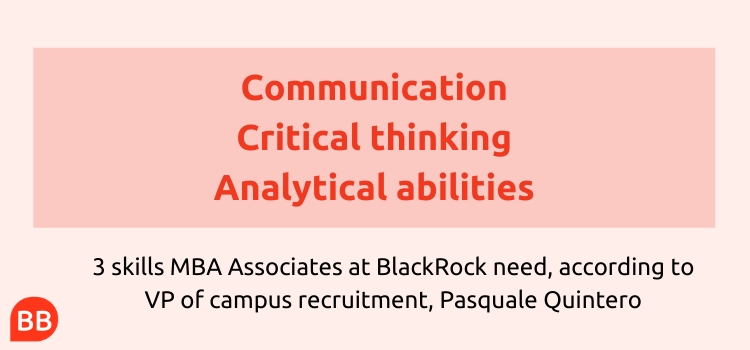 ---
How to apply to BlackRock's MBA Summer Associate Program?
Applications for the MBA Summer Associate Program open each year in early August. To apply, you'll need to submit an online application and select up to two business areas of interest.
BlackRock hires MBAs into a range of businesses. If the company selects your application, they'll invite you to a first-round interview.
"First-round interviews are behavioral based," Pasquale comments. During this interview, you can expect to be asked about your motivations for joining BlackRock, your background, and how you tend to function in the workplace. Candidates should also be familiar with BlackRock's Principles.
If you're successful at that stage, you'll be invited to a final-round interview. During this stage of the application, you can expect more technical questions, Pasquale reveals.
"Interview questions vary by team and role, as some groups are more technical than others," he says. "Depending on the role candidates applied for, they should be prepared to demonstrate their technical abilities, and possibly complete a case study or stock pitch."
After the final interview round, successful candidates will receive an offer to join BlackRock as Summer Associates. In addition to immersing themselves in their teams, MBA Summer Associates will have the opportunity to attend networking and social events, participate in skills development sessions, and engage with senior leaders at the firm.
---
BlackRock To Hire More MBAs Into Summer Associate Program
---
BlackRock careers for MBAs
Pasquale says all summer associates who perform well during the internship are offered full-time associate or VP level positions at BlackRock. Levels are determined based on an individual's pre-MBA experience.
"We are continuing to see great interest and enthusiasm from MBA candidates, who are attracted to BlackRock's position as a global leader in asset management and fintech, as well as our guiding principles and culture," Pasquale concludes.
---
Next Read:
The 9 Highest Paying Finance Jobs