90% of managers say focusing on ESG (environmental, social, governance) is crucial for their company to remain competitive, but only 60% have such a strategy in place.

Bridging this gap requires talent and MBA grads are an important source of that. But can you launch an impact career, land ESG jobs, and earn a good salary at the same time?

Studying an MBA is a significant investment and, for most students, that salary you get after graduation matters.

Fortunately, experts say that the growing emphasis on ESG issues among organizations means you can now make a positive impact in your career after your MBA without the need to sacrifice your return on investment (ROI).
---
MBA employers value ESG skills
As the need for ESG-savvy professionals grows, more MBA students want to ensure their career has a positive impact when they graduate.
"MBA graduates are increasingly leaning towards management approaches that favor inclusive organizations and societies, as well as the design and application of sustainable business and development models," explains Amber Wigmore Alvarez, chief talent officer at graduate careers platform, Highered.
Since most companies are keen to hire talent that can support their social or sustainability goals, these ambitious graduates can expect to be snapped up by a wide range of employers.
"Companies are looking for people who are empowered to lead real change and take accountability for results," Amber adds. "So it is possible to receive a strong financial ROI on an MBA while pursuing a career that allows your talent to have a positive impact."
This emphasis on ESG matters for the bottom line. Companies that place an emphasis on sustainability and social issues typically outperform companies that don't.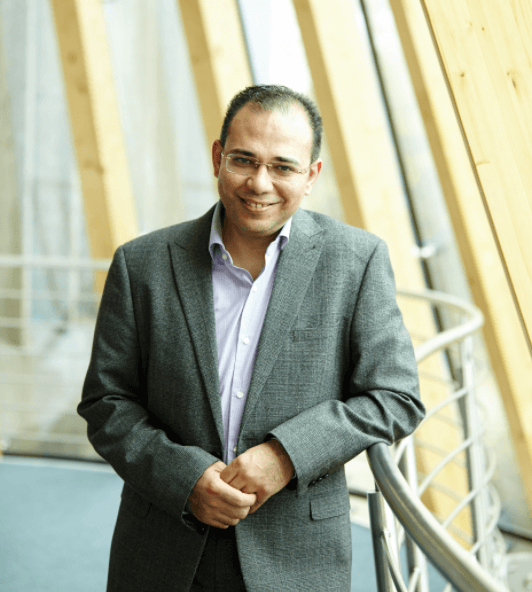 One meta-analysis by Deutsche Bank found that 35% of global ESG investments outperformed their market average in 2021.
"Sustainability is a strategic pillar," explains Amir Michael (pictured), MBA director at Durham University Business School. "The expectation is that every employee agrees with that."
Amir aims to equip every Durham MBA with the skills they need to tackle ESG issues by the time they graduate.
Even grads who enter roles that aren't explicitly MBA sustainability or social impact jobs need to grasp the basic concept of ESG and understand how sustainable business practices could be incorporated into their remit, Amir emphasizes.
---
ESG jobs and salaries for MBAs
The ESG job opportunities for MBA grads are exciting and diverse. You can get involved in sustainable investing, help businesses become more sustainable through consulting, manage green projects, and more.
According to Dominic Prosser, MBA employability and careers consultant at Exeter Business School in the UK, MBA grads take on a wide range of ESG jobs including; head of circular economy business development, sustainability consultant, low carbon project manager, ethical business consultant, and environment manager.
MBA grads in roles like these command the same high salaries as their counterparts who opt for more traditional routes.
According to Glassdoor data, sustainability consultants earn between $70k and $100k in the US, while international development consultants earn around $80k. In sustainable investing, analysts earn around $81k on average.
Grads who go on to be chief sustainability officer for an organization can earn $149k on average in the US, and up to $300k.
"Our recent MBA graduate survey reveals that the vast majority of our graduates experience substantial career growth and salary increase," says Stephanie Schleimer, MBA director at Australia's Griffith Business School, which placed first in the 2021 Corporate Knights Better World MBA Ranking of top sustainability MBA programs.
"We can confidently say that our graduates experience powerful career growth along their journey of becoming impactful leaders," she says.
Amir's experience at Durham has been similar. "I know some former students that deal specifically with sustainable agendas and their salaries are similar to their peers," he says. The average salary for Durham MBAs is $111k three years after graduation.
To land jobs in sustainability, Amber recommends developing flexibility, resilience, ability to learn, and an inclusive mindset.
"Interestingly, all the signs are pointing to the future of work being less about hard skills, and more about holistic job skills," she says.
---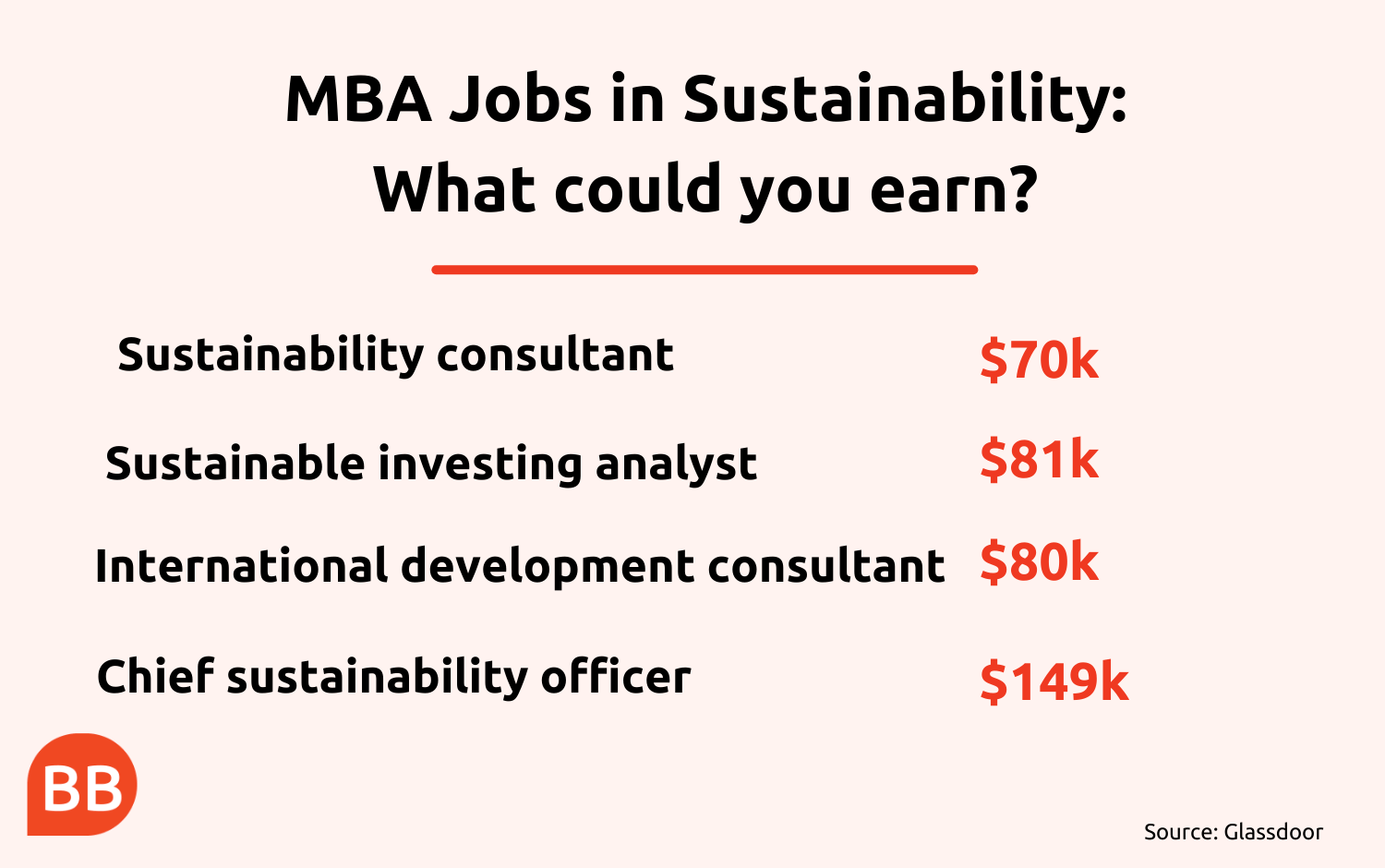 US average figures
---
Best sustainable MBAs & social impact MBAs
Many top business schools have incorporated sustainability education into the MBA curriculum. "Our curriculum is deeply embedded in our values, with responsibility and sustainability at the core of what we practice, teach, and assess," comments Stephanie, from Griffith Business School.
In the Griffith MBA, each topic incorporates sustainable business practices and responsible leadership. Students study core courses like Strategy for Purpose, Marketing for a Better World, Finance for Responsible Value Creation, and Innovation for Impact.
Through integrated internship opportunities, many students apply these new skills to projets with a community organization or government department before they graduate.
At Durham, too, Amir and his colleagues ensure students cover ESG issues in both breadth and depth. The Durham MBA includes both a dedicated sustainable business module, and includes ESG considerations when other topics are discussed.
Durham MBAs also have the chance to work on pro bono consulting projects with local charities and social enterprises, Amir adds.
Another UK school known for its sustainability efforts is the University of Exeter Business School. "The core tent of the program has centered on responsible leadership," says Jackie Bagnall, MBA program director at Exeter.
"It asks how the global challenges facing business and society necessitate a change in the approach to strategy, operations, marketing, and accounting."
Carving out your own impactful career doesn't mean you'll have to sacrifice your MBA ROI or your career progression. In fact, with both business schools and companies recognizing the value of sustainability, you'll need an understanding of ESG issues to progress in business today.
And, even if you choose a more traditional corporate role, you can still use what you learn about ESG at business school to help your organization become more sustainable.
---
Next Read:
20 Best Sustainability MBA Programs