After 27 years of working in different roles in tech—senior software architect, senior software developer and project manager for mobile devices—Matteo Cima recognized he lacked managerial and finance skills and knowledge to progress in his career at Microsoft.

He decided to enroll at POLIMI Graduate School of Management (GSoM) and opted for the i-Flex EMBA program —which focuses on developing digital innovative business leaders—to understand more broadly the holistic framework of a corporation.

His decision paid-off. During his EMBA, Matteo secured a promotion to a Senior Technical Program Manager in Microsoft News, and then moved into the double-digit-growing Shopping division.
---
What value can an EMBA add?
After several years working as a Technical Program Manager at Microsoft Italy, Matteo wanted to develop his managerial and leadership knowledge and skills. With his experience, an EMBA, which is for those already in senior positions, was a good fit.
While career progression was on his mind, it was the ability to holistically understand how a business worked and the interests of multiple stakeholders that drove him to enroll in an EMBA.
"I knew I had the technical background and ability to collaborate effectively, but I was aware I was lacking in financial and managerial skills needed to advance my career," says Matteo.
A colleague of Matteo's at Microsoft highlighted the benefit his own online EMBA at POLIMI GSoM for its flexibility and international outlook.
The i-Flex EMBA at POLIMI GSoM is designed with flexibility in mind. Students can choose their preferred course duration—the fast-track option (15 months), regular track (20 months), or extended track (32 months).
Students can also choose between two lesson time slots: either 1-3:30PM (CET) or 7-9:30PM (CET).
---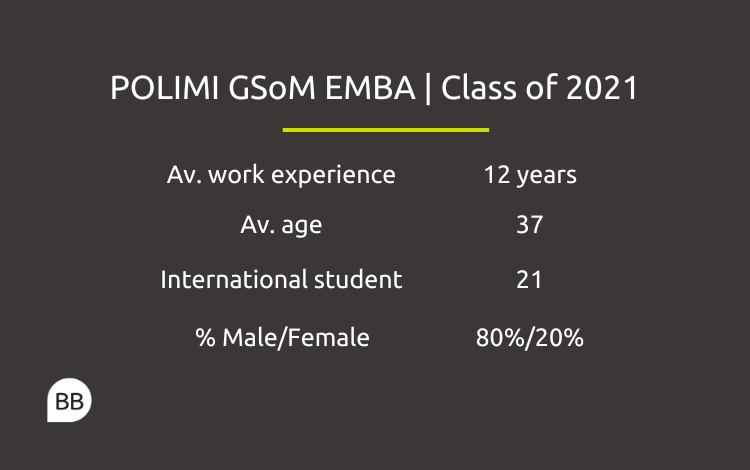 ---
Once he enrolled in the i-Flex EMBA at POLIMI GSoM, Matteo knew he had made the right decision.
"There was an online part of the course that I could do at 9pm when my children would be in bed. That fit perfectly with the rhythm and commitment my family required. There are not many other management courses in which you can attend a class at that time"
POLIMI GSoM i-Flex EMBA focuses on developing leaders with acute knowledge in digital transformation. The Milan business school has partnered with companies with digital innovation built into their products, such as Amazon, Moleskine, and Vodafone, as well as with companies where digital innovation is the business USP, such as Microsoft.
For Matteo, who hoped to progress within Microsoft this emphasis on digital innovation made the i-Flex EMBA an easy choice.
---
What is the POLIMI GSoM i-Flex EMBA?
At POLIMI GSoM, students of the i-Flex EMBA begin with core modules designed to provide a solid foundation in management, business, and leadership, held through its smart learning platform developed by Microsoft. The courses are delivered in asynchronously with live sessions being held by-weekly.
Matteo's favorite courses were financial and management accounting. "These modules seriously helped me in my professional evolution, I saw that during my EMBA the level of my work was noticeably stronger."
At POLIMI GSoM, students can further customize their EMBA by choosing electives in top trending business topics. These include Industry 4.0, Sustainability & The Circular Economy, Big Data & Artificial Intelligence, Digital Transformation: Strategy, Governance, and Business Models, and Soft Skills.
---
---
Students also gather on campus for two weeks during the EMBA. Matteo was able to network and connect with his peers enabling better work relations during group projects.
"I'm a strong believer that you work better remotely once you've met the people at least once before," Matteo adds, "that time together was incredibly useful in setting the tone for the rest of the program."
---
From EMBA to senior program manager at Microsoft
The EMBA helped Matteo land a promotion as Senior Technical Program Manager in Microsoft Content Services, Shopping. He is responsible for growing users through search engine optimization and creating quality-measurement processes that allow Microsoft to increase user satisfaction and retention, mainly for Bing and Microsoft Start.
He is not alone: 80% of EMBA students report a career progression in their current companies— or a move to a role with more managerial responsibilities­—within two years of graduation.
"The EMBA helped me in all forms of my day-to-day," Matteo adds. "Previously, when I had no knowledge of the management of finances, I did not fully appreciate the processes and rationales behind the constraints management were putting on my workstreams in tech."
He says it brought unexpected gains: "The EMBA did land me a promotion, but I did not do it with this intention in mind, I was doing it for myself, and to become more proficient in understanding how money and resources flow."
"It was one of the best opportunities for personal growth and development, it played a significant role in the way I now think and behave, that will stay with me forever."
Related Content: