Milan is Italy's economic and business hub. Home to many of the country's most iconic brands—including major fashion houses like Prada and Gucci—it's the primary location to study business in Italy.

POLIMI Graduate School of Management (GSoM), recently rebranded from MIP Politecnico di Milano, is one of Milan's top business schools. It offers one of Italy's highest-ranked MBA programs, along with a range of innovative Specialized Masters degrees.

That includes the International Master In Digital Innovation & New Business Design (IMDT), a year-long MSc focused on the digital ecosystem driving modern business and covering cutting-edge topics like artificial intelligence and cloud computing.

BusinessBecause spoke with Zainab Iqbal and Margherita Gecchele, to find out what it's like to study on this innovative POLIMI GSoM Master's degree.
---
Why the POLIMI GSoM International Master In Digital Innovation & New Business Design?
Zainab was born in Scotland but spent the majority of her studies in London. Interested in economics and finance, she began her career working as a student economist for the UK government, before landing a role in banking.
Zainab's finance career eventually proffered the opportunity to move to Dubai, where she began working in compliance, focusing on systems, technology, and financial crime. There she developed a passion for digital innovation.
"I was actively participating and volunteering in digital initiatives within the bank as well as helping to drive the cultural awareness around becoming more digitalized as an organization," she explains.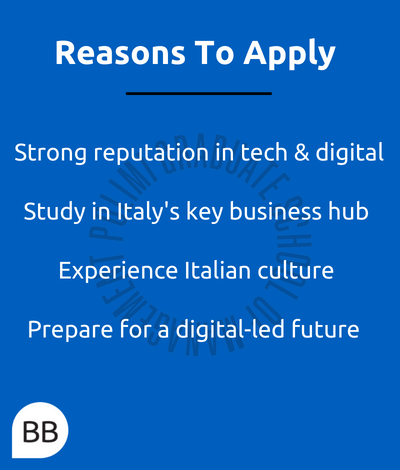 "I reached the stage where I knew that digital transformation was the core focus of where I wanted to move."
Zainab felt a specialized degree would be the best way to develop her digital understanding to complement her background. She chose POLIMI GSoM because of its strong reputation in this area, as well as the opportunity it provided to step out of her comfort zone and learn a new language in the vibrant city of Milan.
Margherita took an altogether different path to the POLIMI GSoM International Master In Digital Innovation & New Business Design. From a small town near Venice, she held a bachelor's in art management and economics, but decided to pursue a career in digital innovation during the Coronavirus pandemic.
"I saw that digital transformation was happening during the pandemic because of the fact that without digital technologies we couldn't even go anywhere or do anything," she explains.
Deciding that reliance on technology would only grow in future, she chose to enroll in a digital-focused Master's and chose POLIMI for the school's strong reputation in the tech and digital space.
"It's very different from what I did in the past, but I think that digital transformation is going to affect every industry, so even if I hadn't studied it before it was something I could use for the future," she says.
---
POLIMI GSoM IMDT: What to expect
As an international program, it's no surprise that the diversity of the cohort is one of the key benefits of the IMDT. Studying in her home country made interacting with classmates from across the globe a particular highlight for Margherita.
"I met a lot of really great people," she says. "It was very inspirational because we all came from different backgrounds.
"It's really interesting when you have so many different people who come together from different walks of life, you can learn so much."
The IMDT curriculum combines teaching of key business theories alongside a core focus on digital skills. Classes begin by teaching foundational elements of digitalization, including strategy, innovation, and project management.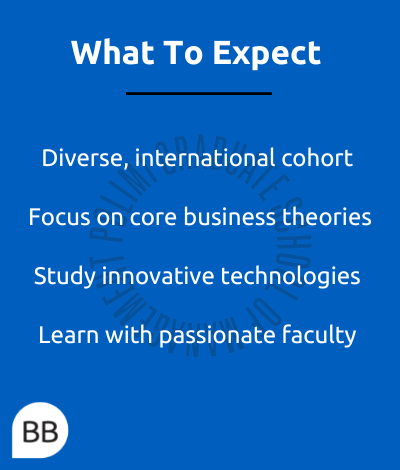 Faculty then teach students the fundamentals of various key technologies and their business use cases. The final stage reveals how you can derive value by using these technologies across different industries and functions.
Zainab felt the program delivered on her high expectations: "you not only learn about the technological aspect, but about the people, the process, and technology. It's a whole transformation of the organizational model."
It would be easy to become overwhelmed by the broad scope of in-depth information covered, but Margherita feels the POLIMI GSoM faculty do a great job of keeping students engaged.
"They were really passionate about it [the course content] and about transforming us to be passionate about the subject," she says.
---
POLIMI GSoM Master's: Your career prospects
The POLIMI GSoM IMDT offers each student a variety of career support including skills development workshops, a tailored career program, and networking opportunities with recruiters.
Skills sessions cover areas ranging from leadership to interviewing, and the careers team helps by passing students' CVs on to their target employers.
"The careers team played a huge role in supporting all students in getting positions and preparing them for the world of work," says Zainab.
While the program is typically aimed at early-career professionals, Zainab enrolled with several years of work experience under her belt. She feels the combination of a uniquely specialized degree and a track record in banking helped differentiate her to employers.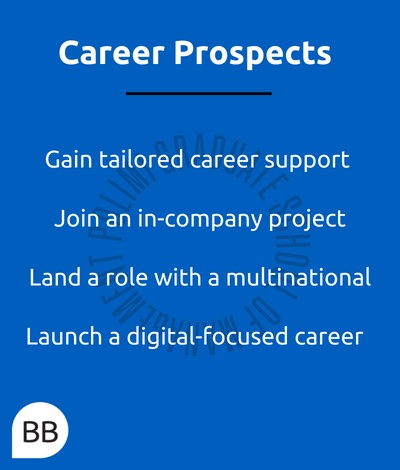 "I felt my Master's helped in a huge way to gain that attraction and a competitive advantage compared with others," she says.
Zainab has now landed a consultancy role for multinational professional services firm, Deloitte Middle East, working within the cyber team and focusing on cloud computing. "It's very much along the lines of my Master's plus also complimenting my background," she explains.
Margherita pursued the IMDT aiming to launch her career and gain her first full-time role. Utilizing the program's careers support, she's also landed a role with Deloitte Italia, where she works as an analyst under an apprenticeship scheme.
"I'm working as part of the risk management team so it's always linked to cybersecurity and software, it's really close to the digital pipeline," she says.
Reflecting on how the program has helped launch her career, Margherita feels the school's location in the heart of Milan gives all students a platform to succeed.
"It's the best place because there are a lot of companies there to apply to when you finish your studies, there's a place for everyone."
Related Content: