Becoming a strong manager is about growing your hands-on experience and developing the diverse business skills needed to lead a team.
Whether you're applying for a promotion within your current company or want to make a career switch and fast-track to a managerial role, studying a part-time MBA could equip you with the skills to excel.
For MBA grads Rita Jabbouri Alatrash and Trevor Ford, this was the push they needed to take their careers to the next level.
These grads are now thriving in management careers at Amazon and Nordstrom—here's how they did it.
---
Learning by doing during a part-time MBA program
A huge benefit of opting for a part-time MBA program is having the flexibility to fit your learning around your full-time role.
When applying for an MBA, Trevor (pictured) was gaining experience as a program manager in financial services. He says he didn't want to sacrifice the value of two-years of work experience as his managerial career was taking shape so he opted to study the part-time Evening MBA program at the University of Washington Foster School of Business.
'Learning by doing' is a key component of studying an MBA degree at Foster School of Business, which means students get to apply their skills in experiential learning initiatives such as business case competitions and consulting projects.
However, the value of studying part-time means that you can also apply these skills to your own career.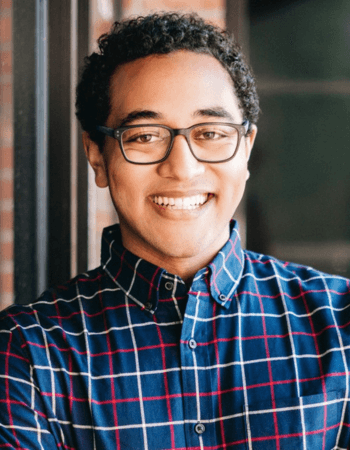 "The Evening MBA is a smart move for people who are early in their career because it's really helpful to be able to bring in outside experiences to the classroom and gain different perspectives from professors and classmates on how to approach different problems," says Trevor.
The Foster Evening MBA is designed to be completed over three years, with students taking classes a couple of evenings a week.
"I could engage with the course content in a richer way because I was constantly applying things to my career," says Trevor.
Students can also gain exposure to industries outside their own through connecting with classmates and industry professionals.
"Being immersed in a highly collaborative learning environment helped me think more broadly and creatively about potential career shifts that aligned more with my goals," says Rita, who now works at Amazon.
During the program, Rita worked on a consulting project with Microsoft—one of several big tech companies headquartered in Seattle, where Foster School of Business is based.
"This was a great insight into how tech companies operate and problem solve, which stretched my skill set and helped push me further in my career journey," she says.
---
Gaining strong managerial skills during a part-time MBA
Having strong managerial skills is just as much about how you work in a team as it is about your individual qualities as a leader.
You need to have a broad business perspective, leverage the distinct skills of your team members, and be adaptable to challenges and changing situations.
"The variety of experiences on the program gave me the confidence to tackle ambiguity confidently," says Rita.
In the Foster Evening MBA program, students work in teams in business case competitions.
Across the first year of the program, Rita led her team to win fourth place out of 103 teams in the Business Plan Competition, where her team presented their business plan to venture capitalists, entrepreneurs, and community leaders.
"I connected with my classmates on a personal level and this camaraderie helped us thrive even when faced with challenges," she says.
The Foster Evening MBA program includes core courses to develop professionals' leadership and managerial soft skills, covering topics such as delegation and empowerment, organization theory, and how to implement change effectively.
"A business or organization will thrive when everyone is aligned and employees are motivated to make the company successful," says Trevor.
For students to further enhance their managerial skills, the program also offers elective courses specializing in management including Innovation Strategy, Leading and Managing High Performing Organizations, and Managing in a Global Environment.
---
Switching industries and fast-tracking to a manager position
Both Trevor and Rita decided to make a career switch while studying the Evening MBA program. Armed with an advanced skill set, they were able to fast-track to managerial roles.
When joining the program, Rita worked as a senior product marketing analyst at Boeing, an aerospace company.
After experiencing what Seattle's tech industry had to offer while studying for an MBA, she pursued a career at Amazon and has already secured a promotion in just two years with the company. Now, Rita is the manager of product management in brand excellence and experience.
In her role, she works on business strategy, product launches and enhancements, and devising scalable solutions.
"The Evening MBA at Foster is the best decision I made to grow my career," she says.
For Trevor, it was through networking with alumni and peers that he learned about Nordstrom and became intrigued by the company's culture.
"By gaining insights into the company, I was able to position myself as a strong candidate," he says.
The breadth of coursework and inclusivity of case studies at Foster was invaluable to rely upon when interviewing, he adds.
In his role as senior program manager, he has certainly been challenged. Tasked with leading the company's Covid management, he has been leading teams across legal, supply chain, retail, and tech to devise a strategy that aligns across all areas of the business.
His goal in the future is to leverage his broad business perspective and understanding of a company's people in all departments to become a 'manager of managers'.
"My passion is empowering organizations through their people," he says.
If you're growing your management career and need to develop the high-level skills to push yourself that bit further, studying a part-time MBA may be the answer.
With a wealth of in-demand managerial skills and diverse experiences from an MBA, you'll be able to demonstrate to your employer—or future employer—your ability to work under pressure, juggle multiple responsibilities, and work collaboratively in a team.