How am I going to pay for my MBA? A two-year program costing tens of thousands of dollars that requires me to forego my salary to attend while simultaneously needing to support my wife and son—that's a daunting prospect!

My school, BYU Marriott School of Business, requires MBA students to sign a contract stating that we will not work during the first year of the program; not even on a side hustle.

So I had always assumed that I would finance my MBA by paying as much as my wife and I were comfortable with out of our savings and fill in the remaining majority with MBA student loans.

However, while preparing to start my MBA this fall, I discovered some additional MBA financing options that I hadn't initially thought of.
---
How much does an MBA cost?
Download our Cost of MBA Report 2021 to find out
---
How to pay for your MBA: Funding Options
---
Juno
Juno helps US-based MBA students get the best student loan rates possible by obtaining volume discounts from lenders who vie for the business of Juno's vast client pool (made up of students like you and me).
Yes, it's still a student loan that will need to be paid back, but it's the cheapest option in terms of interest that I could find anywhere.
---
Internship
Between my first and second year, I can participate in a paid internship that has the potential to subsidize the cost of an MBA by tens of thousands of dollars. Many of us are going to school to increase our earning power and companies that bring us on for a mid-program internship pay a rate that reflects that earnings increase.
---
Tuition Reimbursement
While I personally didn't have this option, tuition reimbursement from your employer is a game-changer if you're in a position to pull it off. Many businesses see their employees' pursuit of an MBA as a great asset to their company and will assist in the financing of the degree.
If I was still in the workforce, this would be one of my first stones to uncover. Even if tuition reimbursement isn't explicitly mentioned in the employee handbook, it's still worth having the conversation.
---
MBA Scholarships
BYU has several scholarships available but upon further investigation, I found that they are mostly for second-year or international students. However, every first-year student is automatically considered for a small scholarship based on the strength of their application (GMAT, GPA, quantity/quality of work history, and interview).
Well, my application was good, not great. My GMAT score and GPA were average at best and my work history is of high quality, but middle-of-the-road quantity.
Rather than leave such a major decision to chance, I proactively set up an appointment with the administrator at BYU who is solely responsible for allocating scholarships.
I figured the worst that could happen was that he would say I wasn't qualified, but I would still be at the top of his mind in case anything changed. The best case would be that I could secure some kind of scholarship.
---
Getting an MBA scholarship | How one phone call got me a scholarship worth thousands!
---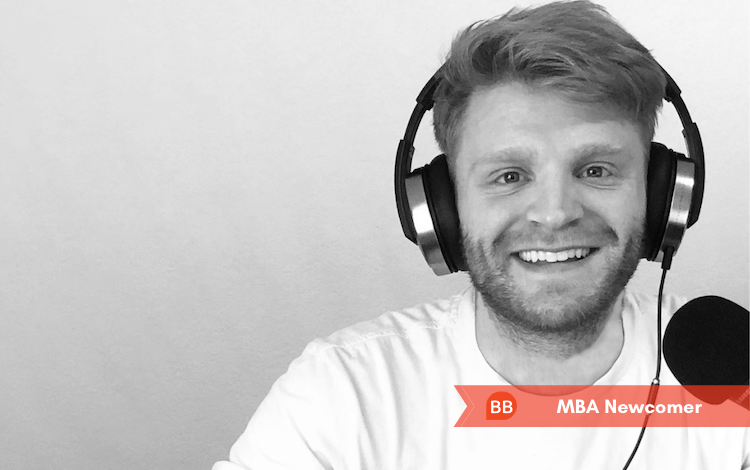 ---
The first thing he told me was, 'A lot of schools give some money to many candidates, I don't do that. I give significant amounts of money to the students who are exceptional in every category. You were great in every category except for your GMAT score. You are 42 points below even my average, so that's what's holding you up from a scholarship.'
I told him I understood and that I agreed with his method. I also told him that I would regret if I did not tell him what I had been up to over the previous year (the time in which I had been deferred).
---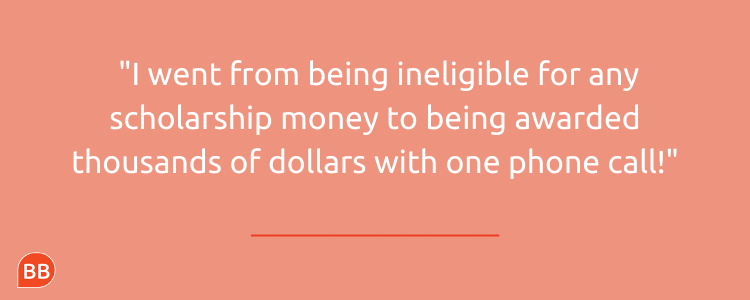 ---
He let me share everything I had done with my podcast MBA Secrets, asked a few questions, and ultimately said, 'This helps. I wouldn't have known about this otherwise, I'm glad you called.' And that's how we left it.
I wasn't sure if it would move the needle, but I was glad that I took action on what I could control.
Three days later, I got an email stating I had received an MBA scholarship worth a significant sum. I went from being ineligible for any scholarship money to being awarded thousands of dollars with one phone call!
Business school is not cheap. Most of us won't get full tuition covered—congratulations to those who will! But that is not a reason to choose no MBA at all.
There are options, they just might take a little digging to find. Above all else, asking for guidance from the powers that be is one of the best places to start.
And be prepared to answer any question related to your worthiness for scholarship money, because you never know what can happen when you put yourself in situations where someone might be able to help.
---
Our MBA Newcomer, Ryan Price, is the host and founder of MBA Secrets and starts his full-time MBA at BYU Marriott School of Business in the fall. We follow Ryan through his MBA journey, giving you the inside scoop on life as an MBA student.
Read more blog entries from our MBA Newcomer