INSEAD professors W. Chan Kim and Renee Mauborgne, inventors of blue ocean strategy, have been named the most influential business minds of 2019, according to Thinkers50, an organization which ranks and commends top management thinkers.
The pair's book Blue Ocean Strategy has revolutionized how to approach uncontested market space and create new demand, dubbed by Thinkers50 as the 'big strategy concept of the 21st century', and they continue their research at INSEAD's very own Blue Ocean Strategy Institute.
This year's Thinkers50 rankings are also the most diverse rankings yet, with 19 women in the top 50, and 14 nationalities represented overall.
Other high ranking women include third-placed Harvard Business School professor Amy Edmondson, who also won the Thinkers50 Breakthrough Idea Award, and in fifth place, Columbia Business School's Rita McGrath, whose book The Entrepreneurial Mindset looks into how leaders can learn to anticipate innovation and disruption.
When you're deciding which business school to go to, looking at a school's professors and strength in research can be a good place to start, giving you a flavor of who you might be learning from, or even working alongside, during your MBA or master's degree.
From the Thinkers50 ranking below, find out which top business schools and play host to the leading minds in business.
---
---
Individual awards
As well as the rankings, Thinkers50 dives individual awards out in areas including coaching and mentoring, digital thinking, and leadership.
2019's Coaching and Mentoring Award was awarded to Sanyin Siang, MBA graduate and executive director of Duke University's Fuqua/Coach K Center of Leadership and Ethics (COLE). As well as Fuqua MBA students, Sanyin has coached everyone from Olympians to Fortune 500 CEOs.
The Radar Award is given to new emerging talent who look to shape the future of business thinking. This year's winners was Dutch duo Joost Minnaar and Pim de Morree, founders of Corporate Rebels, an online network and consultancy aimed at making working more fun.
For Joost and Pim, change comes down to something quite simple. "The simplest and (unfortunately) least practiced technique is simply listening to employees."
---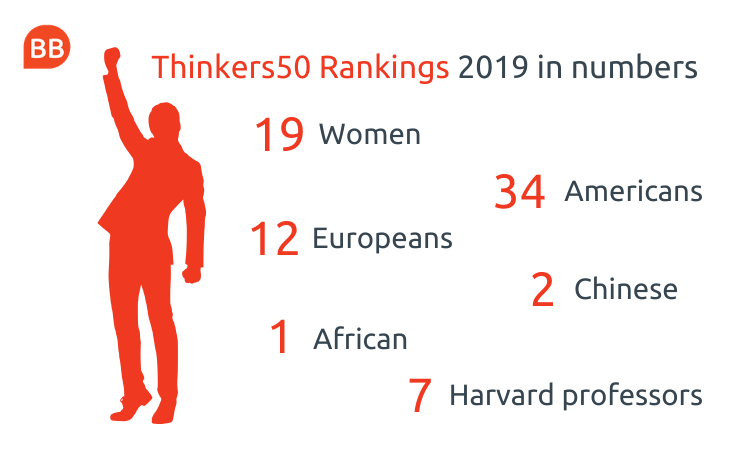 ---
A lifetime achievement
Harvard MBA students should prepare to be encouraged to think critically, particularly if they find themselves in Rosabeth Moss Kanter's classes.
Thinkers50 awarded the prestigious Lifetime Achievement to Rosabeth (pictured above), director of the Harvard University Advanced Leadership Initiative.
Rosabeth has called into question whether management has had a positive effect on society, and highlighted the importance for leaders, organizations, and schools to be driven by impact.
"We can't wall ourselves off from the problems of the world," Rosabeth insisted, as she collected the award.