Making the transition from military to civilian life can be challenging. From adjusting to a totally different lifestyle to picking a brand new career path, the process is a considerable feat.

But for US Army veteran Doug Palmer, going to business school marked the start of a successful pivot.

An engineer by training, Doug spent three years with the Army before leaving to focus on his personal life. When he first left the service, Doug took up a project management role with US manufacturer, GA Braun Inc.

Although the work was interesting—and gave him exposure to several sides of the business—he didn't see himself in this function long term.

That's where the Kelley Direct Online MBA, offered by Indiana University's Kelley School of Business, came in. Through his MBA, Doug was able to pivot into a finance career that excited him.
---
Choosing a top MBA for veterans
When it came to choosing an MBA, Doug weighed up his options carefully.
"I considered a lot of different options, but what sold me on Kelley was the high ranking of its Online MBA program," he recalls.
The program was ranked as the best Online MBA for veterans by US News in 2021, and there are plenty of opportunities at Kelley for veterans to network with and support one another through organizations like the Military Service Member Association.
After speaking with a few Kelley Direct alumni who thoroughly enjoyed the program, Doug's decision was cemented.
An online program also had the advantage of flexibility. When he first left the army, Doug was unsure about where in the US he would live and work, so having the option to study remotely was a huge advantage.
Despite the mostly remote teaching, however, he felt a strong connection with his professors and cohort from day one.
"The school does a really great job of making you feel like you're still there in person," he says. "The professors we had were just incredible at keeping you captivated and excited about what you learn."
The two in-residence experiences that online MBA students undertake was equally a big help in fostering a collaborative atmosphere. During each in-residence module, at Kelley's Bloomington campus, Doug had the opportunity to tackle real-world business problems through case-studies, working in close teams with his classmates.
"Throughout the program, Kelley did a great job of ensuring that pretty much all of our work was group work," he adds.
---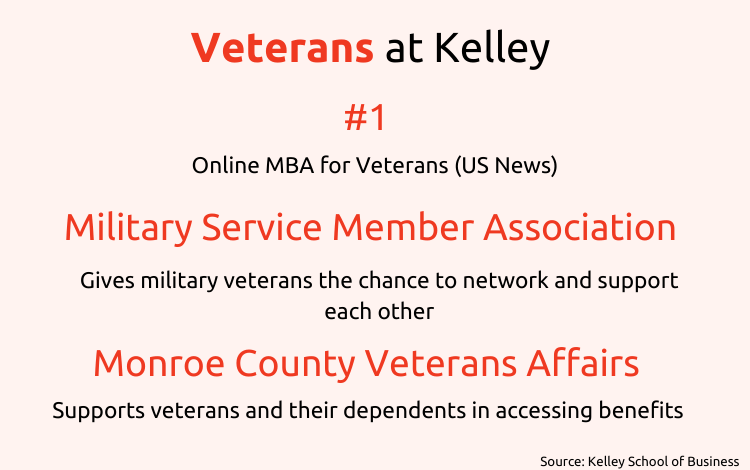 ---
Leveraging transferable skills
When he joined the MBA, Doug was unsure how the skills he built as a platoon leader and executive officer in the US Army would translate into civilian life.
But the career coaches at Kelley helped him realize he already possessed the strong leadership skills valued by businesses.
"The military gives you more leadership experience in a handful of years than you could normally get in 20 years," Doug explains with a laugh.
By the time he was 24 years old, he was already a company leader with oversight of 84 soldiers. The real challenge was communicating these skills—and deciding how to use them.
For Doug, the Online MBA was a great opportunity to take a step back and explore some different career paths.
"If you asked me what I wanted to do after my MBA when I first entered the program, I would definitely have said I don't know," he reveals.
Studying a broad array of business functions, and working with the career services team at Kelley, helped him work out where his interests lay—and how to transform this passion into a full career.
Doug realized he particularly enjoyed the analytical and problem-solving work that came with studying finance, and it wasn't long until he honed in on finance as his career path of choice.
---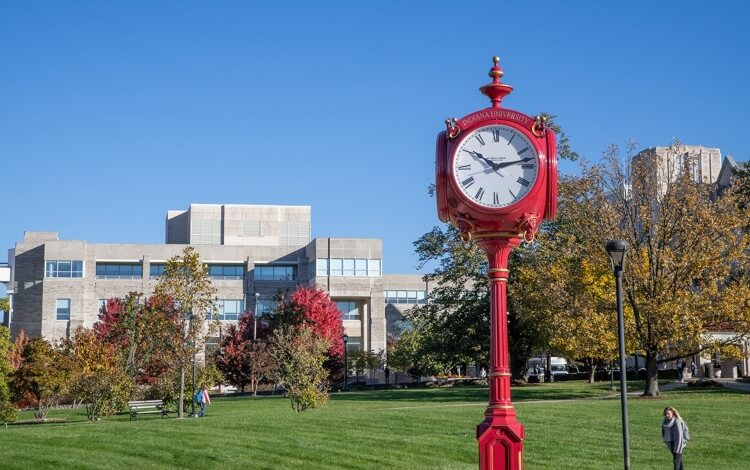 Online MBA students at Kelley spend up to two weeks on campus © Kelley School of Business FaceBook
---
Launching a career in finance
A module that focused specifically on making a career transition helped Doug meet his goals. Faculty at Kelley advised him on everything from building a relevant skill set to interview etiquette, he notes.
Since graduating from the MBA, Doug has landed a job in financial planning and analysis with prominent manufacturing firm, Eaton.
"I apply almost every single thing I learned in the MBA program all the time," he reflects. "I've even been able to lead some analytical work with my team using the skills I built during coursework at Kelley."
Working with students spread throughout the US—and the world—during his Online MBA also set Doug up for success during the rapid shift to remote work triggered by the coronavirus pandemic.
"It gave me great first-hand experience of working and managing teams remotely," he says.
For other veterans who want to transition to business, Doug highly recommends the program at Kelley.
"I love the career path I've chosen and that Kelley helped me pursue," he concludes.
"I recognize the opportunities I've had might not have been available without the experience and education that Kelley provided me."
Related Content: