If you're considering a career change, an MBA is a great option. At business school, you'll build the skills, network, and knowledge needed to land a brand new job. But what if you can't leave the workforce for two years?

That's where an Online MBA comes in. A recent survey by the Graduate Management Admission Council (GMAC) found that approximately one in three recruiters value online MBA graduates the same as in-person grads—the percentage was even higher in the finance and accounting industry.

One Online MBA helping students change careers is the Tel Aviv Online MBA from the AACSB-accredited Tel Aviv University Coller School of Management. This 100%-online degree can be studied part-time over two to five years, with an optional week and a half residential component.

Tel Aviv Online MBA grads go on to land jobs in a broad range of industries. So, what are the hottest jobs for Online MBA graduates?
---
1. Management Consultant
Consultancy is one of the most popular career tracks for MBAs. Big Three Consulting firms including McKinsey & Company have also upped their hiring of MBA students in recent years, meaning there are plenty of opportunities out there for Online MBA graduates.
Programs like the Tel Aviv Online MBA aim to foster some of the most important skills for consulting, such as applying theoretical models to real business situations, and designing and implementing business solutions.
And by learning remotely, you have the added bonus of learning to juggle multiple commitments and communicate effectively in an online setting.
---
2. Entrepreneur
You don't need a traditional MBA in order to explore the world of entrepreneurship. An Online MBA covers the same entrepreneurial topics as a traditional degree—like innovation, strategy, and finance—giving you the well-rounded knowledge needed to launch a business when you graduate.
You'll also benefit from flexibility, giving you time to transition from a full-time job to launching your business.
Entrepreneurship is a popular route for Online MBA grads at Tel Aviv University. The program is ranked 13th in PitchBook Universities' best MBAs for entrepreneurship ranking.
---
3. Digital Marketing Manager
According to Gartner research, marketing leaders on average allocate more than a quarter of their total budget to digital marketing. In this growing area, there's plenty of room for ambitious Online MBA grads to make their mark.
Many programs recognize this opportunity. In the Tel Aviv Online MBA, you can even choose to specialize in digital marketing through the Marketing Management in a Digital World track. The track covers a wide range of areas, including social media marketing Graduates from the track regularly go on to digital marketing manager roles.
---
4. Data Analyst
According to the World Economic Forum, the jobs of the future will have a heavy focus on data, cloud computing, and artificial intelligence. Consequently, data analytics is a growing sector for MBA graduates.
After your Online MBA you could aim for jobs as a data analyst at some of the world's biggest companies. Global technology firms like Google and Amazon have large analyst departments, and are some of the biggest employers of MBA graduates.
---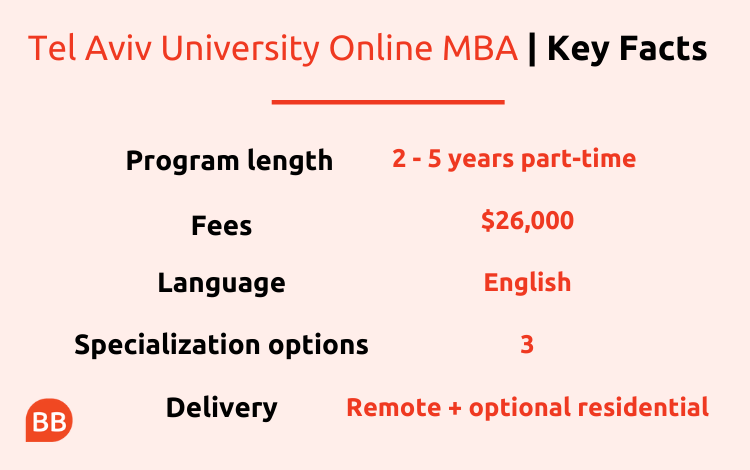 ---
5. Finance Manager
Finance has always been a popular option for MBA graduates, and many grads go into finance management roles. In this job, you'll oversee a company's financial health, and be a point of contact for other departments.
Business schools are consistently seeing more hires of MBA grads in this industry, and you're not just limited to banks either—startup technology companies also seek skilled MBA graduates. Top finance firms that hire MBAs include Goldman Sachs, Citigroup, and JP Morgan.
An Online MBA will give you the same opportunity to develop technical finance skills. Studying alongside a full-time job can even be a better learning experience, since you'll see your new financial knowledge play out in real-time at work.
---
6. IT Specialist
Online MBA grads can also leverage their digital expertise to enter management roles in IT. During the program, you'll learn how IT systems operate and impact an organization.
In the Tel Aviv Online MBA, you can even specialize in this area, through the Technology and Information Management track. Graduates from this track enter diverse IT jobs, including IT infrastructure manager, and IT application manager.
---
7. HR Manager
An Online MBA can help strengthen your communication skills—especially in a virtual setting—which makes you a great fit for a career in human resources.
HR managers are responsible for overseeing a company's employees, in areas such as recruitment, compensation, and learning and development. To be successful, you'll need strategic and planning skills as well as being a people person.
These are all skills you'll develop through an Online MBA. Working in virtual team projects will challenge you to handle communication in a diverse group, for example.
Related Content: