The business world is changing at a rapid pace. Revolutionary advancements in tech, such as robotics and AI, and responses to climate change are transforming the way companies are run. Employees with a progressive, modern skillset are more valuable than ever.

Business schools are adapting their programs and curriculums to prepare their students for such advancements.

This is evident with the recent launch of various innovative business master's degrees that aim to equip a new generation to face the challenges and complexities of the future workplace.

So what are these innovative programs, and how could they prepare you for the future of work?
---
Master's in Business Analytics
Professionals with the skillset to use analytics tools to drive positive outcomes for business are sought after in today's marketplace. Analytics can help take companies to new heights and remain competitive against their competition.
The US Bureau of Labor Statistics projects that during the next decade, the number of business analyst jobs will grow by about 14%, almost twice as fast as the average for all roles.
The rise in popularity of this skillset has inspired the launch of multiple business master's that cater to and advance this specialty.
One business school emphasizing innovation is Syracuse University's Whitman School of Management. It has an array of specialized master's programs that impart transferable skills and prepare students for the modern workplace.
Syracuse's MS in Business Analytics utilizes an action-oriented approach. The STEM-designated Master of Science in Business Analytics is designed to prepare you with the skills to become a data-driven business leader and decision-maker.
Business analytics combines statistics, information technology, and business coursework to assist in business decision-making. The curriculum includes an Analytics Applications Core with courses such as Accounting and Marketing Analytics, and Analytics Depth Core with courses including Linear Statistical Models and Time Series Modeling and Analysis.
An MS in Business Analytics increases your earning potential. Business analysts in North America who have a master's or doctorate earn 17% more than those in the same roles who hold undergraduate degrees, according to a report.
According to Indeed, a junior business analyst in New York is set to earn $76k-$100k a year.
---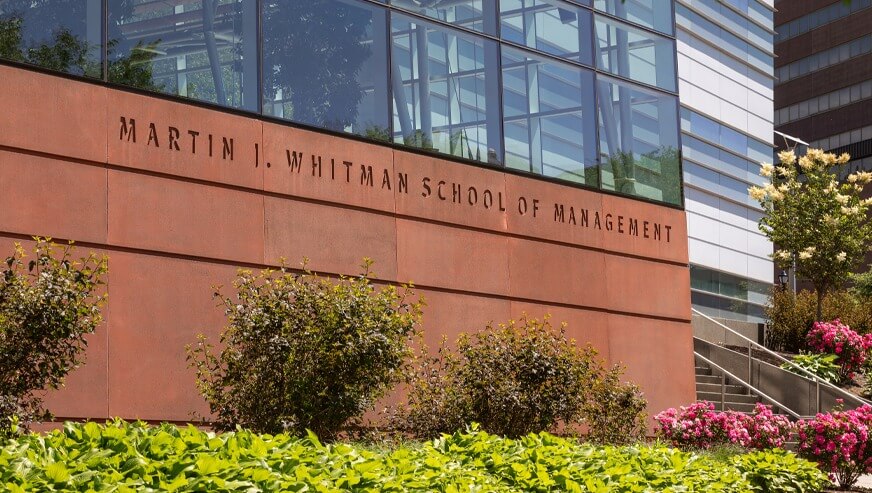 ---
Master's in Entrepreneurship
An entrepreneurship master's is designed to help students become innovative thinkers, turn their visions into reality, and leverage disruptive technologies within the digital transformation era.
During a Master's in Entrepreneurship program, you will develop a firm grasp of financial principles, understand how to lead others, and embrace innovation and creativity, all vital to a successful business.
Whitman's Master in Science in Entrepreneurship and Emerging Enterprises (EEE) is divided into four career tracks: New Venture–running an independent company; Social–starting and managing a socially orientated company; Corporate–running an existing company; and Family–running a family-oriented company.
Courses such as Managing Innovative Products and New Ventures and Managing Sustainability: Purpose, Principles, and Practice, give students a comprehensive understanding of how to set up a business in the modern world, including embracing sustainable practices and transformative technologies.
Kelsey Davis, an alum of the MS in EEE, used the innovative skillset she gained to become the co-founder and CEO of CLLCTVE, which provides access to underrepresented talent.
Kelsey had established this idea before Whitman, but her MS program gave her an understanding of innovation and business in a modern context and a transferable skillset she continues to use.
"Whitman gave me the space, an incubation year, to be in a position where I could test a lot of assumptions about my company and have the opportunity to work on my business while I ideated and created in real-time," she explains.
---

---
Master's in Supply Chain Management
Supply chains are innovating rapidly, and the digitalization of supply chains calls for new skills and knowledge to innovate and integrate the latest technologies.
Gaining a master's in supply chain management can help you carve out a career in the rapidly changing supply-chain world across industries.
Master's in Supply Chain Management popularity is apparent: according to the Graduate Management Admission Council (GMAC), applications to Master's in Supply Chain Management programs worldwide rose by 46% in 2021.
Whitman's innovative Master of Science in Supply Chain Management gives students the tools to improve supply chain efficiencies while training graduates to make meaningful contributions in the marketplace.
The curriculum combines classroom and experiential learning to help students build a solid knowledge base while developing strategic thinking skills. The analytical skills gained through the program also help graduates understand the implications of business decisions.
Current student Shubham Krishna G'23 has particularly enjoyed the experiential learning aspects of the program.
"My favorite parts of the program so far have been case studies on public companies and simulation experiences in the coursework," he says. "These make the subject matter more interesting and applicable."
Shubham has been able to apply the skills he has learned in an internship as a supply chain coordinator at Airial Robotics, a gyrocopter manufacturing company.
"I was able to apply learned inventory management skills to structure supply of key components for the category," he says.
---
As well as helping graduates to develop invaluable expertise, an additional benefit of studying one of these specialized master's programs in the US is that degrees with STEM designation qualify international graduates (such as Krishna from India) for an extended right to work before being required to apply for a visa.
---
Next read:
5 Reasons To Study Your MBA At This New York School
Related Content: