MBA or Master's in Management? For years, an MBA was the default option for aspirants looking for a management degree. However, with Master's in Management (MiM) programs arriving on the scene in Europe, things are much different now for aspirants who aim to build a career in the business world.
In this week's Applicant Question, we compare these popular degrees in detail, to help you decide if you should choose an MiM or an MBA.
---
MiM Vs MBA: an overview
I often refer to Master's in Management programs as the "younger brother" of MBA programs.
Master's in Management programs are designed for everything that an MBA program is designed for, albeit a small difference.
MiM programs are usually targeted at candidates who have just graduated, or have little to no full-time work experience.
With average class experiences ranging from zero to two years, MiM programs target applicants who wish to learn in detail about various business disciplines, or even switch their career from a different field (for example, engineering or trading) to more management-oriented fields, but do not want to wait for a number of years before doing so.
MBA programs have traditionally targeted professionals looking to gain a broader understanding of business fundamentals after gaining a few years of full-time work experience after their undergraduate degree.
Most top MBA students have an average work experience of four to six years.
---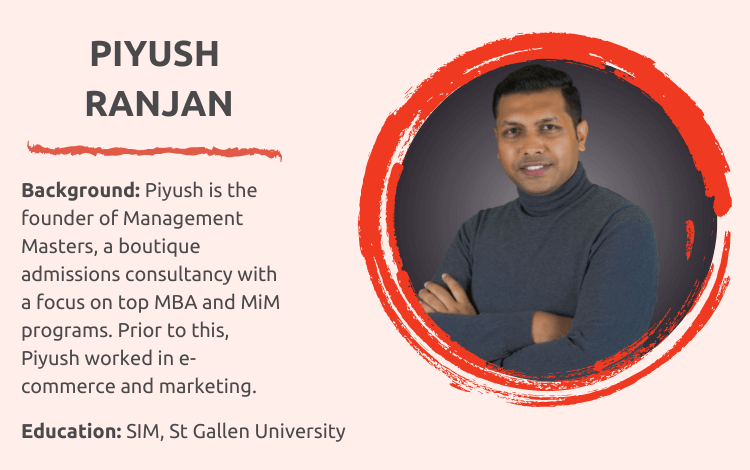 ---
Work experience
While it is possible for candidates to have similar career outcomes in terms of the potential "field" of job, there are multiple differences between the two degrees.
Let's start with the most basic aspect, the curriculum.
Master's in Management and MBA degrees are both focused on providing a holistic understanding of how businesses run, covering various areas such as operations, finance, strategy and marketing, and even providing further opportunities for specializations in specific areas.
Over the two years in a traditional-MBA or MIM, candidates often spend the first-year learning about all areas of businesses through various core courses and optimize their second-year by focusing on their areas of interests through electives.
While the learning opportunities are similar for both degrees, the major difference arises in their pedagogy.
Since traditional MBA candidates have significant years of work experience with them, the class-discussions are heavily influenced by personal experiences. In fact, peer-learning is one of the strongest suits of the MBA, and exposes candidates to practical situations from a variety of industries right in the classroom setting.
With MiM programs, the learning is much more theory-based since most students have little work experience to draw upon during the classroom discussions. This does not mean that the classes are boring or have little value.
In fact, most MiM programs also recruit candidates from a diverse set of backgrounds, which can lead to many interesting discussions and perspectives, albeit more theoretical.
---
Cost
The next major difference is cost.
MBA programs are almost infamous for their high costs. A top program in the US can easily cost the candidate $80-100,000 every year, not a cheap sum by any stretch of imagination.
MiM programs, by virtue of their target audience, are much more pocket friendly. INSEAD, one of the best business schools in the world, launched its MiM program in August 2020, and is the costliest MiM program on the European continent, at a sum of €50,000.
Other top programs cost even less, with the average price-tag between €10-20,000 per year.
Next, let's come down to the basic reason why candidates go for an extra degree: career prospects.
MBA programs have been the apple of the eye of recruiters for years, and that's unlikely to change even with the pandemic raging on. The salary figures commanded by graduates from the top programs easily reach $140-200,000.
MiM graduates do not command such high salaries. But it would be unfair to expect them to.
With most candidates having hardly a year or two of experience, MIM candidates usually find positions in the entry-level of management roles, which offer more modest compensation figures.
However, one amazing aspect of the MiM programs is their immense flexibility. Some of the top programs, such as the HEC Paris MiM or the Essec Business School, offer long semester-breaks for their students to explore the corporate world before graduating.
This allows students to do multiple internships and at the same time gives them a lot of choices to choose from, while affording them the time to assimilate well into the society.
---
Read Another Applicant Question
---

---
How to choose the right degree for you
With all these facts and figures to help us, let us discuss a step-by-step approach to help you choose between the two degrees.
1. Start with the eligibility criteria
Given that most MiM degrees cap full-time work experience requirements at maximum two years at the time of enrolment, it becomes straight-forward to choose the degree that you should pursue.
If you already have more than 2 years of work experience, then you should be going for an MBA degree instead of an MIM. However, exceptions do exist. Some schools, such as IE Business School, do not accept candidates with more than a year of experience for their MiM program.
Similarly, few MBA programs also accept candidates with less than 2 years of experience. If you are unsure about the eligibility criteria for your target school, just drop them a quick email along with your CV, and they should be happy to help answer your questions.
2. What do you want to achieve?
While it's understood that in exceptional cases you might be able to pursue an MBA with less than the average work experience or vice-versa for MiM programs, the sensibility of such a decision often comes down to what you want to achieve from the degree.
For example, many candidates coming from a family business background, who aspire to return to their family business post degree completion, might not care much about the post-degree outcomes and opt for an MBA despite low years of experience.
In most cases, the line between choosing MIM or MBA programs is quite distinct. I hope that with the pros and cons of each program laid out clearly, you are able to make informed choices for your future career!
---
READ NEXT:
How To Write A Winning Master's Application
Networking Tips To Boost Your MBA Career