Coronavirus is impacting business schools globally. Now, Ilian Mihov, dean of INSEAD, has tested positive for COVID-19. The dean is currently in isolation at a hospital in Singapore and all those who have been in close contact with him have been put on a mandatory leave of absence.
---
A statement from INSEAD released on March 15th reads:
Mihov is in a stable condition and in good spirits. In his absence, Deputy Dean and Dean of Innovation, Peter Zemsky, will be acting Dean.
Mihov was last present on the INSEAD Asia Campus on 9 March before travelling to France. He was on the Europe Campus in Fontainebleau until 12 March. He travelled back from France to Singapore on Friday, 13 March.
On Saturday, 14 March, Mihov began experiencing mild symptoms and immediately went for testing at the National Centre for Infectious Diseases in Singapore. Today, a nasal swab test came back positive for COVID-19.
As the dean had last been on INSEAD's Asia Campus on Monday, 9 March, the facility will remain open as per the school's business continuity plan. However, no teaching will be taking place.
The school says the areas the dean worked in prior to his diagnosis have been disinfected, including his office, the wider dean's office and common areas, meeting rooms, pantry and toilets, and other areas he visited such as the INSEAD restaurant and coffee bar.
---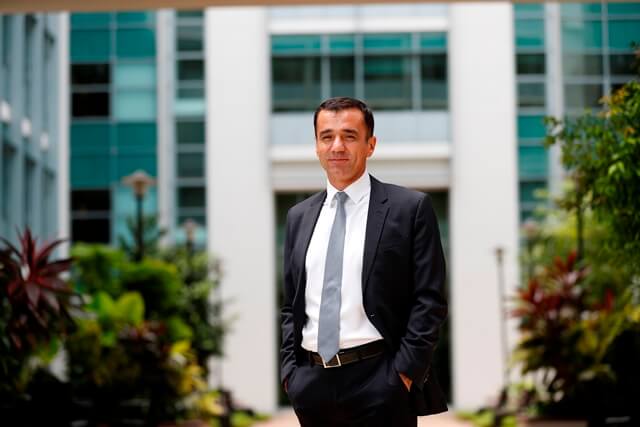 Ilian Mihov, dean of INSEAD, has tested positive for COVID-19 but is in good spirits in hospital. ©RICHARD DAVIES 2016

---
INSEAD suffers from coronavirus
INSEAD's global campuses have been severely impacted by the spread of coronavirus. INSEAD's Europe campus, in France, is closed from March 16th in compliance with local regulations, with students working remotely.
The INSEAD Middle East Campus has suspended all on-and off-campus events and teaching activities since Sunday, 8 March, for four weeks.
Mandatory temperature checks and split team working arrangements are already in place on INSEAD's Asia Campus and at the INSEAD San Francisco Hub for Business Innovation, which the dean only recently opened.
Cross-campus travel has been suspended and travel for all INSEAD employees is cancelled until the end of April.
---
Positive news from INSEAD
In the midst of the coronavirus pandemic, there is some positive news for INSEAD. A group of former INSEAD students from China have founded Project GreenCross to lead the fight against COVID-19.
Using INSEAD's global alumni network, the project has been raising funds, sourcing medical supplies, and mobilizing expertise in all industries to bring medical supplies to frontline medical workers in Hubei and other regions impacted by COVID-19.
Now that the situation in China is improving, the project has shifted its focus to Italy and Iran.
In a letter to INSEAD alumni written before he tested positive for COVID-19, dean Ilian Mihov praised the alumni's efforts. He wrote:
This is the time to show what we stand for: it is one world, one community. We have an amazing, unparalleled network.
We, as The Business School for the World, will work with the INSEAD Alumni Association, the National Alumni Associations and the Project GreenCross team to leverage the collective knowledge and power of the alumni network to fight this epidemic, to make a difference in someone's life.
---
Coronavirus impacts business schools
INSEAD is not the only business school directly affected by the coronavirus outbreak. Business schools across the world are closed and moving learning online. GMAT test taking has also been disrupted and many test centers closed.
Read our latest updates on Coronavirus:
LIVE: Coronavirus Impact On GMAT Testing
How Coronavirus Is Affecting MBA Students
Chinese Business School Contributes $573 Million To Combat Coronavirus