The 2020 US election is a big test for social media companies like Facebook and Twitter. Four years ago, they were the target of a Russian misinformation campaign that aimed to mislead the electorate.
Russia's Internet Research Agency (IRA) sent waves of fake news articles and posts into the US electoral stratosphere and watched as users spread the misinformation far and wide.
In his book The Hype Machine: How social media disrupts out elections, our economy, and our health—and how we must adapt, Sinan Aral, the David Austin professor of management, marketing, IT, and data science at MIT, says that though we can't prove definitively that Russian interference in 2016 swayed the election Trump's way, false news likely reached between 110 and 130 million people.
Trump won the electoral college vote four years ago by a margin of 107,000 votes across three states—misinformation campaigns only need to influence a small margin of the electorate to be effective.
So, this time around, what problems do companies like Facebook and Twitter face, and are they prepared to tackle election interference?
---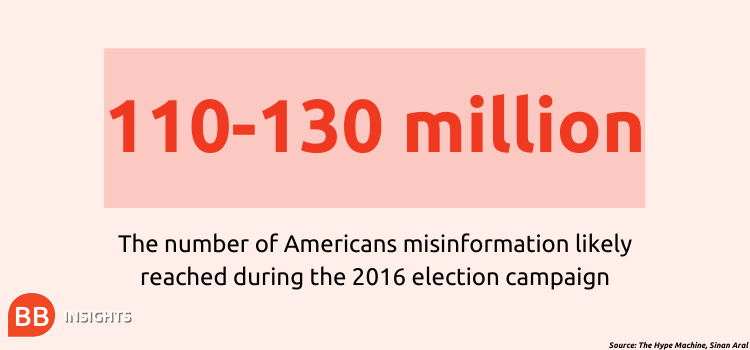 ---
The problems facing social media companies in 2020
Sinan, who is also the director of the MIT Initiative on the Digital Economy, and the head of MIT's Social Analytics Lab, documents in his book how large a problem the spread of false news is.
In a research project with MIT colleagues—in direct collaboration with Twitter—he discovered that between 2007 and 2017, in all categories of information, false news spread "significantly farther, faster, and deeper, and more broadly than the truth." This was an issue in the last election and will be again in 2020.
The election of 2020 is taking place amid the coronavirus pandemic, and although by October 28th 75 million Americans had already voted in person or had their mail-in ballot received, it could be weeks after November 3rd that the victor is officially confirmed, once all the votes are counted.
Trump has spread rumours that mail-in ballot votes can't be trusted. Twitter recently labelled one of his tweets (below) with a warning that claims like this are disputed and might be misleading.
---
---